Want to send this page or a link to a friend? Click on mail at the top of this window.
Library Covets Haitian Collections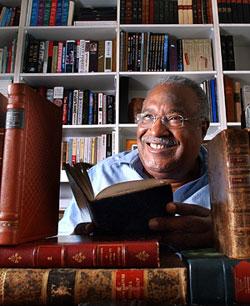 SURROUNDING BY BOOKS: Gerard Latortue has a treasure throve of Haitian books at his Boca Raton home. His collection and others are sought by the African-American Research Library and Culture Center near Fort Lauderdale. Emily Michot/Herald
BY MANOUCHEKA CELESTE mceleste@herald.com
Before he committed suicide, Henry Christophe was a controversial president and a self-declared king of Haiti.
His story, along with those of other historic figures and the common people of Haiti, may find a permanent home at the African-American Research Library and Cultural Center near Fort Lauderdale.
Marvin Dejean, director of Minority Development and Empowerment, Broward's largest Haitian community center, is leading the effort to buy two troves of Haitian books, documents and other artifacts for the library's permanent collection.
Julie Hunter, the library's executive director, said the artifacts would increase the value of current collections and expand the library's information about the people who make up the African diaspora.
Since the Haitian community is a significant part of South Florida, a permanent collection reflecting its history would be a service, Dejean said. According to the 2000 U.S. Census, more than 65,000 Haitians live in Broward County.
Although most collections of Haitian books, artifacts and art are private, some are becoming available to the public.
One of the leading collections of Haitian art is housed at the Milwaukee Art Museum. The Schomburg Center for Research in Black Culture in New York, the Cambridge Public Library and the University of Kansas also have large collections of literature, nonfiction works of history and politics.
The University of Florida's library has one of the largest Caribbean collections in the world, especially on Haiti.
The Broward library hopes to acquire two private collections in South Florida -- one belonging to Gerard Latortue of Boca Raton, son-in-law of Haitian diplomat Mauclair Zephirin; and the collection of Max Manigat, a bibliographer and retired professor who lives in Miramar.
Zephirin collected literature and political documents as he traveled around the world. His son-in-law, widow and daughter are the guardians of the collection, which includes hard-to-find books and accounts of Haiti's revolution.
The books and documents have been in Latortue's garage, but he has recently began moving them onto the shelves in his office.
They include a theater piece dated 1850 about Toussaint Louverture, leader of the Haitian revolution.
''This is a book that's quite difficult to find,'' Latortue said.
Revolution de St. Domingue, published in 1819, has yellowed pages bound into a rugged, rich brown cover. It is the memoir of a lieutenant general during the revolution.
''There are books about the first days of the revolution and the Republic of Haiti,'' Latortue said. ``The revolution's objective was to gain freedom for blacks all over the world.''
The 1791 revolution against the French erupted after a Vodou ceremony at Bois-Caíman. The 13-year struggle ended in 1804 with Haiti's independence.
Latortue said some of the books depict Haiti as a place that invited slaves from all over the world, especially Florida, to come and be free.
In 2004, the country will celebrate its bicentennial, an event that some Haitians hope will be a catalyst of change for the struggling country.
''This will be a time when people will rediscover the greatness Haiti used to be and what is now,'' Latortue said.
Latortue spent part of his career with the United Nations, living in Togo and the Ivory Coast. He now works as an international business consultant. Latortue said he is open to having his collection at the African-American Research Library.
''This could have a better social use in a public library,'' he said.
The other collection sought by the library contains Christophe's life story among 3,000 books accumulated over 34 years. Christophe, who served as commander under Louverture during the war, became the ruler of northern Haiti, while the south had a republic ruled by Alexander Pétion.
During his reign, he established Catholic churches throughout, brought English schoolteachers to Haiti and in his constitution obliged people living together to get married.
He killed himself in 1820 after suffering a stroke and losing his army, his source of power.
Manigat was a professor of history and one of the first professors of Creole at the university level. He collected some of his books on his travels, including his five-year stay in the Congo, and ordered some from Haiti. Living in New York in the 1970s, Manigat ran a mail-order bookstore called the Haitian Book Centre.
''I collected these books because I am an avid reader,'' he said.
He hasn't decided whether he would sell his collection to the library.
Dejean said the committee working on the project -- called Pon Lakay, Creole for ''bridges to our home'' -- is working on making offers to Latortue and Manigat. An expert from the Schomburg Center will help assess the value of the two collections.
The library is home to numerous Haitian items, such as paintings, masks and sculptures, most of which were donated by individuals, said Pearl Woolridge, the library's head of special collections.
Library officials, Dejean and the collection owners agree that having these books in the library would attract researchers to South Florida.
Otherwise, Latortue said, most researchers would have to go to cities like Gainesville to find such a collection.
''It's important to have these books where people can have access,'' Latortue said.
Reprinted from The Miami Herald of August 4, 2003.
Wehaitians.com, the scholarly journal of democracy and human rights