Correspond with us, including our executive editor, professor Yves A. Isidor, via electronic mail:
letters@wehaitians.com
Want to send this page or a link to a friend? Click on mail at the top of this window.

Must learnedly read, too; in part, of intellectual rigor; in part, the repository of ultimate knowledge
Posted Thursday, July 27, 2008
Former Haitian Prime Minister Neptune regains long awaited liberty, speaks out
By NANCY SAN MARTIN, Miami Herald Writer
PORT-AU-PRINCE, Jul. 27, 2006 - Former Prime Minister Yvon Neptune was freed Thursday afternoon, just hours after vowing that he remained as determined as ever to fight a ''machine of injustice'' that kept him jailed for two years without trial.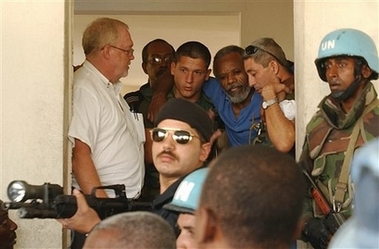 Former Haitian Prime Minister Yvon Neptune, third from right, is carried by two U.N. peacekeepers moments before being released from jail in Port-au-Prince, Haiti, Thursday, July 27, 2006. Neptune was released from jail more than two years after his arrest on charges of orchestrating the killing of opponents of ousted President Jean-Bertrand Aristide at the start of a rebellion that engulfed the country. (AP Photo/Evens Sanon)
''The machine of injustice must stop reproducing itself,'' a barefoot Neptune had told a small group of reporters Wednesday in the barren bedroom that served as his cell. ``This is not something that concerns just me. It is something that concerns all the Haitian people who don't have the means to face the machine of injustice.''
Neptune's 20-minute talk with reporters came as human rights activists try to persuade him to end his on-and-off hunger strikes, even though they agree with his contention that his arrest was politically motivated. Neptune spoke barely above a whisper as he lay on a cushion set on the floor with his head propped up by three thin pillows.
''People understand the injustice they are doing to Neptune and other prisoners,'' said Ronald St. Jean, head of the Defense of Political Prisoners, a group that has collected about 1,500 signatures in Haiti and abroad appealing for a resolution in the case.
''Neptune also understands the significance of his message,'' St. Jean said. ``We hope that he will give up his hunger strike and be set free.''
The 59-year-old Neptune, who served under President Jean-Bertrand Aristide, was jailed in connection with a 2004 massacre of Aristide opponents near the western port city of St. Marc. He was among several prominent people jailed by the U.S.-backed interim government following a revolt that sent Aristide into exile in February 2004.
Neptune has been demanding his unconditional release and last year refused a deal that would have allowed him to go to the neighboring Dominican Republic. An appeal seeking that the charges be dropped was at a standstill since October.
''The appeals court has violated the right of the political prisoner,'' said Neptune's attorney Mario Joseph. ``As a political prisoner, he needs to fight for justice.''
Patrick Elie, a founding member of a citizens watchdog group that has joined the international campaign for Neptune's release, called the case ''emblematic'' of Haiti's problems. The group claims that of an estimated 4,000 prisoners in jail here, only 10 percent have been tried and that many of them were arrested simply for supporting Aristide.
''If we are able to spring Neptune loose, it will open doors for other prisoners arbitrarily arrested for political reasons,'' Elie said.
Neptune was being held in a two-story house next to the headquarters for the National Police that serves as a prison for high-profile inmates. The house, in the upscale neighborhood of Pacot, is surrounded by a tall steel fence topped with razor wire and is guarded by police and at least one soldier from the U.N. peacekeeping force deployed here.
Neptune's room, on the second floor, had no furniture, except for the cushion on the floor that served as a bed. He had a private bathroom and access to a balcony enclosed by bars that overlook the sprawling capital city and its seaport.
At his bedside were several plastic bottles of water, books on liberty and the Haitian constitution, a radio and a yellow legal pad with a few scribbled lines in his handwriting. Also nearby were an unlit candle and a small electric burner, a clock and his glasses.
Leaning against a wall a few steps away, were two pieces of cardboard with handwritten words in French and in Creole. One welcomed ''all who support truth and liberty'' and the other called for doing away with injustice.
Neptune said that soon after Aristide fled, unidentified authorities came to him with three options: exile, prison or death.
''Exile, they will never get me to leave; prison, I'm already here; and death, that can come any time,'' said Neptune, speaking in English and Creole. Asked if he blamed the U.S. government for his predicament, Neptune rolled his eyes and snickered.
''The dagger is here,'' he said, pointing to his stomach. ``You want me to give them the ability to twist it?''
''The truth is known now. It doesn't have to come from my mouth,'' Neptune added. ``I'm accused of being the mastermind and the accomplice for something that at first was a genocide and then a massacre and now I don't know if it's been reduced to a killing. ``
And the supposed democratic government is now offering me the opportunity to run away. Does that make sense?''
During the interim government's tenure, Neptune said he received many visits from foreign diplomats, including some from the United States. But those visits have stopped.
''In quite some time, I don't see them anymore,'' he said. ``I guess they don't like my line of thought and they don't like to hear the truth
.''Reprinted from The Miami Herald of Thursday, July 27, 2006.
More, from wehaitians.com: U.S. pledges additional $210 million to aid Haiti's recovery
Wehaitians.com, the scholarly journal of democracy and human rights