Correspond with us, including our executive editor, professor Yves A. Isidor, via electronic mail:
letters@wehaitians.com
Want to send this page or a link to a friend? Click on mail at the top of this window.

Must learnedly read, too; in part, of intellectual rigor; in part, the repository of ultimate knowledge
Posted Thursday, July 20, 2006
2 Kidnapped missionaries freed in Haiti
By STEVENSON JACOBS, Associated Press Writer
PORT-AU-PRINCE, Haiti, Jul. 20, 2006 - Two North Carolina missionaries kidnapped on their way to church in Haiti's capital were freed Thursday after their families paid an undisclosed ransom, the FBI said.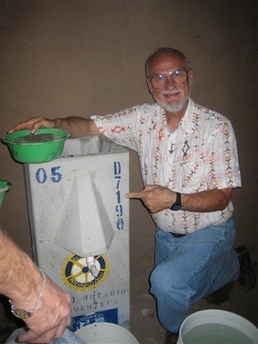 This photo provided by Saundra Aubin shows Charles F. Adams posing in February 2006, in a home in a village outside of Choluteca, Honduras. Adams is working on a water project funded by the Rotary Foundation and Pure Water for the World. A FBI spokeswoman said American, businessman, Charles Adams, was released Thursday, July 20, 2006, after a day in captivity after an undisclosed ransom was paid in Haiti. Adams was in Haiti working on a water treatment project. (AP Photo/Carolyn Crowley Meub)
Tom Barron, a minister at the non-denominational Mustard Seed church, and congregation member William Eugene Seastrum were driving early Sunday when assailants stopped their car and dragged them away. Both missionaries are from High Point, N.C.
"They negotiated the amount and they were released," said Judy Orihuela, an FBI spokeswoman in Miami.
Barron said in a phone interview that he and Seastrum were not harmed, but he declined to discuss his ordeal.
"I've been able to talk with my family and for right now I'd like to not say anything until things settle down," he said.
The captors had initially sought $500,000 but lowered the demand to $100,000 during negotiations with the FBI, said Leslie Dallemand, chief of the U.N. peacekeeping mission's anti-kidnapping unit. Dallemand said the men were finally released for a ransom believed to be below $10,000.
In a statement released by the FBI, the men's families thanked the agency and others in Haiti and the U.S. for helping to secure their release. "We would like to thank all the people ... who worked to bring Tom and Bill home," they said.
Both men were preparing to return to the United States, the FBI said.
Separately, the FBI spokeswoman said another American, Charles Adams of Albany, N.Y., was released Thursday after a day in captivity when an undisclosed ransom was paid. Adams was in Haiti working on a water treatment project.
Also, a Haitian employee of the U.S. Embassy was kidnapped Wednesday and was still being held. The employee was driving in an embassy vehicle with diplomatic license plates at the time of the kidnapping, Orihuela said.
"We are very concerned about the welfare and well-being of this individual and call for his immediate release," said Ferial Saeed, an embassy spokeswoman.
Kidnappings, once relatively rare in Haiti, became an almost a daily occurrence after a bloody revolt toppled former president Jean-Bertrand Aristide in February 2004. Kidnappings leveled off following the February election of President Rene Preval, but the problem has worsened again.
U.N. officials blame much of the kidnapping and other violence on well-armed gangs — some of which are loyal to Aristide and want Preval to allow the ousted president to return from exile in South Africa.
The United Nations, which has about 8,800 peacekeepers in the country, believes that much of the violence is aimed at destabilizing the new government, but Preval says drug traffickers, corrupt police and other criminals are behind the problem.
The special U.N. envoy to Haiti, Edmond Mulet, met with Preval on Wednesday and Thursday to discuss the deteriorating security climate, officials said.
It is unclear how long Barron and Seastrum had been in Haiti. Dallemand said the two were staying at a hotel in the Port-au-Prince neighborhood of Delmas, where many kidnappings occur.
Last month, Canadian missionary Ed Hughes was abducted from a rural town north of Port-au-Prince where he runs an orphanage. The 72-year-old was freed a week later after an undisclosed ransom was paid.
At least 29 people have been reported kidnapped in Haiti so far in July, about a third of them U.S. citizens, Dallemand said.
Last year, 43 Americans were kidnapped in Haiti, including three who were killed in attempted abductions, according to the U.S. Department of State's Bureau of Consular
Wehaitians.com, the scholarly journal of democracy and human rights