Correspond with us, including our executive editor, professor Yves A. Isidor, via electronic mail:
letters@wehaitians.com; by way of a telephone: 617-852-7672.
Want to send this page or a link to a friend? Click on mail at the top of this window.

Must learnedly read, too; in part, of intellectual rigor
Posted Friday, January 11, 2008
In troubled Haiti, setting fire targeting U.S. sponsored projects no longer on hold
PORT-AU-PRINCE, Haiti (AP)--Protesters set fire to a government building in Haiti's largest slum Friday in an apparent effort to disrupt the inauguration of a U.S.-backed project to help fight crime, witnesses and officials said.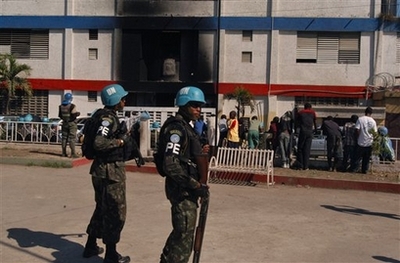 U.N. peacekeepers stand guard in front of the mayor(AP Photo/Evens Sanon)
A small group of men burned tires outside the entrance to the Cite Soleil mayor's office before bystanders chased them away, according to witnesses. Flames blackened part of the building, but no injuries were reported.
The U.S. ambassador and the chief U.N. envoy to Haiti arrived hours later to launch the "House of Justice" initiative, which will provide conflict resolution services for residents of the oceanside slum.
Cite Soleil assistant mayor Benoit Gustave accused criminals of trying to disrupt the project.
"People who are killing, stealing and raping never like legal protection, and as you can see, they were trying to bring it down," he said.
But witnesses said they suspected the culprits were opponents of Cite Soleil Mayor Wilson Louis, who has faced accusations of corruption.
"These guys knew a lot of important people would be coming today. It's a message that the mayor has to watch out," said Dorsanvil Diufete, a 45-year-old welder who saw the fire being set.
The initiative is part of a $20 million Defense Department-funded program to stabilize the overcrowded slum, which was dominated by powerful gangs before U.N. peacekeepers swept them out last year.
"It's all part of the plan to get the government back, so there isn't this vacuum that's allowed the gangs to flourish," U.S. Ambassador Janet Sanderson told The Associated Press.
Wehaitians.com, the scholarly journal of democracy and human rights