Want to send this page or a link to a friend? Click on mail at the top of this window.
In struggling Haiti, some long for ex-dictator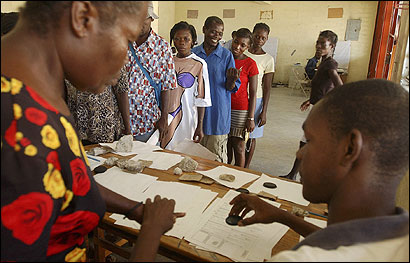 Residents in Haiti's Cite Soleil slum lined up to register for the country's' upcoming presidential election. (Demot Tatlow for The Boston Globe)
By A.R. Lakshmanan, Globe Staff
PORT-AU-PRINCE, Haiti -- As the poorest, most unstable state in the Western Hemisphere stumbles toward long-awaited elections with more than 30 lackluster presidential candidates, some exasperated voters have started to pine for an exiled despot: Jean-Claude ''Baby Doc" Duvalier.
In a sprawling middle-income neighborhood here in the capital, black-and-white 1980s-era photos went up this week bearing the pudgy face of the deposed playboy-dictator whose regime was synonymous with graft, state-sponsored murder, and repression.
Alphonse Altena, 47, who hustles to find work every day, despised Duvalier and voted for populist Jean-Bertrand Aristide in 1990. But what has followed was so much worse, he said, that he and many others now look back on the dictator's era as a time when roads were built, tourists came, and garbage got collected. A Gallup Poll released last month found Haitians consider Duvalier the best president of the last two decades -- a sorry comment on the failed governments since. Since a bloody revolt toppled Aristide last year, the Bush administration has banked on the upcoming elections to solve the problems of its violence-prone neighbor. But unlike Iraq or Afghanistan, other nation-building projects of the United States, Haiti is no stranger to voting. Half a dozen elections followed Duvalier's ouster in 1986. But instead of real democracy, Haiti got more corruption, demagoguery, incompetence, and coups. The promise of democracy has withered, many say, with ineffective leadership. And with so many familiar faces in this race, that looks unlikely to change anytime soon.
''We don't want elections like 1990 where we just jumped and voted for someone," said Margareth Fortune, 39, a secretary, referring to Aristide's landslide first victory, when the former priest had the hopes of the great majority behind him. ''This time we're going to vote for someone who can work for the population."
''Unfortunately, we don't know who that person is."
Already postponed four times by bickering, disorganization, and challenges to candidates' eligibility, the first round of voting for 7,500 local and national posts is not expected until mid-December at the earliest. Two weeks into the campaign, there are no reliable polls, no clear front-runner, no ballots printed, no voting dates set, and hardly any campaigning.
The confusing glut of presidential hopefuls includes two former presidents and two former prime ministers; the leader of last year's armed revolt against Aristide that claimed 1,000 lives; and an anti-Aristide activist from the elite business class. A former leader of Duvalier's feared Tontons Macoutes militia, discredited former police chiefs and former military officers, and a former mayor who defected from Aristide are also running. Several candidates have been linked with violence, drug-trafficking, or corruption.
The candidacy of Texas businessman Dumarsais Simeus, who has piqued interest with his personal story of illiterate-rice farmer-turned-millionaire, is in peril over that fact that he is a naturalized US citizen. Presidential candidates have until Monday to prove to a new nationality commission that they are citizens of Haiti. Simeus says he never renounced his Haitian citizenship.
Washington has budgeted $407 million for Haiti this year -- double the amount pledged by any other donor or lender -- and the United Nations is contributing $495 million and thousands of military and civilian personnel. But the credibility of the international community's efforts to build hope for Haiti's future is riding on an unfocused election.
It was foreign powers led by the United States and France who pressured Aristide -- a twice-elected, twice-deposed firebrand adored by many urban poor but accused of sponsoring gangs and drug trafficking -- to abdicate. The US-backed appointed government has become widely despised as partisan and incompetent. And despite hopes that fresh candidates would emerge in time for the elections, a longtime Aristide loyalist, former president Rene Preval, looks likely to win a runoff if he carries the poor masses.
No matter who wins, in a country where most people scratch by on less than $2 a day, if a new government cannot create jobs and deliver basic services, patience could quickly unravel.
''How can people think about elections when they don't have food?" asked Samba Boukman, 34, a community leader in the slum of Bel-Air.
Despite the presence of 7,200 UN soldiers and civilian police, conditions for safe voting have been in doubt for months.
Gang-led violence has claimed some 1,500 lives and at least as many kidnap-for-ransom victims in the capital in the last 12 months, according Pierre Esperance of the National Human Rights Defense Network. Unscrupulous police officers, including some two dozen recently arrested, are accused of collaborating with kidnappers and summarily executing scores of suspected criminals and bystanders.
With Haiti's winner-takes-all electoral history and abundant weapons in the hands of pro-Aristide gangs and anti-Aristide former military, today's relative peace could disintegrate at any moment if armed groups feel the vote is not going their way.
In a chic French restaurant in an exclusive suburb last week, wealthy Haitians sipped rum and said they would support Charles Henri Baker, a 50-year-old businessman with US residency who led a civic group that organized to unseat Aristide last year. In an interview, Baker said Haiti ''has to go back to rule of law," and accused the UN of shielding gangs and being in the pay of kidnappers, charges the UN dismissed as preposterous. Baker insisted he has widespread support among poor Haitians, despite his image as a scion of the elite.
A few dozen people gathered in Baker's campaign office said they were abandoning Aristide's Lavalas Family party for Baker. ''I switched because this guy has promised he can provide jobs. We believe in people with money now. People who don't have money just want to rob the public till," said Roger Lacroix, 32, a drummer and voodoo priest from a working-class neighborhood.
But inside Cite Soleil, a treacherous, gang-controlled slum where a Jordanian UN soldier was fatally shot a few days ago, residents scoffed at the idea of Baker winning, saying that the country's poor majority would never elect a president from the ruling class.
Here, voter registration began only a few weeks ago -- months after the rest of the country -- when gang leaders relented to allow it. Last Friday, a lookout pointed a handgun at journalists before letting them pass to watch residents queue for their voter cards.
Everyone interviewed identified themselves as Lavalas loyalists, saying Aristide and his party were the only ones who put them on government payrolls and made them feel included in the system. But with Aristide in exile, other party leaders in jail on unproven charges, and a former Lavalas senator disqualified on technical grounds, the party was barred from fielding its own candidate.
Former prime minister and technocrat Marc Bazin emerged as a coalition candidate for Lavalas, but in the shantytowns he is widely regarded as an opportunist who served too many masters. That leaves former Aristide-ally Preval, running as an independent, with the most open support among the poor.
''Preval realized a lot in five years -- he built 30 high schools, 158 elementary schools, thousands of kilometers of roads, and invested in rural areas," asserted John Joseph JoŽl, 34, a Lavalas community organizer in Cite Soleil.
Aristide critics dismiss Preval as the deposed leader's lackey.
A Western diplomat who spoke on condition that he not be named said that ''consensus among candidates and alliances" will be crucial in electing a president and parliament that can satisfy a polarized electorate.
But many Haitians contend that their politicians don't know how to cooperate, preferring to reward loyalists and exclude rivals.
No matter who wins, the losers will have to be satisfied that the process was fair and that their interests will be represented, or the situation could quickly turn sour, said the commander of UN military forces here, Brazilian Lieutenant General Urano Becellar.
''The idea that hit-and-run elections will overcome a crisis is wrong -- more often than not, elections generate civil wars rather than solutions," warned Gerard Le Chevalier, head of the UN electoral assistance mission. What Haiti needs is ''a process of negotiation and dialogue . . . and democratically elected authorities who behave democratically."
© Copyright 2005 Globe Newspaper Company. Reprinted from The Boston Globe of Thursday, October 27, 2005.
Wehaitians.com, the scholarly journal of democracy and human rights