Want to send this page or a link to a friend? Click on mail at the top of this window.

As Haiti Food Aid Lags, Hunger, With Irreversible Multiplying Effect, Deepens

By JONATHAN M. KATZ,
Associated Press Writer


DESCHAPELLES, Haiti - Every inch of Rivilade Filsame's body hurt, from his swollen, empty stomach to his dried-out, wrinkled skin. The 18-month-old had been crying for so long in the hospital malnutrition ward that his mother no longer tried to console him.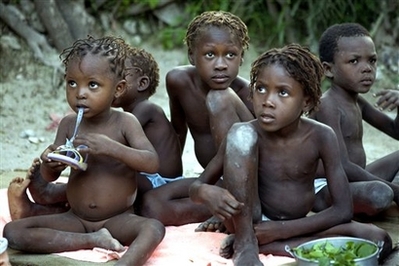 Malnourished children sit outside their homes in Deschapelles, Haiti, Tuesday, June 17, 2008. Funding delays, a dysfunctional central government and transportation problems along crumbling rural roads are keeping aid from reaching critical areas such as the fertile Artibonite Valley, where one out of three children are malnourished.(AP Photo/Ariana Cubillos) More Images


After soaring food prices led to deadly riots in April, the U.S. and the U.N. promised millions of dollars in aid to poor families like Rivilade's, as well as help for farmers to break Haiti's dependence on imported food.

But three months later, The Associated Press has learned that only a fraction of a key U.S. food pledge _ less than 2 percent as of early July _ has been distributed.

Even those who oversee the food aid programs say they are stopgap measures while programs to create jobs and help Haitian farmers to increase production are more critical to ending the country's chronic hunger once and for all.

But right now, aid workers say, the poorest families need immediate help, and little of the emergency food promised has reached them. Most of what has reached Haiti is stuck in port. Nearly all the rest is still inside warehouses _ victim of high fuel prices, bad roads and a weak national government.

Barely any food at all has gone to the desperate countryside, where more than half of Haiti's 8.7 million people live.

Even in the Artibonite Valley, Haiti's most fertile region, child malnutrition is rampant. Farmers _ reeling from last year's floods and a dry spring, and lacking equipment that was promised to increase their yields _ are eating the very seeds they should be planting to avoid future hunger.

One in three children is malnourished in the most rural areas of the Artibonite Valley, according to the Hospital Albert Schweitzer in Deschapelles, where Rivilade was treated in June. Doctors there admitted 113 children to the malnutrition ward from May through June, almost two and a half times more than last year. In April and May alone, there were 361 children under five who were severely malnourished and more than 2,500 others moderately so.

"Kids who would have been moderately malnourished last year are severely malnourished this year," said hospital official Adeline Azrack. "Families that were once just vulnerable are now in crisis."

With families eating through their meager food savings and with the hurricane season in full swing, the food riots could be returning. On Thursday, U.N. police said, a small group of demonstrators burned tires and threw rocks at police and U.N. peacekeepers in Les Cayes, where the April riots began.

"Life is even more difficult than it was in April," said Pierre Antoinier St.-Cyr, who works in agricultural development in Les Cayes. "Community organizations are meeting weekly to see if they are going to start the protests again."

The April riots spread from the countryside to Port-au-Prince and left at least six Haitians and a U.N. peacekeeper dead. The prime minister was dismissed in their wake, and he still hasn't been replaced.

They also caused an outpouring of international pledges. The U.S. government and U.N. World Food Program promised a combined total of $117 million this year in food and agricultural aid.

That included more than 40,000 tons of beans, rice and other food intended to quell the emergency. But a U.S. Agency for International Development report obtained by The Associated Press says that as of early July, less than 2 percent of that had been distributed.

Some 16,000 tons has reached Haiti. But more than 11,000 tons of that is still in port; nearly all the rest lies undistributed in World Vision International and Catholic Relief Services warehouses. Only 724 tons of food has reached distribution centers.

Haiti already had a customs bottleneck in its ports as officials cracked down on drug smuggling and tried to better collect duties.

In the Artibonite Valley, aid workers say not a single ration had arrived as of mid-July. Nor had any of the $150,000 in emergency seeds and tools promised to help 20,000 Haitian farmers nationwide plant basic food crops.

Hunger is a bitter irony in the valley known as "Haiti's rice bowl," where farms have been in decline for decades, unable to compete with subsidized U.S. food imported under low tariffs. Political instability has left the government without effective agricultural policies or ways to deal with nearly annual hurricanes and floods.

That meant there was no protection when the price of imported rice increased by more than 60 percent, and that of corn by 91 percent, over the first six months of the year, according to the World Food Program.

The U.N. agency and many countries' programs are focused largely in urban areas. Brazilian soldiers have distributed rice, beans and cooking oil donated by their country in the seaside slum of Cite Soleil, where sprawling shantytowns are home to thousands of refugees from the impoverished countryside.

In rural communities where USAID food is slated to be distributed by World Vision International, delivery has been hampered by logistical problems and high fuel prices _ which topped $6 a gallon in Haiti in June.

Nearly everything that has been distributed has gone through Catholic Relief Services, which has been relying on pre-existing stocks, said country representative Bill Canny.

World Vision country director Wesley Charles blamed USAID for its delays in delivering food, saying U.S. funding was held up in Congress' emergency supplemental appropriations bill as lawmakers debated the portions that fund the Iraq War.

"I think that at the USAID level they need to be more sensitive," Charles said. "You cannot manage an emergency situation like a normal procedure."

The U.S. Embassy said there were also delays during the handover of the food distribution and agricultural projects to World Vision from its previous operator, Save the Children. It referred questions about distribution to those agencies.

Canny said U.S. food aid is also often slowed because it consists of excess food from American producers that must be purchased, transported and shipped, rather than bought locally in Haiti.

World Food Program spokesman Alejandro Lopez-Chicheri said it's complicated to get food into Haiti, and that his agency is focusing on urban areas that are easiest to reach. "We're trying to help as much as we can, but that doesn't mean we'll solve everything," he said.

When AP journalists visited the Artibonite Valley in June, farmers hacked at the soil using the same hand-planting methods employed centuries ago by their enslaved ancestors. Lemare Forrestal, a 60-year-old farmer in the mountains, said his family sometimes resorts to eating corn and bean seeds.

"We have kids we can't feed. We have to eat what we have," he said.

And even when there is food, mothers leave their children at home while they seek work in far-off markets with no one to ensure they eat properly.

Sylvieta Saintera, 38, said her 8-year-old daughter cooks for her six other children when she's gone.

Hunger victims filled the low-slung, tree-lined Schweitzer hospital complex in June. Flies buzzed from bed to bed as mothers spoon-fed vegetable mixtures prepared over charcoal fires in an outdoor kitchen.

A photo of Rivilade from months earlier showed a baby with fat arms and black hair. But his bald, naked body was covered with an old man's wrinkled skin. Diarrhea had shrunk his weight to 15 pounds, a quarter less than doctors say is healthy.

"He was fine, and then he got sick," said his mother, 22-year-old Nimose Jisesle. It costs 150 Haitian gourdes a week _ $3.95 _ to feed him, she said, but she earns just 100 gourdes, $2.63, selling knapsacks and firewood. His father went to the neighboring Dominican Republic to find work and does not support the child.

Suffering from diarrhea, pneumonia and mouth and skin infections, Rivilade was treated and fed with intravenous liquids and food. He was released a few days later with his weight up and diarrhea gone, said Dr. Erlantz Hyppolite.

Some of the children receive a super-high-protein mixture of peanut butter, oil, milk and vitamins known here as "Medika Mamba" that has also been used in African famines. But once they go home, mothers struggle to follow doctors' advice to thoroughly clean their homes and prepare more balanced meals for their children, Hyppolite said.

Some, he said, eat the peanut butter mixture themselves.



Wehaitians.com, the scholarly journal of democracy and human rights