Correspond with us, including our executive editor, professor Yves A. Isidor, via electronic mail:
letters@wehaitians.com; by way of a telephone: 617-852-7672.
Want to send this page or a link to a friend? Click on mail at the top of this window.

Must learnedly read, too; in part, of intellectual rigor
Posted Friday, February 29, 2008
In Haiti, apparently in the name of stability once again a vote, a demonstration for fast growing abject poverty, gangterism, gross incompetence
PORT-AU-PRINCE, Haiti: Haiti's parliament has overwhelmingly rejected a no-confidence vote against Prime Minister Jacques Edouard Alexis, defeating critics angry over his government's handling of the economy.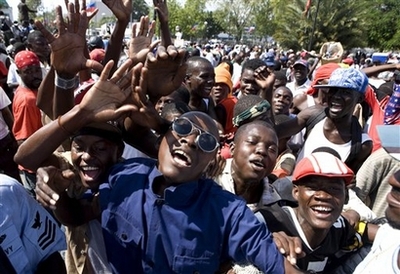 USEFUL IDIOTS Supporters of Haiti's Former President Jean Bertrand Aristide sing during a demonstration demanding Aristide's return in Port-au-Prince, Friday, Feb. 29, 2008. Aristide was ousted in Feb. 29, 2004 after a military coup that forced him to exile in South Africa.(AP Photo/Ariana Cubillos)
The decision Thursday, which followed an all-day debate in the Chamber of Deputies, was also a victory for President Rene Preval, who survived a serious challenge from the opposition to dismiss his second-in-command and dissolve his Cabinet.
But while Preval has brought political stability to the country, the vote reflected rising discontent with his government's failure to create jobs and control rising food prices.
"We can't say that everything is going to be done fast, but we are working," Alexis told legislators during a grueling question-and-answer session that lasted about 10 hours. "Slowly but surely, we are working."
In the end, only the eight legislators who filed the initial petition for censure and removal voted against the prime minister.
Opposition member Isidor Mercier told the chamber moments before the vote that the measure was "based on the cry of distress of the population."
Others who supported the prime minister favored a less drastic government shake up.
"We need a new Cabinet with Alexis as prime minister," said Deputy Steven Benoit, a member of Preval's Lespwa Party.
Hundreds rallied in support of Alexis in front of the parliament building Thursday afternoon, singing his name and chanting threats against opposition leaders.
Many were supporters of former President Jean-Bertrand Aristide, who has called Preval a "traitor." But they opposed the censure vote because it threatened the country's fragile stability.
"Any disorder in the country is going to be chaos for us," said Harold Eveillard, a supporter of Artistide's Fanmi Lavalas Party.
Under the Haitian Constitution, there cannot be another censure vote against the government this year.
Wehaitians.com, the scholarly journal of democracy and human rights