Correspond with us, including our executive editor, professor Yves A. Isidor, via electronic mail:
letters@wehaitians.com; by way of a telephone: 617-852-7672.
Want to send this page or a link to a friend? Click on mail at the top of this window.

Must learnedly read, too; in part, of intellectual rigor

Posted Saturday, June 5, 2010

In Haiti, proprietor of radio station critical of Preval extreme violence-issued government miraculously escapes death

By Yves A. Isidor, Wehaitians.com Executive Editor

CAMBRIDGE, MA, Jun 5 - Patrick Moussignac, the proprietor and executive director of Haiti's popularly known Radio-Tele Caraibes, especially for its Saturday's morning "Ramase" Program (literally, Week-in-Review), Friday narrowly escaped with his life from unidentified gunmen who first identified him inside an earthquake-ravaged Port-au-Prince's bank, where he went to also conduct a few personal financial transactions, and ultimately opened fire on his personal armored Toyota Prado automobile as he was departing the commercial edifice.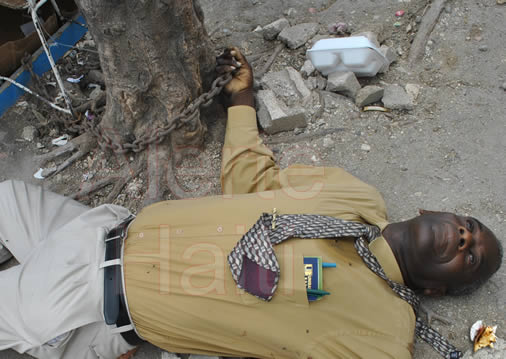 Pastor David Charles, recently murdered in broad daylight on a street of earthquake-ravaged Haiti's capital city of Port-au-Prince. (Photo/Watson Joseph-AlerteHaiti/wehaitians.com-file)

The attempt to violently terminate Mr. Moussignac's life came only less than four weeks after Wehaitians.com published a May 7 lengthy article (Stoppable, Haiti Preval to jam more radio stations, also assassinate earthquake surviving journalists) about the extremely violence-issued government of Rene Preval's secret plan to also murder earthquake surviving journalists deemed critical of the president's ill-conceived maneuvers to prolong his superbly ineffective presidency and then declare himself (Mr. Preval, who is known to consume alcoholic beverages distilled at a high proof for breakfast, is hardly one of nature's public speakers) president-for-life. Luckily, he was not even slightly injured.

From left to right, a house in the chic Petion-Ville's suburb of Thomassin 37 where a 60-year-old woman who lived alone was kidnapped Saturday morning (2:00) after bandits broke the private residence principal door with the help of a gigantic rock. (Photo/Watson Joseph-AlerteHaiti) And, man with microphone in hand, Patrick Moussignac.

Mr. Moussignac, whose automobile was badly damaged, reportedly immediately after the attempt on his life departed troubled Haiti for the United States, where his aging mother, who is currently sick, long resides.
Wehaitians.com, the scholarly journal of democracy and human rights