Correspond with us, including our executive editor, professor Yves A. Isidor, via electronic mail:
letters@wehaitians.com; by way of a telephone: 617-852-7672.
Want to send this page or a link to a friend? Click on mail at the top of this window.

Must learnedly read, too; in part, of intellectual rigor
Posted Friday, Novemver 23, 2007
Liberty City case's crux plot or ruse?
By JAY WEAVER
jweaver@MiamiHerald.com
Closing arguments will begin next week in the Liberty City Seven terrorism trial in federal court in Miami.
Terrorist wannabes or con artists?
Prosecutors and defense attorneys will offer starkly different portrayals of seven Miami men during closing arguments next week in the homegrown terrorism trial of the ``Liberty City Seven.''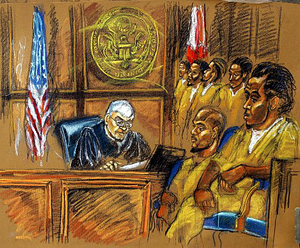 SHIRLEY HANDERSON/AP
The prosecution will argue that the men were organizing a jihad mission to blow up Chicago's Sears Tower and federal buildings in Miami and other cities in an insurrection against the U.S. government.
A critical piece of evidence: The seven defendants, while under video surveillance, pledged themselves to al Qaeda without knowing that an FBI informant was leading them deeper into their alleged terrorism plot.
Defense attorneys will counter that the Miami group's leader, Narseal Batiste, and his followers had no intention of destroying any buildings or waging holy war against the United States -- that it was all a ruse to get money from the informant.
The closing arguments could begin Wednesday or Thursday, pending a decision by U.S. District Judge Joan Lenard.
The trial, which began with the selection of a racially mixed, 12-person federal jury in late September, will likely wrap up in early December, when the panel begins deliberating the men's fate.
The defendants, charged with four terrorism-related conspiracy offenses, each face up to 70 years in prison.
The defense, which rested last week, revolved its case almost entirely around Batiste, the only defendant to take the witness stand.
For much of November, Batiste testified that he repeatedly said he was only trying to trick the FBI informant into giving him $50,000 for his struggling construction business and his fledgling religious group, known as the Moorish Science Temple.
During one encounter last year with the informant, who was known as ''Brother Mohammad,'' Batiste said he ''made up'' an apocalyptic story of blowing up the Sears Tower so that it would topple over and destroy other buildings that would all fall into Lake Michigan to create a tsunami.
''Where did you get this idea?'' asked his defense lawyer, Ana Jhones. ''Just from watching the movies,'' Batiste said.
``I just made it up. I didn't know anything about this sort of thing.''
Batiste testified that he was merely trying to convince the informant that he had a serious terrorism plan so that he would financially back him. '
'It takes a lot of money,'' he told the FBI informant during their meeting on Feb. 19, 2006.
Batiste had already given him a list requesting weapons, cars and other resources.
The informant, a Middle Eastern man whose actual name is Elie Assad, talked Batiste into moving his operation into a warehouse near Little Haiti -- several blocks away from the group's religious base in Liberty City, known as the ''Temple'' or ``Embassy.'' The informant lured his group into the new warehouse because the FBI had planted electronic surveillance equipment in it.
There, Assad coaxed Batiste and his six followers into taking an oath to al Qaeda, the terrorist organization, on March 16, 2006. Batiste testified that he and the others took the pledge so the informant would give them the $50,000.
At the direction of the FBI, Assad then talked the seven men into joining a fictitious al Qaeda terrorism plot to destroy federal buildings in Miami and four other cities, which became the crux of the government's case.
At trial, prosecutors showed a videotape of Batiste and codefendants Stanley Phanor and Rotschild Augustine taking pictures of alleged targets in Miami -- the federal courthouse, the federal detention center and the criminal justice building.
They also had surveillance of Batiste and Patrick Abraham taking pictures of other sites, including the FBI building in North Miami Beach and the National Guard Armory in North Miami.
Batiste and Burson Augustin turned over the photos to the FBI informant.
But two other members of Batiste's group -- Naudimar Herrera and Lyglenson Lemorin -- were not directly involved in casing these buildings.
Before the alleged terrorism conspiracy unraveled, the informant gave Batiste only a total of $4,500 and some boots for him and his men.
They were arrested on June 22, 2006.
Copyright 1996-2007 The Miami Herald Media Company
Wehaitians.com, the scholarly journal of democracy and human rights