Want to send this page or a link to a friend? Click on mail at the top of this window.
In Brooklyn, Haitians Protest as Ex-Paramilitary Leader Faces Trial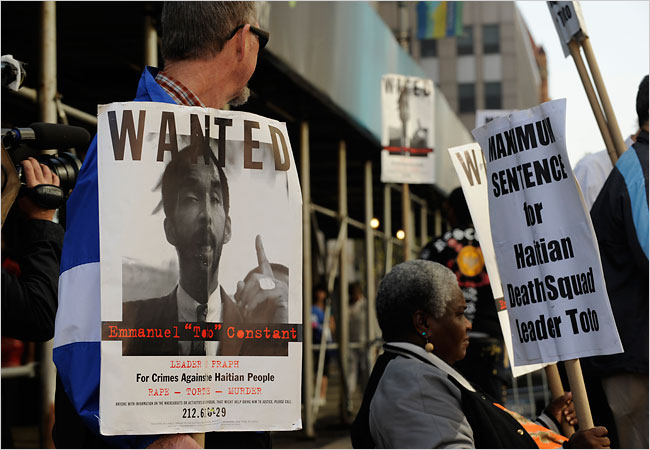 ROBERT STOLARIK FOR THE NEW YORK TIMES
Members of the Center of Constitutional Rights organized a rally in front of the State Supreme Court in Brooklyn for the trial of Emmanuel Constant on Tuesday.
Inside the State Supreme Court in Brooklyn early Tuesday morning, he was just another defendant in a list on the computer screens on the first floor: Constant, Emmanuel, set for trial on grand larceny charges. The printed calendar in the court clerk's office said the same. Only prosecutors and Mr. Emmanuel's lawyer, it seemed, knew that the case had been put off until the summer.
That did not deter the dozen or so protesters outside the courthouse who held signs bearing Mr. Constant's face and the word Wanted, and spoke out against him as city buses, trucks, taxis and bicyclists sped past.
They know him as Toto Constant, a former paramilitary commander in Haiti, convicted of organizing a massacre there in the early 1990s as a leader of the group known as Fraph, translated variously as the Front for the Advancement and Progress of Haiti and formed against the deposed president, Jean-Bertrand Aristide.
Human rights groups have accused Mr. Constant of mass rapes, torture and murder. He fled Haiti and moved to New York in 1994. In 2000, he and 15 others were convicted in absentia of a massacre of slum dwellers in the seaside shanty town of Raboteau in 1994.
In Brooklyn, Mr. Constant is charged with the more mundane crime of mortgage fraud. He was arrested in 2006 in Queens and charged with grand larceny, forgery and falsifying records for fraud. An indictment said Mr. Constant helped defraud SunTrust Bank of more than $1 million. A trial date, after several delays, was set for Friday morning.
(Mr. Constant pleaded guilty to similar charges in Suffolk County and to the Brooklyn charges, but his guilty plea in Brooklyn was retracted last year in a dispute over Mr. Constant's prison sentence, and the case was set for trial, said his lawyer, Samuel Karliner.)
The Center for Constitutional Rights organized a demonstration in front of the courthouse in anticipation of the trial. But shortly after 8 a.m., a spokesman for the New York attorney general's office said the case had been postponed until June. Mr. Karliner confirmed the rescheduling a few minutes later.
The brief demonstration went on as planned, behind police barricades across Jay Street from the courthouse.
He seems to be a master at evading any attempts to hold him accountable for his crimes, said Jennifer M. Green, a senior lawyer for the Center for Constitutional Rights. He should serve his time here. He should be deported to Haiti.
About midway through the handful of speeches, Lynne F. Stewart, the defense lawyer, arrived. I'm so proud to be here to speak against this serial murderer, rapist, manner of death squads, she said.
She observed the rescheduling of the fraud trial. I assume Constant, she said, like the snake he is, is still wiggling around.
Still later, Councilman Charles Barron arrived, and managed, in his brief remarks, to draw a parallel to local events. Whether it's the killing of Sean Bell here in New York City or the killing of people in Haiti, we are one African community, he said.
The final speaker was Ray Laforest, who has organized demonstrations outside Mr. Constant's home in Laurelton, Queens. We are present as a continuation of the tremendous struggle of Haitian people, he said.
Federal authorities have expressed willingness to deport Mr. Constant to Haiti, but the Haitian justice system is in such disrepair that it is questionable whether he would stand trial or face punishment if he were sent back.
Copyright 2008 The New York Times Company. Reprinted from The New York Times, New York Region, of May 6, 2008.
Wehaitians.com, the scholarly journal of democracy and human rights