Correspond with us, including our executive editor, professor Yves A. Isidor, via electronic mail:
letters@wehaitians.com; by way of a telephone: 617-852-7672.
Want to send this page or a link to a friend? Click on mail at the top of this window.

Must learnedly read, too; in part, of intellectual rigor
Posted Monday, January1, 2008
Family mourns loss of children killed in Dorchester fire
Brian R. Bailou, Globe Staff
In a dark hotel room in Boston yesterday morning, Gary Zizi sat on a pullout bed, waved his heavily bandaged hands over his head, and repeated over and over the names of two of his children who died early Saturday when a fire tore through the family's Dorchester home. more stories like this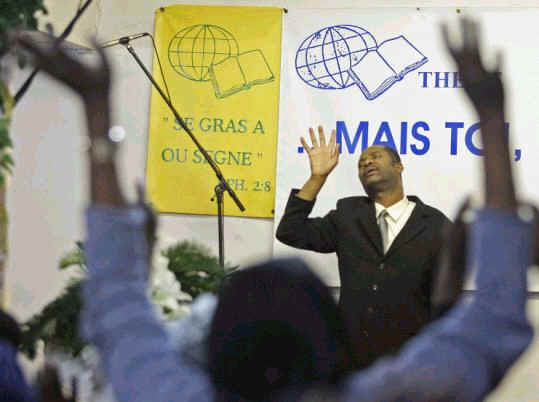 The Zizi family (from left): Guerlie, Samuel, Berlinda, Shinaider, and parents Monica and Gary were staying at a hotel in Boston yeterday Two other children, Rebecca, 9, and Rooben, 11, died in a fire in their family home in Dorchester on Saturday morning. Fire officials are focusing on a space heater in the rear children's bedroom. (Photo Matthew J. Lee/Globe Staff)
The room, where the family was temporarily placed by the American Red Cross after the early-morning fire, was full of mourners, many of whom came directly from church to offer their condolences. They brought coffee and bread and a large pot of pumpkin soup, a Haitian favorite that is traditionally consumed on the first day of the new year.
"This is a terrible thing to happen, but for it to happen during the holidays and so close to the new year, that makes it even harder to bear," said the Rev. Michel Louis, pastor of Eglise De Dieu De La Pentecote Libre in Dorchester, to which the Zizi family belongs.
Rebecca Zizi, 9, and her 11-year-old brother Rooben died in the blaze at 44 Bellevue St. Fire officials are focusing on a space heater located in the rear children's bedroom, but have not determined the cause of the fire, pending interviews with the family. Fire Department spokesman Steve MacDonald said investigators went to the hotel room yesterday, but decided to wait to interview the family because of the large number of mourners inside, many of whom were at prayer.
Guerlie Zizi, 23, the oldest of Gary and Mona Zizi's three boys and three girls, said the space heater was not in use when the fire occurred. "No, no, they were not using them," she said. She also said she wasn't sure if the smoke detectors went off or were working properly prior to the fire.
Guerlie said her youngest sibling, Berlinda, 7, was the first to wake up just after midnight. Berlinda, who was sleeping in a room with Guerlie and Rebecca, woke their father up, and Gary Zizi, 44, then started a frantic race against the fire, searching and helping to lead his children, wife, and 92-year-old grandmother out of the three-decker.
But after several trips, the fire had grown too strong, preventing him and other would-be rescuers from going back into the house to save Rebecca and Rooben, Guerlie said.
Two other families, living on the second and third floors, were able to escape the fire, and the smoke detectors on those floors went off, MacDonald said.
"It's unclear, at this point, if the alarms on the first floor went off," he said. Six people were evacuated from the upper floors.
Yesterday morning, constantly wiping tears from her eyes, Guerlie Zizi stood next to the door at her parent's hotel room. She said Rebecca loved to write, that she was always writing letters to the family as a whole, and that her theme was always the same - unity.
"She wanted the family to stay together, that's what she wrote about," Guerlie said. And before going to bed, Rebecca always kissed her family and told them she loved them. She had done this hours before she died, Guerlie said.
Rebecca was chosen as student of the month for December at the Taylor Elementary School in Mattapan, she said.
"Our parents were so happy, they gave her money," Guerlie said.
Rooben loved playing video games, especially a football game, and like Rebecca, had a passion for singing. The two sang with their church choir during a special program on Christmas Eve, Louis said.
Yesterday morning, before heading to the hotel, choir members rehearsed the song "Kou La Viya," which they plan to sing during the funeral for Rebecca and Rooben.
While they rehearsed, Yvon Alteon, who produces a Sunday morning public access television show for the local Haitian community, was in the middle of a broadcast at Tele Diaspora Inc. in Dorchester that focused on the fire.
Gary Zizi had worked as a reporter in Haiti, and when he immigrated to the United States in 2000, he continued that career, teaming with Alteon, the chief executive officer of Tele Diaspora, to put on the show. Zizi brought his family to the United States in 2003.
Alteon said the subject of yesterday's show was safety. "I told the community it is very important to learn from what has happened, to make sure that their homes are safe, because this could happen to anyone."
© Copyright 2007 The Boston Globe
Wehaitians.com, the scholarly journal of democracy and human rights