Want to send this page or a link to a friend? Click on mail at the top of this window.
Posted September 10, 2003
Healing Humanity on His Own Term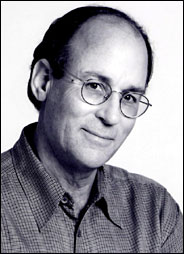 Jose Ramon Garcia/Random House
Tracy Kidder, author of "Mountains Beyond Mountains."
After researchers announced last week that poor AIDS patients in Africa were following their pill regimens better than their well-off American counterparts, Paul Farmer should be forgiven if he can't contain an I-told-you-so. For 20 years he has been confounding skeptics and cynics by successfully treating desperately poor, severely ill patients whom anyone else with a lick of sense would have given up on long ago.
Dr. Farmer does not have anywhere near the name recognition of, say, Albert Schweitzer or Mother Teresa. But if any one person can be given credit for transforming the medical establishment's thinking about health care for the destitute, it is Paul Farmer.
So readers are lucky that "Mountains Beyond Mountains: The Quest of Dr. Paul Farmer, a Man Who Would Cure the World" has been published, not only because the extraordinary Dr. Farmer deserves the attention, but also because a sensitive and graceful writer like Tracy Kidder has chosen to tell his story. The result is a tale that inspires, discomforts and provokes.
Mr. Kidder became intrigued with Dr. Farmer when he ran into him in Haiti in 1994 while covering the American intervention there. A Harvard professor, an anthropologist and a specialist at Brigham and Women's Hospital in Boston, Dr. Farmer had already won a MacArthur Foundation "genius award" for creating a thriving public health system in Cange, Haiti, in the middle of a wasted, disease-ridden squatter settlement.
Through the charity that Dr. Farmer helped found, Partners in Health, the health system, Zanmi Lasante (Creole for Partners in Health), not only cares for hundreds of thousands of peasants, but has also built schools and sanitation and water systems, vaccinated all the children, reduced the rate of H.I.V. transmission from mothers to babies, and successfully treated patients suffering from complicated drug-resistant strains of tuberculosis.
How has he done it? Dr. Farmer simply refuses to accept any excuse — no matter how reasonable — for not treating the poor. No doctors? We'll train them. High drug prices? We'll get the pharmaceutical companies to lower them. Misguided policies? We'll change them.
Dr. Farmer will hike seven hours over mountainous terrain to visit a single patient, and then fly to Europe to consult with the World Health Organization on global health policy.
Working locally and globally simultaneously means pushing himself to extremes. He has a punishing schedule and rarely sees his Haitian-born wife, Didi, and daughter. (One of the book's few flaws is that we never hear anything from Didi.) His standards are impossible, irrational. The realization that he cares more about the health of his own daughter than a stranger's — that there are limits to his empathy — brings him to tears.
"The problem is, if I don't work this hard, someone will die who doesn't have to," he confesses in a rare moment of frustration. He acknowledges that it "sounds megalomaniacal," but it is also undeniably true.
What is at the root of such exceptional drive and commitment?
That Farmer lived with his unconventional parents and five siblings on a bus that once served as a mobile TB treatment clinic and even worked briefly picking oranges with migrant Haitians makes his biography seem a bit too neat. But as Dr. Farmer is fond of saying, it can be neat and still true.
More to the point, Dr. Farmer, who has been influenced by liberation theology, says he has designed his life around "areas of moral clarity," situations "where what ought to be done seemed perfectly clear," regardless of the difficulty. He laughs off those who call him a saint, yet even Mr. Kidder wonders at his innermost ambitions when he hears Dr. Farmer say: "People call me a saint and I think, I have to work harder. Because a saint would be a great thing to be."
Mr. Kidder is sensitive to the ways such altruistic devotion can inspire and disturb: "it implied such an extreme definition of a term like `doing one's best.' " That Dr. Farmer neglects his own family is "a relief, for some," Mr. Kidder thinks, "to find what looked like a chink in his moral armor."
Dr. Farmer is pushed to branch out from Haiti after his colleague and kindred spirit, Jim Yong Kim, discovers puzzling cases of lethal and drug-resistant strains of TB in the slums of Peru. Peru had an excellent TB control program. But in one of the horribly twisted ironies that tend to afflict the poor, the very medicine that was saving lives was also — through repeated treatments — breeding mutant strains resistant to conventional drugs.
A gifted storyteller, Mr. Kidder is able to explain the web of circumstances that contribute to the wretched conditions of the world's poor. Getting the medical establishment in Peru and at W.H.O., a United Nations agency, to change the prescribed regimen for TB drugs was formidable. Health experts dismissed the idea that complex diseases like drug-resistant TB or AIDS could even be treated in poor areas.
Critics at world public health meetings would say that Dr. Farmer was a "mere clinician, too interested in patients to see the big picture" of stopping transmission of a disease like TB.
But as Mr. Kidder explains, "He rejected that idea utterly: paying attention to individual patients was a moral imperative; it was also essential to controlling TB in communities, as he'd proven in Cange."
In the end, Dr. Farmer and Dr. Kim prevailed, helping to lower the price of drugs and changing W.H.O.'s treatment guidelines.
What's more, they had challenged the philosophy and the accuracy of cost-effectiveness analysis that ruled public health-care decisions at the highest level.
Near the end of the book, Mr. Kidder details the wrenching efforts of some Partners in Health workers to help a 12-year-old Haitian boy suffering from a rare cancer. They hire a medevac helicopter for nearly $19,000 to bring the deathly ill boy to Boston for treatment. When he arrives the doctors learn the cancer has infiltrated his wasted body. He dies three weeks later.
To some it was an exercise in futility and excessive heroics. After all, how many other children could have been fed with that money?
But as Mr. Kidder explains, that kind of cost-benefit analysis is what Dr. Farmer has been fighting his whole life. If it were you, if it were your child and there was a chance to save him, would you think it was too much? Why, Dr. Farmer wants to know, don't people question why a young American doctor earns "five times what it cost to try to save a boy's life?"
Mr. Kim likes to say: "People think we're unrealistic. They don't know we're crazy."
Their approach is not always rational or sensible, but by defying such considerations, Dr. Farmer and his partners in health have shown that a small group of committed individuals, can in Margaret Mead's words, "change the world."
Copyright 2003 The New York Times Company. Reprinted from The New York Times, Books, of September 10, 2003.
Wehaitians.com, the scholarly journal of democracy and human rights