Correspond with us, including our executive editor, professor Yves A. Isidor, via electronic mail:
letters@wehaitians.com; by way of a telephone: 617-852-7672.
Want to send this page or a link to a friend? Click on mail at the top of this window.

Must learnedly read, too; in part, of intellectual rigor

Posted Friday, July 9, 2010

Half of American citizens oppose Obama's immigration lawsuit: poll
By Agence France-Presse

WASHINGTON (AFP) - Half of Americans reject President Barack Obama's lawsuit against Arizona's controversial immigration law, with only a third supporting the move, according to a Gallup poll released Friday.

With key midterm elections just around the corner in November, the Obama administration is facing strong support for the law, which makes it a crime to be in the state -- bordering Mexico -- without proper immigration papers.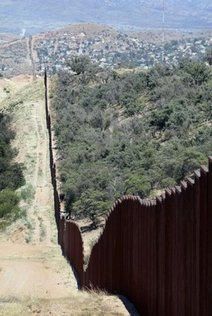 A fence on the outskirts of Norgales, Arizona (L) seperates it from Nogales Mexico in June, 2010 (Photo/AFP/Getty Images)

"Emotions run high on both sides of the issue," Gallup said. "The substantial majority of those in favor and those opposed to the lawsuit say they feel strongly about their position."

It noted that those who followed news about the law most closely were most likely to oppose it.

Obama's Democratic administration is seeking an injunction through the Justice Department to stop the Arizona law from going into effect on July 29, slamming it as unconstitutional, abusive and divisive.

Nearly eight in 10 Republicans (79 percent) opposed the lawsuit, while 56 percent of Democrats were in favor of the Obama administration's decision.

Overall, 50 percent of Americans said they were against the move, compared to 33 percent in favor.

Other polls have also shown strong national support for Arizona's measure, the first law making illegal immigration a state crime.

"The Obama administration is sailing against the tide of public opinion in its efforts to block the law, although members of Obama's own party certainly support the administration," Gallup said.

But the political implications of the federal government's decision are "difficult to predict with precision" with less than four months remaining before legislative and gubernatorial elections, it added.

Copyright © 2010 Agence France-Presse
Wehaitians.com, the scholarly journal of democracy and human rights