Correspond with us, including our executive editor, professor Yves A. Isidor, via electronic mail:
letters@wehaitians.com; by way of a telephone: 617-852-7672.
Want to send this page or a link to a friend? Click on mail at the top of this window.

Must learnedly read, too; in part, of intellectual rigor
Posted Sunday, December 9, 2007
Haitians struggle with rising costs despite gains
By Joseph Guyler Delva, Reuters Writer
PORT-AU-PRINCE (Reuters) - While international donors have praised Haiti's recent economic improvements, some Haitians say President Rene Preval's government has not done enough to lower prices in the impoverished country where three-quarters of the population lives on less than $2 a day.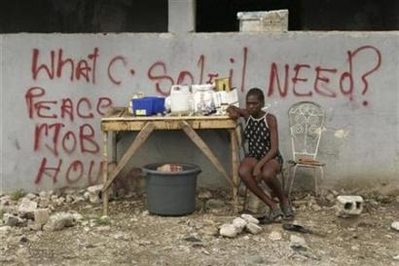 A woman waits for customers at a store in the neighborhood of Cite Soleil in Port-au-Prince, Haiti September 27, 2007. (Reuters Photo/Eduardo Munoz)
"The population is dying of hunger and nobody seems to care," said Josue Bellerive, a street sweeper in the downtown area of Port-au-Prince. "The government should simply limit the exaggerated profit made by shopkeepers."
Haiti is the Western Hemisphere's poorest country with an annual per capita income of about $450, according to the World Bank.
Several national and international specialists have said Haiti is moving in the right direction.
The IMF says Haiti has made "remarkable progress" toward economic stability in the past few years.
Inflation, which peaked at nearly 40 percent in 2003, dropped to 15 percent under the interim administration that took over after President Jean-Bertrand Aristide was ousted from office during a bloody revolt in 2004. Inflation has fallen further since Preval took office in May 2006, dropping to 7.9 percent by July, the IMF said.
"The government claims a merit point for bringing down inflation and for having a good record in macroeconomic management," said Maxime Appolon, a primary school teacher. "But what good did that do when living conditions become even harder?" he said.
"The population voted president Preval because they thought things would change for the better in terms of their daily survival," said Moreno Gustama, a former medicine vendor. "That's not what we are seeing."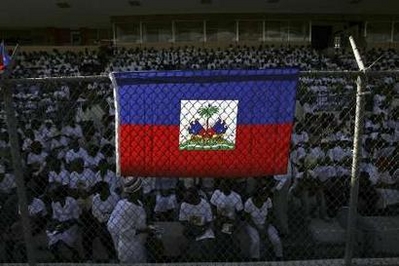 Believers commemorate the 125th anniversary of the Virgin Mary called in Haiti as "Mother Perpetual Help" in Port-au-Prince, Haiti December 8, 2007. So dirt-poor they are the vast majority of the participants in this annual relegious event hope God will soon intervene on their behalf and change, in the positive terms, their material conditions, putting an end to the abject poverty they long have been forced to endure. (Reuters Photo/Eduardo Munoz)
Though prices are rising more slowly, they are still rising, and prices for some bare necessity products have skyrocketed, provoking growing discontent.
A 110-pound (50 kg) bag of rice that cost about $15 when Preval took office now costs $42, while the price for a 6-gallon (23-litre) box of vegetable oil has risen to $37 from $25 during that time. The price of a bag of charcoal, used by many for cooking, has doubled to $14.
NO GOVERNMENT INTERVENTION
The government has dismissed calls to intervene, arguing that trying to artificially influence prices could have greater negative consequences for the economy.
"We cannot intervene and fix prices because we have to comply with free market regulations," Commerce and Industry Minister Maguy Durce told Reuters.
"One way we're trying to influence prices is by creating conditions for greater competition and by publishing a list of various prices available," said Durce, hoping buyers will be informed about stores that offer lower prices.
One of Haiti's leading economists, Kesner Pharel, said the country's yearly 2 percent population growth and high gas prices are among the causes for the high cost of living.
"Gas prices have increased by 40 percent from November to August 2007 and all rises on the international market are passed on to local customers," Pharel said.
He said the government could lower prices by cutting gas taxes but that would significantly limit its ability to invest in other vital social and infrastructural sectors.
"The country is on the right path," said Pharel. "The government has controlled its expenses, there is no deficit, the inflation is under control and the dollar has been stabilized, and it would have been much worse if these results were not achieved."
(Edited by Jane Sutton and Mohammad Zargham)
Copyright © 2007 Reuters Limited
Wehaitians.com, the scholarly journal of democracy and human rights