Want to send this page or a link to a friend? Click on mail at the top of this window.
Haitians seek saint and spirit, Pilgrimage blends Vodou, Catholic, rites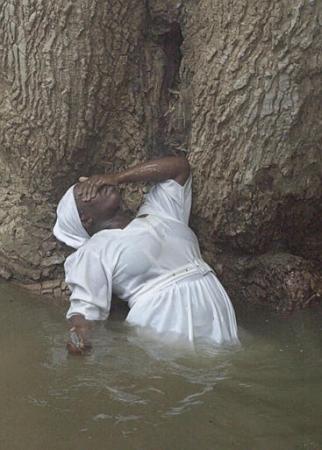 AP Photo/Daniel Morel
By JANE REGAN, Special to The Herald
SAUT D'EAU, Haiti -- They came on foot, atop a rented donkey, piled on top of sacks of charcoal or yams crammed into the back of pickups and in air-conditioned rental SUVs that cost up to $125 a day -- a fortune in this poorest of poor countries. They came to ask for a job, a visa, money to pay debts, good luck or just a good time during one of the top pilgrimages of Haiti's Vodou and Catholic religions.
Every July for the past 150 years, rich, poor and middling Haitians have made the journey from around the country and even abroad to the tiny village of Ville Bonheur and the nearby Saut d'Eau waterfall, 60 miles north of Port-au-Prince.
''Saut d'Eau festival is a dream come true for us,'' said Lesly Egalite, 46, a Vodou priest from Cite Soleil, a massive slum in Haiti's capital. ``You come and make a demand, and you get what you asked for.''
Egalite spoke by the waterfalls after dousing a bull with baby powder and perfume and blessing it with prayers and songs from the Bible's Song of Songs.
The three-day holiday honors Our Lady of Mount Carmel, the patron saint of Ville Bonheur (Happy Village), and Erzuli Dantor, a Vodou spirit associated with water and sometimes also portrayed as the Virgin Mary.
The legend behind the pilgrimage started in 1847, when Our Lady of Mont Carmel is said to have appeared on a palm tree and begun to heal the sick. Hoping to end what he considered blasphemy, a French Catholic priest cut down the tree, but worshipers still came. Eventually the church bowed to the inevitable, erected a cross and built a church on the spot.
But the priests could not stop the parallel worship of Erzuli at the nearby falls. While the Catholic and Protestant churches disapprove, many Haitians do not see a dichotomy between their Vodou beliefs and Catholicism and practice both.
Every July, the tiny rural community is transformed into a massive multireligious fair and street party.
In the town, pilgrims clutching rosaries or dressed in Erzuli's red and blue colors walk from house to house singing and asking for offerings. Noisy street bands play drums and horns made of sheet metal.
Inside the church, the mood is more somber. Hundreds of believers -- many wearing the variously colored belts and ropes associated with Vodou spirits -- offer candles and flowers as they crowd the alter, clutching passports or photos, crying and praying to a statue of the Virgin Mary.
''I'm ashamed. There are so many people I owe! I know you can work a miracle for me!'' begged Mariange Pierre as she held up pictures of her children.
Pierre came from the island of La Gonave by sailboat, truck and then on foot. The trip cost her around $10, more than 10 times the average Haitian's daily wage.
By the waterfalls, instead of crying, jubilant shouts rose up through the treetops.
Thousands wearing only underwear sang and chanted as they bathed and scrubbed their feet, arms, legs and everything else under the pounding, 100-foot-high waterfalls in the tree-ringed ravine. In addition to making offerings like a bull or a candle, the most important ritual at Saut d'Eau is bathing.
From time to time, bathers would shout, suddenly apparently possessed by Erzuli. Singing, rolling their eyes, collapsing into the water or onto the rocks, they were seemingly oblivious to the swift current and jagged edges. Fellow worshipers rushed over, taking advantage of Erzuli's presence to whisper direct requests in their ears.
''If you are in Haiti in July and you are truly Haitian, you have to come to Saut d'Eau. Haitians have very special beliefs. We serve the spirits,'' said Estime Augustin, who lives in Miami, as he prepared a bunch of herbs. ``This herb is called capable. Do you know what capable means? It means you are king. You have the strength to do anything.''
Vodou followers believe in one supreme God who has many spirit assistants, intermediaries between the supreme being and humans.
Nearby in a bright swimsuit, 16-year-old Regina Katia Pierre of Sunrise played in the falls.
''People have different ways of thinking about it, you know what I mean? Like Jews have their beliefs,'' she said. `To me, Saut d'Eau is just a beautiful place.''
Reprinted from The Miami Herald of July 17, 2003.
Wehaitians.com, the scholarly journal of democracy and human rights