Haitians Go to the Polls to Choose a New President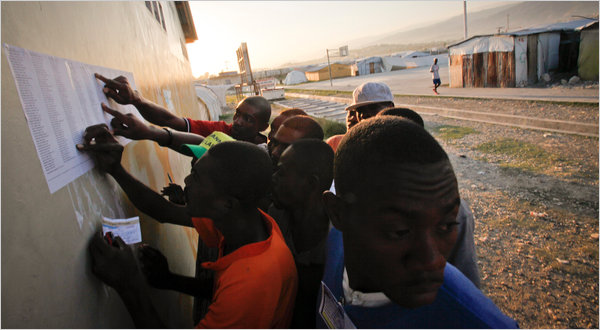 Lee Celano/Getty Images
PORT-AU-PRINCE, Haiti — Haitian voters went to the polls Sunday to choose their new president — either a bawdy Carnival singer running as a populist or a former first lady rooted in the establishment — in a runoff stirred by political crisis and the return of a popular former president from exile on Friday.
Multimedia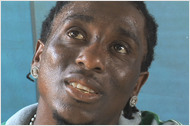 Related
With the atmosphere tense and a long history of political violence here, some polling stations opened a few hours late because of a lack of materials. But by midday, most of them seemed to have opened and voting appeared orderly across the capital. The level of turnout was unclear, however: Some stations had long lines, but others, after an initial crowd, had thinned out to a steady stream or even a trickle.
The country has been on edge over the arrival of Jean-Bertrand Aristide, the nation's first democratically elected president, who returned from seven years in exile in South Africa on Friday to a raucous welcome. That left many wondering if his supporters would sit out the election, depressing turnout and throwing the legitimacy of the victor in doubt.
Mr. Aristide, who is beloved by the poor but accused of corruption and violently suppressing opponents while in office, denounced the exclusion of his political party from the race when he arrived at the airport but has not made any other public statements. In at least one polling station in an Aristide stronghold, a good many voters showed up, enough for vendors selling beans, frozen juice and plantain chips to set up shop.
Eder Joseph, 27, described himself as a passionate Aristide man, but he said voted anyway because he was tired of living in a tent camp since the January 2010 earthquake destroyed his home and displaced him along with more than a million others.
"We have to change the future of this country," he said.
In an unexpected twist to an already complicated political climate, a spokeswoman for another popular figure here, the Haitian-American pop star Wyclef Jean, said Mr. Jean had been treated for a gunshot wound to his hand late Saturday.
The circumstances were unclear, the police had not confirmed the report and the spokeswoman for Mr. Jean, Cindy Tanenbaum, said that she had no additional information on the episode. But she added that Mr. Jean, who had previously mounted a campaign of his own and is now a supporter of the singer-turned-candidate Michel Martelly, intended to vote later in the afternoon.
With Haiti still on its knees after the 2010 earthquake and a continuing cholera epidemic, both candidates in the runoff — Mr. Martelly and Mirlande Manigat, a former first lady — offer similar promises to expand education, streamline the delivery of billions in international aid and revamp the economy. They raised eyebrows with plans to reinstate the armed forces disbanded by Mr. Aristide in 1995, after he was returned to power by United States troops following a coup in the first of his two terms.
But the two candidates offer widely disparate styles, with Ms Manigat the mother hen to Mr. Martelly's rebellious son.
Mr. Martelly, 50, is hoping large crowds of young people at his rallies will help complete his transformation from one of the most popular entertainers here — known as Tèt Kale (bald head) and Sweet Micky, a performer who frequently disrobed on stage and has admitted to past crack cocaine use — into a respected, suit-wearing chief executive.
Ms. Manigat, 70, who was the top vote-getter in the first round in November, has portrayed herself as the adult in the race whose background as a college professor and administrator would make her a sober manager of the billions of dollars of international aid pledged to Haiti. Much of that aid has been stalled by donors' doubts over the current president, René Préval, who is completing a second term and barred from running again.
The runoff was delayed for months after widespread fraud in the first round put Mr. Préval's choice as successor, Jude Célestin, in the runoff with Ms. Manigat, leading to violent street demonstrations and forcing an international investigation that eventually led to Mr. Célestin leaving the race in favor of Mr. Martelly.
The United States and other nations will have more than 200 observers on hand watching to see if pledged improvements by Haitian election authorities were carried out, including replacing and revising training for poll workers to avoid the chaos and confusion of the first round, when many voters were turned away at voting stations.
Still, diplomats said much of the training was done at the last minute and they were much more cautious this time in their optimism that a corner has been turned. Election results are not expected until the end of the month.
"We hope it is better, but we will see," said Colin Granderson, who is leading a joint Organization of American States and Caribbean Community election delegation.
This time, there were many more police officers on hand but voters still encountered the frustration of being denied a ballot because their name was missing on lists. Lenet Demolin, 33, took a 45-minute taxi ride to his designated polling place only to find confusion on the voter rolls. He was denied a ballot and the chance to vote for Mr. Martelly.
"I wanted to vote for change because nothing is being done with the people in government in this country," he said. "I don't have a job and I have a wife and two kids who I am responsible for."
Diplomats said they hoped the initial reports of scattered problems would not indicate an election so compromised the victor would lack legitimacy.
"There are small problems but the electoral council has done work to overcome the problems of last time, and so we remain vigilant and hopeful," said Jose Maria Vasquez Ocampo, the Argentine ambassador as he visited an orderly polling place in downtown that was the scene of turbulent confusion in November. Copyright 2011 The New York Times Company.
Reprinted from The New York Times of Sunday, March 20, 2011.