Want to send this page or a link to a friend? Click on mail at the top of this window.
Haitians Are Held in U.S. Despite Grant of Asylum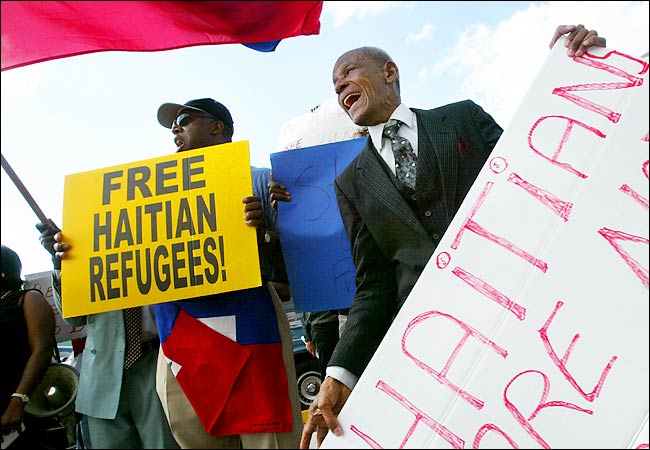 Getty Images
Stephen Baptiste, who lives in Miami, stood with protesters as they demonstrated against administration policy on Haitians. They say most Haitians who reach the United States are sent home or detained.
MIAMI, July 23 — Four months ago, immigration lawyers rejoiced after a federal judge granted political asylum to two men who scrambled to shore with more than 200 Haitians when their boat ran aground near this city last year. One man had left Haiti after the killings of his brother and sister. Another had fled after a pro-government mob attacked his house.
But the sense of celebration has given way to frustration and anguish.
Today, the two Haitian men are still behind bars, even though the judge determined that their fears of persecution were legitimate. Federal prosecutors have appealed that ruling and government officials have ordered the continued detention of the two men until the appeal is decided, a process that could take several months.
Candace Jean, the lawyer for the two men, has petitioned for their release on humanitarian grounds pending the outcome of the government's appeal. She says one of the men, Rochenel Charles, 55, suffers from severe chest and stomach pain and is deteriorating rapidly. The other, Gabriel Joseph, 53, suffers from depression and post-traumatic stress and his mental state is worsening, she says. Both men have been detained since Oct. 29, 2002, when they fled their boat along with their compatriots in a frantic dash that was broadcast on national television. A third Haitian who was detained for nearly six months after being granted asylum was released last month after the detention center determined that he was suffering from post-traumatic stress syndrome.
"America's supposed to welcome someone who is a refugee," Mr. Joseph said in a telephone interview from the Krome detention center this week. "It's four months ago that they gave me asylum and they still keep me in prison. I get so discouraged. I feel no hope."
The detention of Mr. Charles and Mr. Joseph has heightened the debate over the treatment of Haitian immigrants. Advocates say the decision to continue to detain the men after they were granted asylum highlights what they describe as the government's discriminatory stance toward Haitian asylum seekers.
Under Bush administration policy, Haitian asylum seekers are typically detained until they are deported or, less frequently, granted asylum. Other immigrants are usually allowed to remain with relatives in the community while their cases or related appeals are decided.
Officials say they are trying to discourage Haitians from migrating illegally to the United States. They say a mass migration of Haitians would require the Coast Guard to focus on interdicting people at sea, diverting precious resources needed to protect the United States in the aftermath of the terrorist attacks of Sept. 11, 2001.
In April, Attorney General John Ashcroft ruled that Haitians and other illegal immigrants without links to terrorist groups could be detained indefinitely to address such national security concerns. He said the State Department had learned that Haiti had become a staging point for Pakistanis and Palestinians hoping to enter the United States illegally, a charge that has been disputed by advocates for immigrants.
Officials say they have treated the Haitians fairly and have made exceptions to the detention rule when such exceptions were justified. Thirty-three of the people who arrived on the boat last year have been released on humanitarian or other grounds pending the outcome of their cases, officials say. Many were pregnant women and small children who spent months in detention before they were released.
The overwhelming majority of people who have been granted asylum have also been released.
Ana Santiago, a spokeswoman for the Department of Homeland Security here, declined to discuss the cases of Mr. Charles and Mr. Joseph. Departmental rules bar officials from discussing asylum cases. But the judge who handled the two cases described the concerns raised by immigration officials in her two separate rulings.
In Mr. Charles's case, government lawyers said he had not been threatened directly and questioned whether he had actually gone into hiding after his siblings were killed. The judge, Sandra S. Coleman, said she found Mr. Charles's description of his time on the run detailed and persuasive. She said it was also reasonable for Mr. Charles to fear for his life after his brother and sister were killed.
In Mr. Joseph's case, the government lawyers questioned inconsistencies in his chronology. The judge noted that Mr. Joseph, a carpenter, could not read or write. She said his testimony remained consistent during questioning and attributed his confusion over dates to the confusion of an uneducated man. All told, 93 have been deported and 32 remain in detention, including Mr. Charles and Mr. Joseph. Six people have been charged with alien smuggling.
Jorge Martinez, a spokesman for the Justice Department, which oversees the nation's immigration courts, said the detention of the remaining Haitians is necessary to ensure that they will appear in court.
"These are people who attempted to evade law enforcement," said Mr. Martinez, noting that many of the Haitians fled the police when their boat ran aground last year. "Why should we think these individuals are going to return for their adjudication? The risk of flight is very real."
Advocates for the Haitians say they are no more likely to flee than other immigrants applying for asylum.
A study released last month by Physicians for Human Rights and the Bellevue-New York University program for survivors of torture found a steady deterioration in the psychological well-being of asylum seekers over the months and years they were held in detention centers, many of which offer little access to counseling and other mental health services.
"This is not how the United States should be treating people who have been found to merit refugee status in a federal court," Ms. Jean said of her clients. "This kind of detention causes much unnecessary misery."
In January, Florida's Catholic bishops deplored the continued detention of the Haitians as "indefensible and inequitable." In March, Senator Bob Graham, Democrat of Florida, wrote to the Department of Homeland Security, calling for the release of all Haitian minors. Officials say two teenagers remain in detention.
In May, supporters of the Haitian detainees rallied at a federal immigration building here. A month later, a group of local Republican and Democratic lawmakers traveled to Washington to lobby government officials on behalf of the Haitians.
Ms. Jean said she still hoped that her clients would be released. Mr. Joseph, who was granted asylum on March 20, has relatives in New York, she says. Mr. Charles, who was granted asylum on Feb. 13, has a brother who is an American citizen living here in Miami.
She keeps in regular contact with the two men and tries to help them understand what is happening in their cases. But that is not easy.
Mr. Charles, who was a farmer in Haiti, is still struggling to comprehend his situation. "I got saved," he said in a telephone interview from Krome detention center where Ms. Jean served as his interpreter.
"I got to America. I got asylum. Why am I still in prison?"
Copyright 2003 The New York Times Company. Reprinted from The New York Times, National, of July 25, 2003.
Wehaitians.com, the scholarly journal of democracy and human rights