Correspond with us, including our executive editor, professor Yves A. Isidor, via electronic mail:
letters@wehaitians.com; by way of a telephone: 617-852-7672.
Want to send this page or a link to a friend? Click on mail at the top of this window.

Must learndly read, too; in part, of intellectual rigor
Posted Monday, July 9, 2007
Haitian radio hopes to sooth crime-riven slum
By Clarence Renois, Agence France-Presse Writer
PORT-AU-PRINCE (AFP) - From the heart of Haiti's crime-riven slum of Cite Soleil, Radio Boukman broadcasts a message of peace as it seeks to show that the neighborhood has more to offer than gun-toting criminals.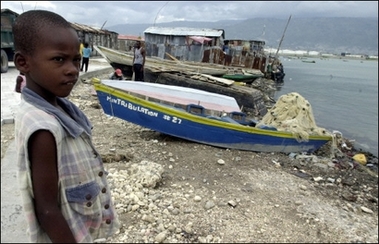 AFP File Photo A Haitian passes boats on the shores of the Port-au-Prince slum of Cite Soleil 25 June, 2007. Calm has returned to the slum after UN peacekeepers cleared of armed gangs which had controlled the neighborhood for the pas three years.
With Port-au-Prince's airwaves counting 55 radio stations, 95.9 FM seeks to stand out as "the radio of change," giving the Haitian capital's 300,000 slum dwellers a voice to discuss their plight.
Instead of news, Radio Boukman broadcasts creole rap and talk shows with young hosts discussing the community's woes.
"We believe that it is through music, dialogue and communication that real peace and change will emerge in Cite Soleil," said programming director Tanis Jean-Louis.
No one knows Radio Boukman's audience rating, but station managers believe it has become the "point of reference" for Cite Soleil residents since coming on the air a year ago.
"We broadcast all kinds of music, although we favor creole rap and local production," said station general director Nelson Jean Lifethe.
Radio Boukman, named after a former slave who led the first major slave rebellion in the former French colony in the 18th century, also wants to show a different face of Cite Soleil to shed its violent image.
"Some believe Cite Soleil is another country, an unproductive area classified as lawless by the authorities," programming adviser Hilaire Nesly said.
Each morning, 21-year-old Fabienne wakes up the population of Cite Soleil, which means Sun Town, by playing songs and reading horoscopes on her show "Morning Sun."
"Our program reveals the many talents hidden in this grimy, miserable slum," Lifethe said.
The mission of the station, which has 30 workers including some 20 volunteers, is to "create an environment of peace and teach people to live together," he said.
UN peacekeepers, who were deployed to Haiti after president Jean Bertrand Aristide fled an uprising in February 2004, launched a series of raids in Cite Soleil in December to crack down on armed gangs.
Joel Joachim, the station's administrative director, said young people need jobs to keep them away from a life of crime.
The Haitian government recently announced the creation of thousands of jobs for impoverished neighborhoods such as Cite Soleil, but radio managers say officials need to commit to improving the slum's plight.
Radio Boukman gives the slum's population a chance to express their needs and vent their complaints about everyday problems including lack of water, power outages, unsanitary conditions, disease and poverty.
"Our work will be in vain if the authorities do not show support," said Joachim, whose station is helped by donations from international aid groups.
"The children need good schools to change their lives and young people need work to keep them away from violence," he said.
One of the station's technicians was part of a Cite Soleil gang. Today he makes between 40 and 75 dollars per month.
"It takes effort to discourage young people from violence, but it is just a drop in the ocean because there is a lot of misery here," Lifethe said.
Copyright © 2007 Agence France Presse
Wehaitians.com, the scholarly journal of democracy and human rights