Correspond with us, including our executive editor, professor Yves A. Isidor, via electronic mail:
letters@wehaitians.com; by way of a telephone: 617-852-7672.
Want to send this page or a link to a friend? Click on mail at the top of this window.

Must learnedly read, too; in part, of intellectual rigor
Posted Wednesday, July 30, 2008
UPDATE: Captured at Franklin Avenue and Union Street in Brooklyn, N.Y. about 6:15 p.m. today.
DA: Father stabbed woman, kidnapped his estranged wife, 4 children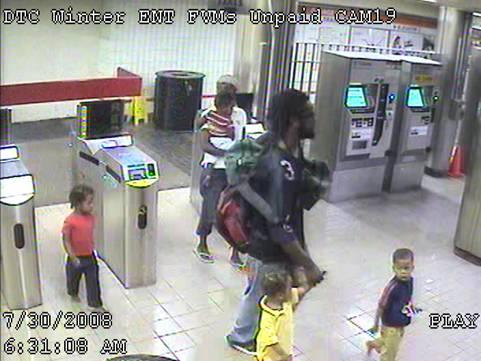 State Police Photo

A surveillance camera caught images of Rodlyn Petitbois, Louna Eveillard and their four children at the South Station subway station this morning.

By Christopher Baxter, Globe Correspondent,
and Andrew Ryan, Globe Staff


LYNN -- A massive manhunt continues this afternoon for a 25-year-old father who is accused of fatally stabbing a woman in the face in Lynn and then kidnapping his estranged wife and four young children. State Police photograph of Rodlyn Petitbois

There have been reported sightings of Rodlyn Petitbois and his captive family in Revere and on a bus. Authorities this afternoon released pictures of them taken by surveillance cameras at the Haymarket Square and South Station subway stations. Officials activated an Amber Alert at 10:44 a.m. in a search that now includes federal immigration officials, the FBI, and authorities in New York, where Petitbois once lived.

"We believe the children are at high risk," Essex District Attorney Jonathan Blodgett said this afternoon at a press conference. He added: "Our witnesses have led us to believe that the children and their mother were taken against their will."
| | | |
| --- | --- | --- |
| | | |
| PHOTOS: Rodlyn Petitbois. At left, he is holding an unidentified baby. | | |
Blodgett said that Petitbois and his wife, Louna Eveillard, 26, entered the United States in 1999 through New York. The couple has four children who range in age from 3 years to 11 months, but their relationship has recently been "tenuous," Blodgett said.

Lynn police were called to 99 High Rock St. at 1:02 a.m. and found Greenland Etienne, 33, suffering from a stab wound to the face. She was taken to a Boston hospital and pronounced dead. Witnesses told police that Petitbois took his family captive and fled.

Etienne lived at the apartment where she was killed, Blodgett said. It appears there was a "social" relationship between her and Petitbois and his wife, but that remains under investigation. Police are still trying to determine where the mother and children live.

Prosecutors are seeking an arrest warrant for Petitbois for first-degree murder because they allege he "used a knife to … kill Greenland Etienne," Blodgett said.

Investigators originally thought Petitbois had escaped in a white Buick Roadmaster. That vehicle has been located and police say it was not involved in the crime.

Releasing the surveillance camera pictures taken this morning at the Haymarket Square station and South Station -- where subway passengers can connect with intercity trains and buses -- authorities said this afternoon that the investigation had expanded to include the New York City area.

Eveillard has a fresh injury to one of her hands and may be wearing a bandage and in need of medical attention. She has been described as a black woman with a slender build and short hair. She speaks broken English and is of Haitian descent.

Petitbois is a black male with black hair worn in cornrows and dreadlocks. When last seen, he had a beard. The children were identified as Ryan Petitbois, 3, Lyndsey Petitbois, 2, Lauren Petitbois, 1, and Roddick Petitbois, 11 months. "Rodlyn Petitbois is extremely dangerous and we are asking the public's assistance apprehending him," Blodgett said. "We also ask that they do not approach him if they believe they have found him. Call 911 and the district attorney's office for assistance."

Reprinted from The Boston Globe, online version, of Wednesday, July 30, 2008.
Wehaitians.com, the scholarly journal of democracy and human rights