Correspond with us, including our executive editor, professor Yves A. Isidor, via electronic mail:
letters@wehaitians.com; by way of a telephone: 617-852-7672.
Want to send this page or a link to a friend? Click on mail at the top of this window.

Must learnedly read, too; in part, of intellectual rigor
Posted Sunday, April 20, 2008
When Haitian government officials allegedly steal $90 million, untold number of dirt-poor citizens are forced to eat dirt, also from garbage dumps
By Yves A. Isidor, wehaitians.com executive editor
CAMBRIDGE, MA, Apr. 20 - In Haiti, a small Caribbean nation that measures history by grand corruption, dynasties, coup d'états, totalitarian dictatorships, revolutions, and to cite eminent Haitian professor Leslie François Manigat, expressing electoral sentiments, in favor of the least capable, if not at all, leader, permitting it to top the unwanted pyramid of the most backward nations, the vast majority of government officials who are largely believed to be the equals of "cretins," notorious gross incompetent, alternately so-called public servants, who come and go, they have always seemed rather dishonest sort.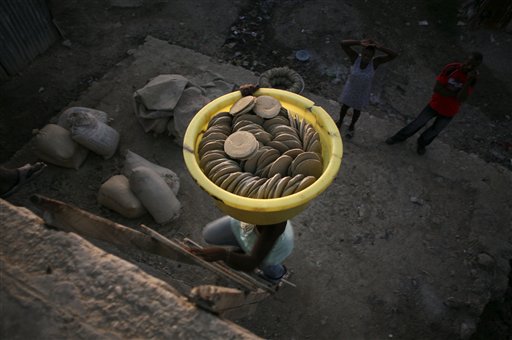 To barely stay alive, to attempt to keep themselves going untold number of dirt-poor Haitians are forced to eat dirt, also from garbage dumps. (Photo wehaitians.com/archives - AP) More Images
To comprehend so is to particularly refer to the rampant corruption they are all guided by.
So how much of the taxpayers' moneys, including foreign aid's, were recently stolen, in fact in broad daylight, by current Haitian government officials?
The vast sum, according to a source who spoke to wehaitians.com on the customary condition of anonymity because he feared for his life and those of his large family members early Saturday, with certitude, had "prima facie" evidence, by way of a telephone, certainly was not inferior to $90 million.
Were extreme violence-issued current Haitian government officials concerned about the far more than than two thirds of an estimated population of 8.2 million people who long have been forced to leave on less than $2 or less a day, on the average, (the common measure of absolute poverty) they would rather use that large sum of money to also help pay for the economic cost of feeding the tens of thousands of the middling poor Haitians who were forced to take to the streets last week, in a violent way.
As their incomparable suffering persists, by Third World standards, they are most likely to again renew their rightful protests. "If we may refer to a Marx's dictum," said many people interviewed for this news article and could not find something else that gave nourishment to their opinions vis-à-vis the extremely sad lives of the vast majority of the Haitian people, "the only things they have to loose are their chains."
In another news, the distribution of 14 tons of food to more than 3,000 dirt-poor Haitian families in the poorest neighborhoods of Port-au-Prince, the capital, late last week, in the immediate aftermath of the riots that nearly eviscerated Haiti by the Brazilian contingent of the United Nations Stabilization Mission in Haiti (Minutah) was more than a direct affront to the Haitian government, said many interviewed for this news article.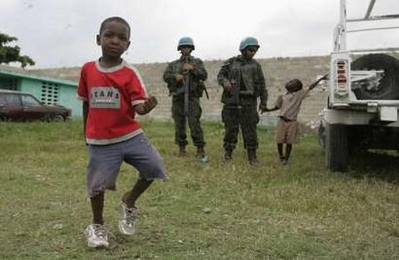 A kid dances during food distribution in Port-au-Prince, Haiti. (Eduardo Munoz/Reuters)
Ask if the continuing classification of Haiti as one of the most corrupt nations in the world by Transparency International was the principal reason why the Haitian government was not rather the one to distribute the donated food. A Brazilian embassy official, in Washington, D.C., who insisted that her name be withheld because of the sensitivity of the issue during a brief telephone interview Friday said "We do not, in part or in large, comment on reports, with an emphasis on corruption, issued by Transparency International. We simply wanted to be certain that the food donated by the Brazilian people arrived at destination, that is the hungry Haitian people."
Wehaitians.com, the scholarly journal of democracy and human rights