Earthquake, cholera-ravaged Haiti's new president, Martelly
Michel Martelly made the transition from pop star to president Saturday when he was sworn in as Haiti's new president.
The charismatic entertainer was inaugurated on the lawn of the collapsed National Palace in Port-au-Prince, in front of a tent city, a stark reminder of the difficult job ahead for the rookie politician.
The shantytown is filled with thousands of people still displaced by last year's earthquake, which killed more than 200,000 people.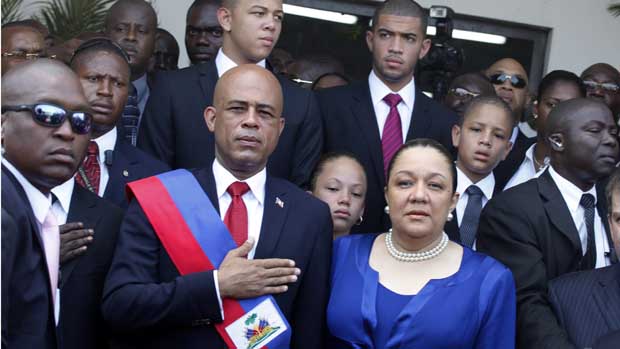 Michel Martelly is sworn in as Haiti's new president inside a Haitian parliamentary meeting room in Port-au-Prince. Jean Jacques Augustin/Associated Press
More Images
Martelly Inauguration
The country is also still dealing with a cholera epidemic. Some 300,000 have fallen ill from the disease and 5,000 have died.
Martelly, 50, is taking over from outgoing President René Préval, after winning a hard fought and sometimes messy campaign.
Sweet Micky, as he is known to fans, won in a run-off vote held March 20. On April 4, Haiti's electoral council announced that he had won nearly 68 per cent of the vote.
Martelly is predicting he'll get thousands of people out of the country's tent cities and into safe housing within months.
He's also promising his government will provide free education, introduce incentives to encourage investment and develop the impoverished countryside — all ambitious tasks in a country still digging out from earthquake rubble.
Martelly recently said he would like to develop a modern army that has a strong engineering core that would be "ready to intervene in times of chaos and catastrophe."
Prime Minister Stephen Harper offered his congratulations to Martelly and said the transition "marks an important step on the road to recovery" for Haiti.
"The people of Haiti have shown patience and resolve in expressing their will and demonstrating their commitment to democracy and the electoral process," Harper said in a statement issued Saturday.
Harper said he was looking forward to working with Martelly as he rises to meet the challenges ahead of him.
Bev Oda, minister of international co-operation, represented Canada at the ceremony and former governor general Michaëlle Jean, who was born in Haiti and is UNESCO's special envoy to Haiti, was also present.
Martelly was sworn in during a power outage in front of dozens of dignitaries, including former U.S. president Bill Clinton, the UN's special envoy to Haiti, and Edmond Mulet, head of the UN mission that has maintained order in Haiti since 2004.
Préval took off the presidential sash and put it on Martelly as they shook hands and embraced, but did not say anything to each other.
Martelly's wife, Sophia, then came on stage and adjusted the sash as their four children joined them, one of whom kissed Martelly before they stepped down from the stage.