Correspond with us, including our executive editor, professor Yves A. Isidor, via electronic mail:
letters@wehaitians.com; by way of a telephone: 617-852-7672.
Want to send this page or a link to a friend? Click on mail at the top of this window.

Must learnedly read, too; in part, of intellectual rigor

Posted Thursday, December 9, 2010

Haiti to recount ballots in disputed election

By Jonathan M. Katz,
Associated Press Writer

PORT-AU-PRINCE, Haiti - Haiti's electoral council says it will recount the ballots in the country's disputed presidential election. Council president Gaillot Dorsainvil says the ballots will be recounted this afternoon in the presence of Haitian and international observers. Dorsainvil has invited the three top candidates to monitor the recount.

He made the announcement Thursday following protests that paralyzed the capital. Angry supporters of Michel Martelly have claimed fraud denied him a spot in the January runoff. A government-backed candidate and a former first lady made it to the runoff. The U.S. Embassy has said the preliminary results appeared to conflict with observers who monitored the initial count.

THIS IS A BREAKING NEWS UPDATE. Check back soon for further information. AP's earlier story is below.

PORT-AU-PRINCE, Haiti (AP) - A popular singer vowed to legally challenge election results that narrowly ousted him from Haiti's presidential race after his supporters barricaded streets and set fires in violence that threatened the fragile stability that followed a devastating Jan. 12 earthquake.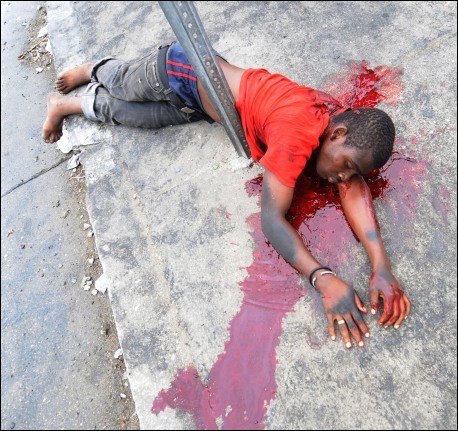 A freedom fighter murdered by genocidal tyrant Rene Preval.

Michel "Sweet Micky" Martelly urged his backers on Wednesday to nonviolently protest results from Nov. 28 presidential elections that demonstrators say were rigged. His campaign manager later said they would formally challenge the tallies released late Tuesday to Haiti's Provisional Electoral Council.

His supporters carried pink signs with the smiling face and bald head of Martelly, built street barricades, challenged heavily armored foreign soldiers and used government campaign posters to start fires.

"We want Martelly. The whole world wants Martelly," said James Becimus, a 32-year-old protester near the U.S. Embassy. "Today we set fires, tomorrow we bring weapons."

Other protesters said they would continue to mobilize but do so nonviolently.

"Demonstrating without violence is the right of the people," Martelly said. "I will be with you until the bald-head victory."

A light rain that fell through the night and continued through the morning Thursday extinguished burning piles of tires and dampened the protests: Barricades still blocked intersections throughout the capital but Associated Press journalists saw fewer protesters and the city was much quieter. The crowd outside the electoral council headquarters in the suburb of Petionville had also diminished.

A day earlier, crowds of young men wearing their shirts as masks threw rocks at U.N. troops at the electoral council building. The soldiers - Indians and Pakistanis working as a single unit — responded with exploding canisters of tear gas that washed over a nearby earthquake-refugee camp, sending mothers running from their tarps with their crying, coughing children in tow.

Protesters set fire to the headquarters of outgoing President Rene Preval's Unity party, traded blows with U.N. peacekeepers and shut down the country's lone international airport.

Preval had earlier urged the candidates to call off the protests. He acknowledged there had been fraud in the election, but said it was typical of elections around the world.

"This is not how the country is supposed to work," he told demonstrators in a live radio speech. "People are suffering because of all this damage."

The fallout from the fraud-riddled shut down cities across impoverished Haiti at a moment when medical aid workers need to tackle a surging cholera epidemic that has claimed more than 2,000 lives.

Haiti's Radio Kiskeya said in an unconfirmed report that at least four demonstrators were killed — three in Les Cayes, about 120 miles (193 kilometers) west of Port-au-Prince in the country's southern peninsula, and one in the northern city of Cap-Haitien.

Martelly, a popular carnival singer, narrowly lost a spot in a runoff election to Jude Celestin, a political unknown viewed by supporters and detractors alike as a continuation of Preval's administration. The U.S. Embassy criticized the preliminary results Tuesday, saying Haitian, U.S. and other international monitors had predicted that Celestin was likely to be eliminated in the first round.

Preval shot back at the U.S. Embassy's reproach, saying, "The American embassy is not the (electoral council)."

State Department spokesman P.J. Crowley said the U.S. is not fomenting the unrest.

"The United States is in no way responsible for the actions of any individual. What we are determined to help Haiti achieve is a credible election and a result — not one that the United States will impose — but one that the people of Haiti can participate in fully," he told reporters in Washington.

Preval's administration has been condemned by many Haitians for failing to spearhead reconstruction of the country after the earthquake. More than an estimated 1 million people still live under tarps and tents and little of the promised international aid from the United States and other countries has arrived.

Preliminary election results put Celestin ahead of Martelly by just 6,845 votes for second place. Former first lady and law professor Mirlande Manigat took first place with 31.4 percent of the vote, while Celestin had 22.5 percent and Martelly 21.8 percent.

The top two candidates advance to the Jan. 16 second round.

Manigat also told Haitian radio that she felt her reported vote tally was low. Celestin's managers said before the election that they had expected both a first-round victory and to be accused of fraud.

Thousands were disenfranchised by confusion on the rolls, which were overstuffed with earthquake dead but lacked many living voters. There were reported incidents of ballot-stuffing, violence and intimidation confirmed by international observers, but U.N. peacekeepers and the joint Organization of American States-Caribbean Community observer mission said the problems did not invalidate the vote.

Turnout was low. Just over 1 million people cast accepted ballots out of some 4.7 million registered voters. It is not known how many ballots were thrown out for fraud.

Martelly had joined with 11 other candidates, including Manigat, to accuse Preval of trying to steal the election while polls were still open.

An appeals period is open for the next three days, and election observers said a third candidate might be included in the runoff if the electoral council decides the first-round vote was close enough — though the constitutionality of such a move would be debatable.

U.N. Secretary-General Ban Ki-moon expressed concern "about allegations of fraud" and "the acts of violence that have taken place in the aftermath of the announcement," U.N. spokesman Martin Nesirky said at U.N. headquarters in New York.

He said all candidates have a responsibility to encourage their supporters to refrain from violence.

American Airlines canceled all flights in and out of the Haitian capital because airport employees were unable to get to work Wednesday because of demonstrations, spokeswoman Martha Pantin said. Flights will also be canceled on Thursday.

___ Associated Press writers Jacob Kushner in Port-au-Prince, Ben Fox in San Juan, Puerto Rico, Bob Burns in Washington and Edith Lederer at the United Nations contributed to this report.

Copyright © 2010 The Associated Press

Wehaitians.com, the scholarly journal of democracy and human rights