Correspond with us, including our executive editor, professor Yves A. Isidor, via electronic mail:
letters@wehaitians.com; by way of a telephone: 617-852-7672.
Want to send this page or a link to a friend? Click on mail at the top of this window.

Must learnedly read, too; in part, of intellectual rigor
Posted Wednesday, November 28, 2007
Haiti's national police chief Andresol to be dismissed
By Yves A. Isidor, wehaitians.com
CAMBRIDGE, MA, Nov. 28 - Mario Andresol, an imposing six foot tall, trim, baby faced, 48-year-old Haitian national and career police officer who became Haiti's national police chief in 2006 after returning to Haiti from a brief forced exile in the United States may soon lose his job by way of a Haiti's extreme violence-issued President Rene Preval's executive order.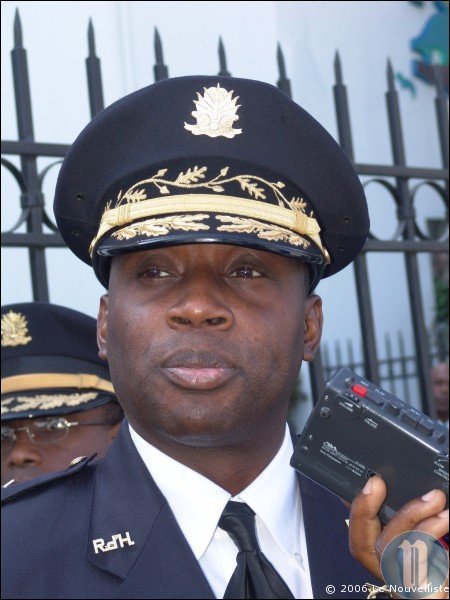 Mario Andresol. (wehaitians.com photo/archives)
Two names, those of Fritz Jean and Carlo Lochard, were seriously mentioned during a second late night secret meeting held at the Haitian national palace a few days ago, one of the few persons who were in attendance told me Wednesday by way of a telephone under strict condition of anonymity because he was not authorized to also communicate to those who were not present for the circumstance that preference was given to Mr. Lochard. That is, Mr. Lochard, a former commander in charge of the extremely violent gang infested and dirt-poor Port-au-Prince neighborhood of Martissant, is most likely the one to replace Mr. Andresol.
More, like many times before my long credible source spoke to me under the customary condition of anonymity because he feared for his life and that of his family since ultimate orders for many of the kidnappings, including that of Lavalas (Aristide's party) militant Lowinsky Pierre Antoine, he said, have been given by rival government senior officials.
One of the high ranking police officers or officials, Michael Lisuis, who about six months ago was on more than one occasion accused of practizing kidnapping for ransom by proxy, has left Haiti. He has been living in France with his family since his departure from the increasingly troubled Caribbean nation, as the recent kidnapping of a 7-year-old Haitian boy, Scheneider Ervil, while he was in the comfort of his bed at his parents' home, in the wee hours of the night, in the town of Cabaret, and ultimately his brutal death (his legs were severed and parts of his body found on the street), because his parents could not sufficiently pay $680 in ransom for his liberty, affirms.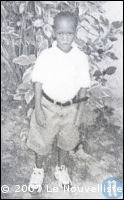 Scheneider Ervil (Photo/Le Nouvelliste)
Mr. Andresol, who senior government officials having a reputation for immeasurable dangerous gross incompetence apparently expected an overnight fix from, despite of the extreme conditions, including a pronounced lack of long needed basic police equipments, under which he has been the head of the far from being sufficiently professionally trained nation's police force, was repeatedly said not to adequately deal with the problem of kidnapping for ransom (one of the arrays of reproaches), which is about to again reach an extreme as the holidays approach.
Wehaitians.com, the scholarly journal of democracy and human rights