Want to send this page or a link to a friend? Click on mail at the top of this window.
Haiti Makes Strides In Modernizing Police Force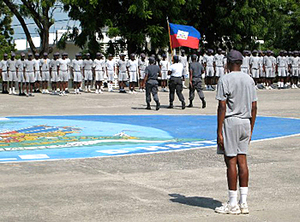 Haiti's police force numbers 8,929. Police officers received a 52 percent pay hike since 2005. An officer makes about $416 a month in a country where 70 percent of the people earn less than $2 a day. (CYRIL PRESSOIR/FOR THE MIAMI HERALD)
PORT-AU-PRINCE -- It's a humid afternoon just a few weeks before graduation, and Haiti's newest police recruits are showing off their motorcycle-riding skills.
''That's to allow them to go in and out of traffic,'' Haitian National Police Chief Mario Andresol says with a brush of pride, as the recruits zig-zag around a makeshift obstacle course.
After 10 months of training, Haiti's new mobile police unit seems ready to hit the streets -- armed with more than just the knowledge of how to ride their motorcycles.
'We've been teaching them how to say `Hello,' and ask, 'May I have your license and registration please?' '' said Andresol. ``We are teaching them how to become more polite.''
The concept of polite policing would seem basic in most places. But here in Haiti, where the police have a history of violence and corruption, demeanor and the ability to communicate are gigantic steps forward in the effort to rebuild and reform the police -- and make the uniform something to respect, rather than fear.
Three years ago, the HNP barely numbered 1,500 after a bloody revolt toppled former Haitian President Jean-Bertrand Aristide and decimated an already feeble force. Today, the force numbers 8,929 -- with the latest class of recruits preparing to enter the academy any day now.
While the number is still short of the goal of 14,000 that the government has laid out in its five-year police reform plan approved by the U.N. Security Council, it is progress nevertheless. Police force members also have received a 52 percent salary increase since 2005, and a new officer now makes about $416 a month -- in a country where 70 percent of the people earn less than $2 a day.
TROUBLE SPOTS
The progress comes not only as the U.N. peacekeeping mission here, with the assistance of the U.S. and other governments, steps up efforts to train, recruit and vet officers but as the HNP itself prepares to unveil its latest evolution: the deployment of hundreds of police officers in this capital's once off-limit slums.
''We have a situation now where we have more police officers in the streets, but we need to have some presence in the slums,'' said Andresol.
That's where the latest group of 632 police academy students come in.
With a recent surge in reported kidnappings in December compared to the previous month, police have been focused on increasing arrests, and the graduates have been temporarily deployed to the streets to assist, said Andresol.
Eventually, they will be reassigned to eight- and 10-member ''foot and motorcycle patrols in the slums, so the people will work together with them,'' he added.
The focus on community policing and the assigning of HNP officers to some of this country's toughest neighborhoods comes amid improvements in Haiti's security environment.
A year after the Brazilian-led, 9,800-member U.N. peacekeeping force launched an attack against violent street gangs and an unprecedented spike in kidnappings, major gang leaders and kidnappers have been jailed and the number of reported kidnappings have gone from 500 in 2006, to 218 in 2007 as of Dec. 21, according to U.N. officials.
Even with the decrease, authorities remain concerned about a spike in kidnappings in the week before Christmas, when at least 12 abductions were reported. Haitian police and peacekeepers rescued three of the victims and arrested eight suspected kidnappers. After learning that many of the victims were children, Haitian President René Préval made a personal plea to kidnappers, warning them to stop or risk facing the wrath of the police.
While overall crime statistics are difficult to obtain in Haiti, police and U.N. officials say the drop in kidnappings clearly signals a drop in criminality.
TURNING POINT
Authorities say abductions remain big business and have arrested 530 people on kidnapping charges since 2004. Statistics for other crimes, which police say are low, were unavailable.
The joint HNP-U.N. operations, say officials, mark a turning point toward improved security and show ''a strengthening of the capacity of the police,'' to take a lead role in curbing crime in the impoverished Caribbean nation.
''We have an acceptable level of security, but we need to understand that it is a very fragile situation,'' said Major General Carlos Alberto dos Santos Cruz, the Brazilian commander of the U.N. peacekeeping force. ``We need to keep a very strong attention so we don't have a reorganization of the crime.''
To help ensure this, both the Haitian government and the international community are engaged in several undertakings -- some of them controversial, such as a study of whether Haiti needs an army.
MILITARY QUESTION
President Préval recently revived a commission to study the creation of a military-type force to assist the police in patrolling the country's porous borders. Though Préval doesn't call it an army -- he says it's more like a national guard -- others want to debate whether Haiti needs an army or a strengthened police force.
A similar commission created by the post-Aristide interim government had already concluded that Haiti should have an army, as did a U.S. consultant hired by the same interim government.
Luiz Carlos da Costa, the deputy head of the overall U.N. mission here, known as MINUSTAH, said the decision about a public security force rests squarely with the Haitian government, and the international community is prepared to support whatever it decides.
''The MINUSTAH exit strategy is the full capability'' of the HNP, said da Costa. ``This is what we have been requested and mandated to do by the Security Council following the request of the Haitian government.''
To accomplish this, he said, the police force has to grow to at least 14,000 members in this country of 8.5 million people, even though some are pushing for an overall force of between 18,000 and 20,000.
In addition to helping to train and vet the police, MINUSTAH has been asked by the Security Council to assist the Haitian government with ''cross-border illicit trafficking'' of Colombian cocaine bound for U.S. markets.
''We are . . . fully committed in making this happen,'' said da Costa, who soon hopes to deploy about 16 U.N. patrol vessels in the waters surrounding Haiti to help the Haitian Coast Guard.
MORE HELP NEEDED
The news isn't all good, however.
By all accounts, the HNP still has a ways to go before it can even take over all crime fighting from the U.N. peacekeepers.
And despite aid from countries like the United States, which has donated more than $60 million in assistance to the HNP since 2004 including 200 motorcycles, 30 trucks, 40 ATVs and one tow truck, observers say aid remains slow in coming.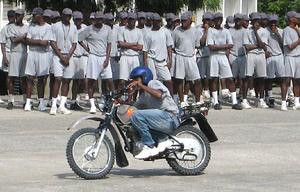 A police cadet rehearses before a graduation event in October in Petionville, Haiti. (CYRIL PRSSOIR/FOR THE MIAMI HERALD)
As an example, police are still waiting for the construction of three police stations within the Cité Soleil slum, which the United States is supposed to help build and equip.
''We've come a long distance but we've got an enormous distance to go,'' said Mark Schneider, who tracks Haitian issues for the International Crisis Group, a Washington-based think tank.
``The goal of 14,000 police officers by the end of Préval's term is still an ambitious goal. It may not be sufficient even when you look at a comparative number but it would be a major step forward. Everybody has to stay committed to this.''
Copyright 1996-2007 The Miami Herald Media Company. Reprinted from The Miami Herald of Tuesday, January 15, 2008.
Wehaitians.com, the scholarly journal of democracy and human rights