PORT-AU-PRINCE—Former Haitian dictator Jean-Claude "Baby Doc" Duvalier was released from a private hospital where he was being treated for an undisclosed ailment, his longtime companion told AFP.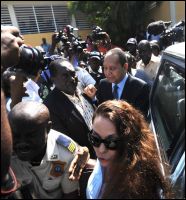 Jean-Claude "Baby Doc" Duvalier, center, just right behind his white girlfriend, Veronique Roy, with glasses. (Photo may be copyrighted)
"He's going back home. He's doing much better," Duvalier's partner Veronique Roy told AFP.
Duvalier was admitted to the hospital last week shortly after receiving a court order limiting his mobility to the Haitian capital.
A close Duvalier associate told AFP however that the ailing former dictator was still not completely well.
"He is very sick," the friend said, asking not to be identified.
"He's going home because he can receive visits from his friends there," the associate said.
Duvalier's attorneys have said they would file an appeal challenging the restriction on his movements, which they decried as unfair and "arbitrary."
Duvalier made a surprise return to Haiti in January, prompting prosecutors to charge the 59-year-old with corruption, embezzlement of public funds and criminal association during his 15-year rule that ended in 1986.
Human rights activists and experts have accused Duvalier of returning to Haiti to prevent the confiscation of at least $5.7 million in frozen Swiss bank accounts.
The former dictator upon his return said he had come back to work for national unity.
He was preceded as Haiti's president by his father Francois "Papa Doc" Duvalier, who also imposed authoritarian rule on the impoverished Caribbean nation.
Copyright 2011 Agence France-Presse