Haiti extreme violence-issued president proudly appoints notorious violent, convicted offender as security commission member
By YVES A. ISIDOR, wehaitians.com executive editor
CAMBRIDGE, MA, October 11 - In the words of many, there is something, at least, extremely wrong in Haiti's extreme violence-issued President Rene Preval's apparent effort to officially form a commission Tuesday to study the possibilities, which are not limited to economic cost and the purpose it will truly serve, of creating a security force to replace the long United Nations' forces of occupation, though their mandate seems to be indefinite, despite repeated verbal protests by a reduced number of Haitians, including prominent attorney Osner Fevry, who identify themselves as die-hard nationalists, that they depart, and immediately, the dirt-poor Caribbean nation.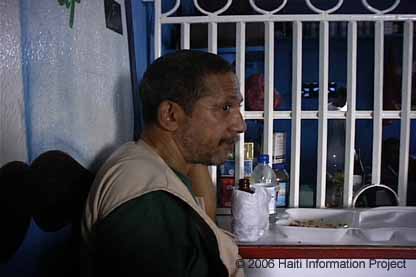 Only in Haiti: Patrick Elie, a notorious criminal now in charge of security. Perhaps Osama bin Laden will soon be asked to serve in the capacity of chairman of the so-called security commission.
Patrick Elie, who on April 23, 1996 was placed in tight handcuffs at gunpoint and later sentenced to a prolonged prison term as punishment after a guilty verdict was returned against him by a federal jury, in Washington, D.C., for having committed criminal acts, that is being in possession of unauthorized high caliber firearms and threatening to harm, to kill, among other people, the then Haitian ambassador, Jean Casimir, was among those appointed by Preval as members of that commission, a sign that the troubled Caribbean nation is will most likely not move in an atmosphere of security, and for the benefit of all, including noncitizens, far from lethal gangsterism.
"All of this suggests," said many, "Preval is a man who represents the immorality personified in all villains, all violent, all dangerous and convicted offenders."