Correspond with us, including our executive editor, professor Yves A. Isidor, via electronic mail:
letters@wehaitians.com; by way of a telephone: 617-852-7672.
Want to send this page or a link to a friend? Click on mail at the top of this window.

Must learnedly read, too; in part, of intellectual rigor
Posted Friday, February 8, 2008
After a request by two Haitian plaintiffs, Swiss government again extends freeze on former notorious tyrant "Baby Doc" accounts
The Swiss government has agreed to freeze the accounts of former Haitian dictator Jean-Claude Duvalier following a request by two Haitian plaintiffs, AFP reported. "We obtained the sequestration of the funds in Basel in early January," said Marc Henzelin, a Geneva-based lawyer for the two plaintiffs -- a priest and a taxi driver.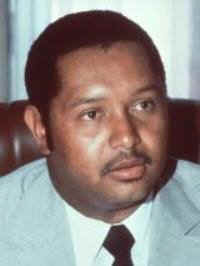 Former notorious totalitarian dictator Jean-Claude "Baby Doc" Duvalier.
Persecuted under the Duvalier regime, the two had obtained an injunction from a Swiss court and then a temporary government extension of the freeze. They are trying to have a 1988 US court ruling -- which ordered the Duvaliers to pay them 1.75 million dollars in damages -- recognized in Switzerland.
Following a request by Haiti President Rene Preval, the Swiss government separately extended in August a freeze for another year of some 7.6 million Swiss francs in all Swiss bank accounts belonging to Duvalier, who lives in France. "Baby Doc" Duvalier and his followers have been accused by Haiti's government of siphoning off state funds during their reign. The case has been on hold for years over the failure of Haitian authorities to put together a legal case before Swiss courts to retrieve the money.
Reprinted from Tribune de Geneve of Friday, February 8, 2008.
Wehaitians.com, the scholarly journal of democracy and human rights