Correspond with us, including our executive editor, professor Yves A. Isidor, via electronic mail:
letters@wehaitians.com; by way of a telephone: 617-852-7672.
Want to send this page or a link to a friend? Click on mail at the top of this window.

Must learnedly read, too; in part, of intellectual rigor

Posted Thursday, July 15, 2010

France's intention to repay Haiti 90 million gold francs, but now US$21-plus billion, in reparations, a hoax
By Agence France-Presse

PARIS - The French foreign ministry said Thursday it was considering taking legal action after a mystery group launched an online copy of its official website carrying fake news.

The site at www.diplomatiegov.fr is a close copy of the ministry's own at www.diplomatie.gouv.fr and includes accurate links and pirated versions of real videos and news releases from Bernard Kouchner's ministry.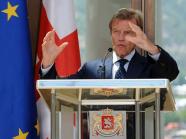 French Foreign Minister Bernard Kouchner speaks at a press briefing. (Photo/AFP)

There is also a video in which a woman masquerading as a ministry spokeswoman says Paris will repay the 90 million gold francs that Haiti paid France between 1825 and 1947 in reparations after fighting for independence.

An accompanying press release, formatted to match a genuine statement but sent from a non-official gmail account, said "including adjustments for inflation and a minimal interest rate of five percent per annum, this sum is today valued at 17 billion euros (21 billion dollars)."

France has no plans to repay Haiti this sum, and a foreign ministry spokesman confirmed that the press release, video and website were all fake.

"This Internet site ... broadcasts false news and fraudulently copies the foreign ministry site," said spokesman Bernard Valero. "We are studying what legal steps we can take to remedy this situation."

A telephone number on the fake press release was unattributed and AFP received no immediate reply from the email address used by its sender.

Copyright © 2010 AFP

_______________________________________

Enter deposed bloodthirsty Jean-Bertrand Aristide, who demanded that France also pays Haiti 48 cents in change -- From wehaitians.com's file (News & Analysis) - June, 14, 2003.


Quixotic Haiti seeks French restitution

Los Angeles Times Staff Writer

PORT-AU-PRINCE, Haiti — France owes this country exactly $21,685,135,571.48, the government figures -- not counting interest, penalties or consideration of the suffering and indignity inflicted by slavery and colonization.

Paris swiftly rejected the demand for restitution when Haiti raised the issue in April, on the 200th anniversary of the death of Toussaint Louverture. A revered figure here, Louverture led fellow slaves in throwing off their French colonial oppressors.
Wehaitians.com, the scholarly journal of democracy and human rights