Former Haitian Dictator Taken Away by Police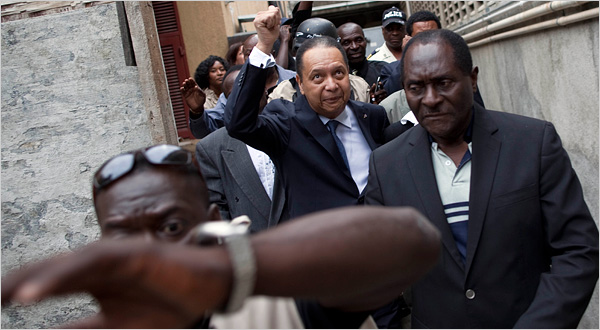 RAMON ESPINOZA/ASSOCIATED PRESS
Former Haitian dictator Jean-Claude Duvalier, known as "Baby Doc," gestured to supporters as police took him from his hotel on Tuesday in Port-au-Prince.
Police took Baby Doc out of his hotel
Ramon Espinosa/Associated Press
PORT-AU-PRINCE, Haiti — Haitian police officers on Tuesday took away Jean-Claude Duvalier, the former dictator who abruptly returned to this country nearly 25 years after being forced from power, leading him out of the high-end hotel where he has been huddled since his arrival.
Surrounded by heavily armed police officers, Mr. Duvalier emerged from his room at noon in a blue suit and walked down three flights of stairs, never letting go of his companion's hand as he waved to supporters chanting his name and calling him "president."
"We are with you," some supporters shouted as police officers led Mr. Duvalier out of the back of the hotel. With United Nations peacekeepers standing by, police officers put him and several of his associates into a waiting vehicle and drove off. Small clusters of his supporters outside the hotel cried "revolution." Hunks of concrete were thrown into the convoy's path.
It remained unclear whether Mr. Duvalier would be arrested or simply questioned. He has faced threats of prosecution in the past for the many human rights abuses committed during his rule, and for the hundreds of millions of dollars government officials have said he looted from the country.
A Haitian justice official and one of Mr. Duvalier's lawyers said that Mr. Duvalier was being brought to a meeting with prosecutors for questioning. Another Haitian official said separately that Mr. Duvalier could be released by the end of the day.
Still, in a country with a long history of impunity, where leaders rarely face prosecution, it was a striking scene, underscoring the political volatility that has gripped Haiti since a contested presidential election late last year.
One year after the nation was hit by a devastating earthquake that killed more than 200,000 people, the country has been grappling to absorb the potentially destabilizing blow of Mr. Duvalier's surprise return this week, which drew condemnations from around the world and ignited new fears of conflict.
At a courthouse where Mr. Duvalier was taken on Tuesday, his companion, Veronique Roy, denied that Mr. Duvalier had been arrested. "Absolutely not," she told The Associated Press by phone. "We are very relaxed, drinking coffee and water," she added. "They said they are making photocopies. We don't know why."
Mr. Duvalier, known as Baby Doc, returned to Haiti 24 years and 11 months after he was forced to flee the country by a tide of social upheaval driven by severe poverty and his regime's brutal political repression. In a brief radio interview, Mr. Duvalier said he had returned only to help his country, not to get involved in politics. He spent the rest of his first day back in Haiti out of the public eye, huddled with his advisers and relatives at a high-end hotel in the mountains overlooking Port-au-Prince, the capital.
His silence left Haitians and the rest of the world to wonder what Mr. Duvalier was really up to.
Neither France, which had granted Mr. Duvalier asylum, nor the United States, Haiti's largest benefactor, said they had anything to do with his return. In fact, both governments said they had been unaware that Mr. Duvalier had left Paris until his flight was close to landing in Port-au-Prince.
The Haitian government — in disarray since the earthquake — seemed to respond in fits and starts, initially dismissing Mr. Duvalier's arrival as well within his rights as a Haitian citizen, and later suggesting that the Justice Ministry had begun an investigation into his return.
Angry reactions poured in from around the world, with human rights groups demanding that the Haitian government charge Mr. Duvalier with crimes against humanity — including the kidnapping, torture and murder of thousands of his opponents — and with stealing hundreds of millions of dollars from the nation, the poorest in the hemisphere.
"Duvalier's return to Haiti should be for one purpose only: to face justice," José Miguel Vivanco, director of Human Rights Watch's Americas division, said in a statement.
On the streets here, however, there were signs that Mr. Duvalier's arrival had started a new cycle of the polarization that has crippled this country for decades. Some decried Mr. Duvalier as a vestige of one of the darkest chapters in the country's history, while others waxed nostalgic about him as the only hope for change in Haiti.
In an interview with The Associated Press, Bobby Duval, a former soccer star, said he had been starved and tortured for 17 months while being held without charges under Mr. Duvalier's government.
Calling Mr. Duvalier a "murderous thief," Mr. Duval said, "A country that has no memory will repeat its same mistakes."