Correspond with us, including our executive editor, professor Yves A. Isidor, via electronic mail:
letters@wehaitians.com; by way of a telephone: 617-852-7672.
Want to send this page or a link to a friend? Click on mail at the top of this window.

Must learnedly read, too; in part, of intellectual rigor
Posted Thursday, April 17, 2008
Former notorious bloodthirsty dictator Aristide threatened with expulsion from South Africa
By Yves A. Isidor, wehaitians.com executive editor
CAMBRIDGE, MA, Apr. 16 - In what seemed to also be an attempt to lend credence to what Pope Benedict XVI, the current successor of the Apostle Peter, would later famously say, in fact Wednesday, in Washington, D.C., during his historic visit there, "Democracy can only flourish when political leaders and those whom they represent are guided by truth," the government of South Africa, presided by Thabo Mbeki, a well placed source told wehaitians.com early Wednesday on the customary condition of anonymity because he was not authorized to divulge or communicate to the press government information, by way of a telephone, a few days ago threatened deposed notorious totalitarian dictator, Jean-Bertrand Aristide, with expulsion from that middle income African nation, where he was ultimately granted political asylum, weeks after he was forced to resign the presidency of Haiti, on February 29, 2004.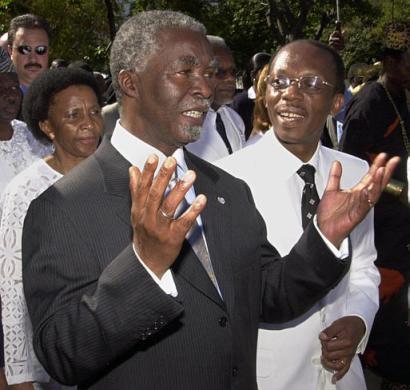 South Africa's president, Thabo Mbeki, left, and deposed notorious totalitarian dictator, Jean-Bertrand Aristide, during the so-called bi-centennial celebrations of Haiti's hard earned independence from France on January 1, 2004 at the Haitian national palace (File Photo/wehaitians.com/AP)
The unprecedented threat came after blame was assigned to Aristide, who has never hesitated to cross swords, even with imagined political opponents, for what the South African government called his proven immeasurable indirect participation, in an amended form, but infinitely violent, with the help of thousands of dollars, in the food riots that nearly eviscerated Haiti last week, like the death of at least seven middling poor (those who leave on $2 a day and this, the common measure of absolute poverty), untold number of injured, the burning of an incalculable number of business enterprises, homes, to name only these ones, suggest.
Wehaitians.com, the scholarly journal of democracy and human rights