Correspond with us, including our executive editor, professor Yves A. Isidor, via electronic mail:
letters@wehaitians.com; by way of a telephone: 617-852-7672.
Want to send this page or a link to a friend? Click on mail at the top of this window.

Must learnedly read, too; in part, of intellectual rigor
Posted Saturday, December 22, 2007
Federal judge warns U.S. government not to fast-track deportation of acquitted Haitian man
MIAMI -- A federal judge in Miami is warning the Bush administration not to fast-track the deportation of a Haitian man acquitted of terrorism conspiracy charges.
Photographs of the men accused of practizing terrorism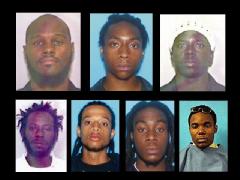 TOP PHOTOS, FROM LEFT TO RIGHT: Narseal Batiste, a/k/a "Brother Naz," a/k/a "Prince Manna"; Burson Augustin, a/k/a "Brother B;" Patrick Abraham, a/k/a " Brother Pat" BOTTOM PHOTOS, FROM LEFT TO RIGHT: Lyglenson Lyglenson; Naudimar Herrera, a/k/a "Brother Naudy"; Rotchild Augustine, a/k/a "Brother Rot;" Stanley Phanor
U.S. District Judge Joan Lenard notes that the man may be called as a witness in the retrial of his six former co-defendants.
Lenard also says the identities of the jury to be chosen next month for the second trial will be kept secret from prosecutors, defense lawyers and the public because of improper contacts and leaks in the first trial. The mother of one defendant was given a list with "X" marks next to the names of six jurors.
The retrial is set to begin January seventh for six men accused of plotting with al-Qaida to destroy Chicago's Sears Tower and bomb FBI offices. The first trial ended in a hung jury for those six and an acquittal on all charges for Lyglenson Lemorin, a legal U.S. resident from Haiti.
Copyright 2007 The Associated Press
Wehaitians.com, the scholarly journal of democracy and human rights