Correspond with us, including our executive editor, professor Yves A. Isidor, via electronic mail:
letters@wehaitians.com
Want to send this page or a link to a friend? Click on mail at the top of this window.

Must learndly read, too; in part, of intellectual rigor; in part, the repository of ultimate knowledge
Posted Monday, February 5, 2007
For Haitian Candidate, Time to Show Power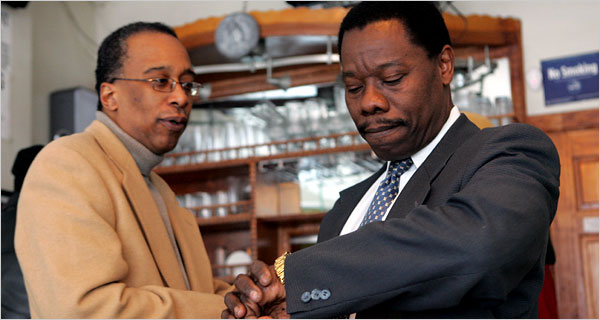 Ruby Washinton/The New York Times
Dr. Mathieu Eugene, 54, right, with an aide, Joe Placide, could become the first Haitian-born City Council member. A special election in Brooklyn is set for February 20.
As a television in a corner of a small, cozy Haitian restaurant in Brooklyn played a comedy in Creole, Dr. Mathieu Eugene spoke about his quest to become the first Haitian-born member of the New York City Council.
"Has the time come?" Dr. Eugene said, repeating a question that he has been asked frequently during the past few weeks. "Yes, I believe the time has come. We Haitians have been participating in the political system for some time, and we have helped others get into elective office. Many people believe that it's our turn. And they look at this as a historic and important moment."
There are anywhere from 100,000 to 200,000 Haitian-Americans in New York, but no one with that background has been elected to the Council or the State Legislature.
Many Haitian-Americans in Brooklyn suggested that they have their best chance ever in Dr. Eugene, 54, a physician who is seeking to replace Yvette D. Clarke, who was elected to Congress in November.
In the complicated Caribbean politics of central Brooklyn, Ms. Clarke, who is of Jamaican descent, has decided to endorse Dr. Eugene, forsaking the Jamaican candidates in a race that has become a test of ethnic primacy among the fervently political West Indian groups that are prevalent in the district.
And just as Irish and later Jewish and Italian politicians clawed their way to political power by first capturing local offices in previous generations, the Caribbean groups are viewing this contest as a vehicle for showing their growing political clout.
"This race is significant because you have a lot of people from various Caribbean ancestries trying to get a seat or hold a seat at the political table," said Michael Gaspard, a political consultant who has studied the race to succeed Ms. Clarke. "And it's a sign of the Caribbean community coming of age in a significant political way."
In an indication of how prized the seat is, the campaign leading up to the Feb. 20 special election initially drew 25 candidates, including people who claim ancestry from Barbados, Jamaica, Pakistan, Panama and St. Vincent and the Grenadines. The cumbersome process of gathering petition signatures winnowed that original field down to 10 contenders, including one Jewish candidate, who could carry some of the district's Jewish vote.
The seat, for the 40th City Council District, represents parts of Flatbush and Crown Heights, and has long been known as a hotbed of political activism over issues like police brutality and immigration rights.
Ms. Clarke's mother, Una, made history by becoming the first Jamaican-born member of the Council in 1991. And Yvette Clarke succeeded her mother in the Council before going to Congress this year.
Now, both mother and daughter, who are something of a political force in Brooklyn, have decided that it was time to repay the substantial Haitian support they have received over the years.
Dr. Eugene's candidacy represents a maturation of the often fractious Haitian political landscape in New York. During the 1960s, a large wave of Haitians came to the United States, seeking better opportunities when François Duvalier was the dictator of Haiti. Even after Mr. Duvalier's son, Jean-Claude, was overthrown in 1986, Haitians continued to flock to New York, many to flee Haiti's chronic famine and unemployment.
In 1980, there were about 50,000 Haitian-born New Yorkers, according to figures from the New York City Planning Commission. By 2000, that number had grown to nearly 100,000, the Planning Commission said. And Haitian-American civic associations now suggest that the number of New Yorkers of Haitian descent could be as high as 200,000.
Over the years, several Haitian candidates have run for office in New York, but none have been successful.
"Haitian people are interested in politics," said Henry Frank, the executive director of the Haitian Centers Council, a New York-based consortium of Haitian organizations. "And they brought that interest in politics from Haiti to New York."
Mr. Frank said that typically, several Haitian candidates run for an office and as a result, not one is able to get enough votes to win. "Here in New York, there was a lot of fighting among candidates in our community," he said. "That's the way of saying, too many chiefs and not enough Indians here."
So important was this seat to Haitian political and civic leaders that they had meetings to narrow the field of Haitian-American candidates. The group selected Ferdinand Zizi, a health care administrator, but he withdrew from the race while his petitions were being challenged, leaving Dr. Eugene as the sole Haitian running. Since then, his candidacy has received attention from media outlets in Haiti, which are following the race closely.
Whether Dr. Eugene, who also runs a nonprofit organization for young people, is successful in his quest to become the first Haitian-born council member remains to be seen, since he has some rather stiff competition among the nine other candidates. Skip to next paragraph
Ruby Washington/The New York Times Mohammad A. Razvi, 36, another of the 10 candidates, is a Pakistani-born businessman. He was campaigning in the Midwood neighborhood of Brooklyn. Multimedia Graphic Haitians in Brooklyn.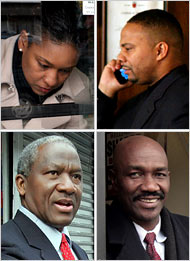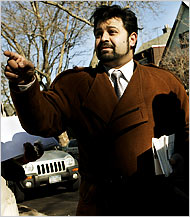 Nicholas Roberts for The New York Times
Other candidates representing groups with political clout are seeking a seat in a special election. Contenders include, from top, Jennifer N. James, 34; Jesse E. Hamilton III, 44; Wellington Sharpe, 62; Joel Toney, 61; and Mohammad A. Razvi, 36.
One rival is Jennifer N. James, 34, who worked as an aide to state Comptroller H. Carl McCall and as a fund-raiser for Ms. Clarke's congressional campaign. Ms. James, who is of Jamaican and Costa Rican heritage, has won several political endorsements.
Another candidate is Jesse E. Hamilton III, 44, a lawyer who ran unsuccessfully for the Assembly last year, but won a position as Democratic Party district leader. The District Council 37 labor union has endorsed Mr. Hamilton, who traces his roots to Barbados and the state of Georgia. Another is Zenobia McNally, 45, a businesswoman of Panamanian descent who ran against Ms. Clarke for the Council in 2005.
There is Jamaican-born Wellington Sharpe, 62, a businessman in the district who ran unsuccessfully for the State Senate in 2004. Another candidate is Joel G. Toney, 61, a former ambassador to the United Nations from St. Vincent and the Grenadines. They are among the top fund-raisers.
Other candidates are Mohammad A. Razvi, 36, a Pakistani-born businessman who runs a community center; Karlene A. Gordon, 46, a former public school teacher who was born in Jamaica; Leithland Rickie Tulloch, 44, a Jamaican-born longtime member of Community Board 17; and Harry L. Schiffman, 55, the director of government and community relations of Kingsbrook Jewish Medical Center, and the only white candidate in the race.
Under the City Charter, such special elections are nonpartisan races in which candidates are barred from running on the ballot lines of established political parties.
And a special election in February tends to be as unpredictable as the winter weather. With so many candidates running and so few voters expected to go to the polls, any of the 10 candidates makes a plausible case for victory.
Mr. Razvi, for example, has led the fund-raising, having collected more than $100,000, of which $62,000 was in public matching funds. Mr. Sharpe has been endorsed by well-known politicians like Representative Edolphus Towns. Ms. James has called upon her vast network of political friends. Others, like Mr. Hamilton, said that their previous candidacies had given them familiarity with voters.
"It's unpredictable because it's in the dead of winter and a candidate could win with 15 percent of the vote," said Mr. Gaspard, the political consultant. "Turnout will be extremely low, and any of them could squeeze this out. And that's what makes it intriguing."
Copyright 2007 The New York Times Company. Reprinted from The New York Times, New York Region, of Monday, February 5, 2007.
Wehaitians.com, the scholarly journal of democracy and human rights