Correspond with us, including our executive editor, professor Yves A. Isidor, via electronic mail:
letters@wehaitians.com; by way of a telephone: 617-852-7672.
Want to send this page or a link to a friend? Click on mail at the top of this window.

Must learnedly read, too; in part, of intellectual rigor
_________________________
Posted Tuesday, July 12, 2011
Last modified, Thursday, July 14, 2011
Family members, friends said adieu to Haitian-American Marie Joseph who found premature death in Fall River swimming pool
By Yves A. Isidor, Wehaitians.com, executive editor
FALL RIVER, MA, Jul. 12 - Marie Joseph, aged 36, the Haitian-American woman who is no longer with us, after her lifeless decomposed body was found in a swimming pool about two weeks ago in the Massachusetts southeastern blue-collar, mid-size city of Fall River, and more than two days after she was sent to the dark embrace of death, a private funeral was held for her today at the Silvia-Faria Funeral Home, situated in the city she moved to, long after departing her native Haiti, in the hope of finding a better life but later unfortunately found premature death.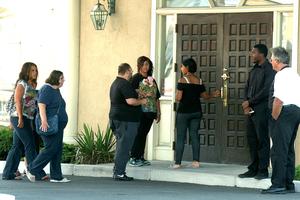 Mourners entering the Silvia-Faria Funeral Home to pay their last respect to Marie Joseph. (Dave Souza/The Fall River Herald News)
Ms. Joseph's remains, according to a family member who spoke to Wehaitias.com on the customary condition of anonimity, were then transported to Brockton, where they were buried in a cemetery alongside those of her mother.

'So much of a nice person Marie was," one of her friends also present for the unfortunate circumstance told Wehaitians.com, in Spanish, while tears coming out of her eyes, "we will always honor her soul and celebrate her spirit."
"Que dios la bendiga or may God bless her," another friend loudly said, in the Spanish language, as the short service was coming to an end.

RELATED
Wehaitians.com, the scholarly journal of democracy and human rights