Correspond with us, including our executive editor, professor Yves A. Isidor, via electronic mail:
letters@wehaitians.com; by way of a telephone: 617-852-7672.
Want to send this page or a link to a friend? Click on mail at the top of this window.

Must learnedly read, too; in part, of intellectual rigor

Posted Wednesday, August 12, 2008

Ernest Bennett, who was illegally arrested by the notorious cretin son of one of his best friends, Claude Preval, died, aged 82

By Yves A. Isidor, wehaitians.com executive editor

CAMBRIDGE, MA, Aug. 12 - If a single month marked the beginning of the premature end of Claude Preval, the father of largely inarticulate, former miserably co-failed neighborhood baker Rene Preval, but now extreme violence-issued president of dirt-poor Haiti, and, yes, too, grossly incompetent, it was July 1998, when the younger Preval bestially took out of the circulation, without first producing an arrest warrant, Ernest Bennett at his home, in the Port-au-Prince wealthy suburb of Petion-Ville, one of his father's longtime best friends, on some of the usual imagined charges. "You defrauded the state of Haiti millions of dollars during the reign of your son-in-law, Jean-Claude 'Baby Doc" Duvalier,'" the former husband of his eldest daughter or progeny, Michele.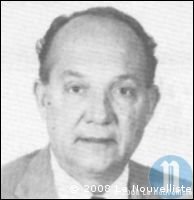 Ernest Bennett

Mr. Bennett, who was never formally charged, illegally remained in detention for an extended period of time at the Port-au-Prince national fetid penitentiary, despite the repeated intervention of the elder Preval, succumbed to a medical condition known as cardiovascular complications, weeks after he was admitted at Baptist Hospital as a lung cancer patient, in the Southern state of United States of Florida Tuesday.

Mr. Bennett, who until recently his intelligently written columns were accommodated for publication by Le Nouvelliste, a long respected Haitian, but French language publication, situated in the capital city of Port-au-Prince, was 82.

"There is nothing new under the sun," said Karl Marx. To better comprehend Marx's maxim is to know that dictator Preval, who was booted out of college during his freshman year for earning the equivalent grade of F, in Belgium (see wehaitians.com principal page for supporting documents), was simply trying, though unintelligently so, to emulate Josef Stalin. The killers of, principally immediate family members, must always be with us.
Stalin's son, Yakov, from his first marriage, died in a German Nazi concentration in 1943 after his sadistic father who thought him a German spy forsook the younger Stalin.
Wehaitians.com, the scholarly journal of democracy and human rights