Want to send this page or a link to a friend? Click on mail at the top of this window.
Economic Growth Provides Little For World's Poor
By JOHNATHAN FOWLER, Agence France-Presse Writer
GENEVA, Jul. 20, 2006 (AFP) - Snowballing urbanisation and economic growth in the world's poorest nations are creating too few opportunities for their citizens, leaving them vulnerable in the face of competitive and increasingly open world markets, a UN study warned.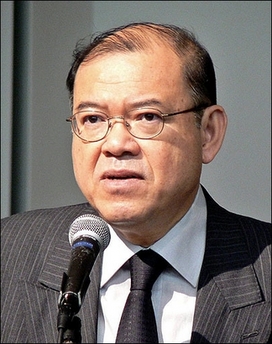 United Nations Conference on Trade and Development (UNCTAD) chief Supachai Panitchpakdi, seen here in October 2005, snoballing urbanization and economic growth in the world's poorest nations are creating too few opportunities for the world's poorest.
The UN Conference on Trade and Development (UNCTAD) said that unless the world's 50 least developed countries (LDCs), three-quarters of which are in Africa, were able to meet the job-creation challenge, then there would be increased pressure for migration to industrialised nations.
Without sustained efforts to build up productivity in the LDCs, there would also be an increased risk of humanitarian crises and even civil conflict, UNCTAD said.
Agriculture accounted for 70 percent of the labour force in LDCs in 2000-2003, but overall, the decade 2000-2010 will be the first in which the economically active non-farming population is forecast to grow faster than its rural counterpart.
Most LDCs have simply been unable to generate enough productive, off-farm jobs to escape the poverty trap, said UNCTAD.
"There is a need to translate growth into jobs and poverty reduction," said UNCTAD chief Supachai Panitchpakdi.
The economies of the LDCs, most of which have undertaken rapid trade liberalisation, grew by an average of 5.9 percent in 2004, the year for which the most recent data is available, said UNCTAD. The rate was the highest in two decades.
The increase was associated with a doubling of aid from rich countries between 1999 and 2004.
Also crucial were high demand for the LDCs oil and other natural resources, record merchandise exports in 2004 of 57 billion dollars -- a near-fivefold increase on the previous year -- and a record 10.7 billion in private foreign investment.
But progress was uneven.
Four oil-exporting LDCs -- Angola, Equatorial Guinea, Sudan and Yemen -- accounted for more than half of the export increase.
The four countries, plus the oil nations of Chad and Mauritania, also drew 70 percent of foreign investment, UNCTAD noted.
Such capital still remained concentrated on resource extraction, which is not known for creating a "virtuous circle" of widening economic activity and employment, the agency said.
Other LDCs, notably Bangladesh, Gambia and Senegal, did well with exports of manufactured items, such as textiles.
But countries including Niger and the Central African Republic achieved growth of less than 1.0 percent, while the economy of violence- and disaster-ravaged Haiti shrank by 3.8 percent.
Despite a string of new debt-relief measures by international lenders, the LDCs continued to labour under increasing external debt.
Other warning signs included the low level of domestic savings rates and that net food imports were growing in Africa, UNCTAD said.
LDCs, many of which are also net importers of oil, have a history of short periods of progress followed by sudden economic collapses, recalled UNCTAD.
They have also faced declining productivity rates: in 2000-2003, it took an average of five workers to turn out what one worker produced in other developing countries, and 94 LDC workers to match the productivity of a single developed world counterpart.
Simulations in the UNCTAD report showed that LDCs could achieve growth rates of over 7.0 percent if their labour forces were fully employed and they exploited sources of improved productivity.
UNCTAD said that key steps would include improving infrastructure, particularly in the transport, telecommunications and energy sectors.
It was also necessary to tackle institutional constraints on private investment, such as weak formal banking systems and costly credit, in order to fuel the creation of medium-sized businesses.
Such policies should form a key plank of poverty-reduction strategies of donors as well as LDC governments, said UNCTAD.
Copyright © 2006 Agence France Presse
Wehaitians.com, the scholarly journal of democracy and human rights