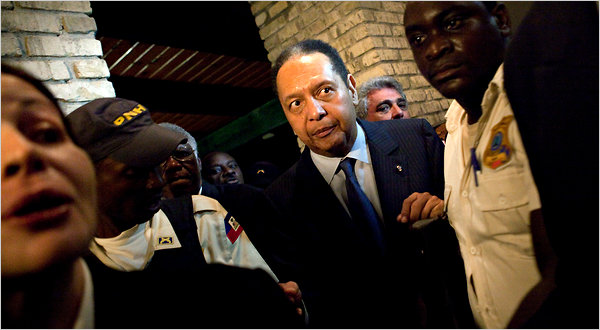 ALLISON SHELLEY/GETTY IMAGES
Jean-Claude Duvalier, the former leader known as 'Baby Doc', at the Karibe Hotel in Port-au-Prince on Sunday night.
MEXICO CITY — Haiti's former dictator, Jean-Claude Duvalier, huddled with his advisers at a Port-au-Prince hotel on Monday, a day after his stunning return to the country he ruled with brutality and corruption for almost 15 years.
Mr. Duvalier, who is known as Baby Doc, had been expected to speak publicly on Monday, and reporters and Haitians clustered around his hotel, the luxurious Karibe. But the plans were abruptly canceled. A Duvalier aide, Henry Robert Sterlin, said the hotel could not accommodate the crowds and no suitable replacement location could be found.
The sudden arrival of Mr. Duvalier, who ruled Haiti from the time he was 19 until he was forced to flee by mass protests in 1986, threatened to further convulse a country that is struggling to recover from the earthquake, a lingering cholera epidemic, the political uncertainty stemming from last year's contested presidential election and an epidemic of violent crime.
Mr. Sterlin said he did not know how long Mr. Duvalier, who has been living in exile near Paris, planned to stay in Haiti, or if he planned to meet with Haiti's president, René Préval. An aide said Mr. Préval was among those surprised by Mr. Duvalier's arrival.
A friend said that Mr. Duvalier would stay for three or four days, but that he would eventually like to resettle in Haiti. The friend spoke on the condition of anonymity because he was not Mr. Duvalier's official representative.
The capital was calm on Monday. On his arrival in Port-au-Prince the day before, Mr. Duvalier was treated by some like a visiting dignitary, according to the Web site of the Haitian newspaper Le Nouvelliste. "I came to put myself at the service of my country," he was quoted as saying as he left the plane.
Crowds lined his route from the airport and, referring to the nation's dismal conditions, chanted, "If Jean-Claude had been here, we would never be like this," the newspaper said.
Mr. Duvalier and his girlfriend, Véronique Roy, were chauffeured to the Karibe Hotel in a four-wheel-drive vehicle that was escorted by members of the Haitian national police and followed by a "procession," the newspaper said.
Some analysts noted a lack of protests against an international pariah who had been chased from his country by angry demonstrators. In the raucous celebration that followed his fall from power, several people, many of them members of his security force, were killed and demonstrators broke into the mausoleum of his father, Francois Duvalier, another brutal dictator who ruled in the 1950s and 60s.
Elizabeth Abbott, a senior research associate at the University of Toronto's Trinity College and the author of "Haiti: The Duvaliers and Their Legacy," said Mr. Duvalier had many loyalists inside Haiti. Graffiti that read "Welcome home, Duvalier" began appearing weeks ago in the capital, and rumors persisted that he would arrive soon.
For some Haitians born after he was deposed, she said, Mr. Duvalier may be a symbol of a time when the streets were safer.
"He is a figurehead," said Ms. Abbott, who is a sister-in-law of the general who deposed Mr. Duvalier. "There is an awful lot of nostalgia there now. But it is a nostalgia for a tiny aspect of what life was like then."
On Monday, Duvalier opponents began calling in to Haitian radio stations, to remind Haitians not old enough to remember his rule of the brutality and economic hardship that led him to be deposed. And Amnesty International urged the Haitian authorities to arrest Mr. Duvalier for human rights abuses committed during his rule in 1970s and '80s.
"The widespread and systematic human rights violations committed in Haiti during Duvalier's rule amount to crimes against humanity," said Javier Zuniga, a special adviser to the human rights group. "Haiti is under the obligation to prosecute him and anyone else responsible for such crimes."
There were conflicting reports about how Mr. Duvalier was allowed to enter the country. Haitian officials said it appeared he made his way to Port-au-Prince on an expired diplomatic passport. But the Le Nouvelliste article said he had a Haitian diplomatic passport that was issued to him by the transitional government of 2004 to 2006.
A senior aide to Mr. Préval said the French Embassy in Port-au-Prince told Haitian officials that Mr. Duvalier's arrival only became clear after the Air France flight on which he was traveling took off for the Haitian capital from the Caribbean island of Guadaloupe. A senior French government official in Paris said, however, that Mr. Duvalier had told the French authorities of his planned return to Haiti without specifying when he would arrive. The official declined to be identified, in keeping with protocol.
The French Foreign Ministry spokesman, Bernard Valero, said Mr. Duvalier's Haitian passport was valid and he was "free to move around."