Correspond with us, including our executive editor, professor Yves A. Isidor, via electronic mail:
letters@wehaitians.com; by way of a telephone: 617-852-7672.
Want to send this page or a link to a friend? Click on mail at the top of this window.

Must learnedly read, too; in part, of intellectual rigor
Posted Thursday, January 10, 2007
Deposed, captured uncommon bloodthirsty Liberian dictator Taylor trial hears how child was 'dismembered'
HAGUE (Reuters) - Child soldiers serving with rebels in Sierra Leone dismembered a screaming boy (Deposed monstrous dictator Aristide: Disturbing revelations of human sacrifice) before tossing him in a toilet pit, a pastor who survived a massacre told the trial of Charles Taylor on Tuesday.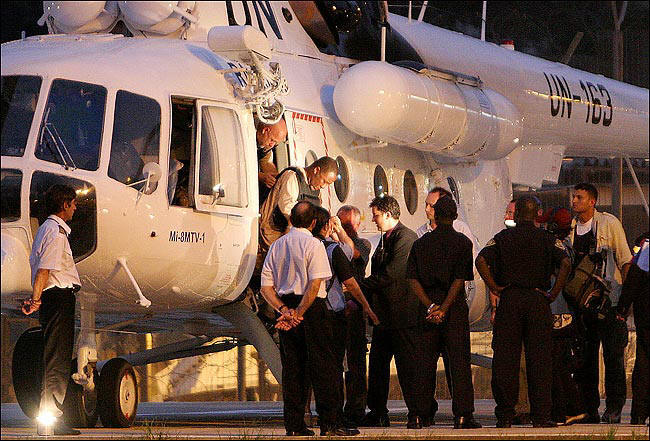 Charles Taylor, in tight handcuffs, disembarking from a U.N. helicopter that transported him to the Hague from Sierra Leone after he was captured as he was attempting to flee Nigeria, where he was granted political asylum after he was forced to flee his war ravaged nation of Liberia. (AP Photo)
The former Liberian president, once one of Africa's most feared warlords, is on trial for orchestrating rape, murder, mutilation and recruitment of child soldiers during the 1991-2002 civil war in neighboring Sierra Leone.
In harrowing testimony, Alex Tamba Teh, 47, told the U.N.-backed Special Court for Sierra Leone how he saw a rebel commander from Liberia he called "Rocky" shoot 101 people. Rocky spared his life only because he was a pastor.
"After he killed the civilians ... he gave the instruction that they should be decapitated. Rocky gave the order to the small boy units," Tamba Teh told the court, referring to the gangs of child soldiers used by rebels during the war. On the second day of prosecution evidence, Tamba Teh -- from the eastern diamond district of Kono -- recounted how rebels voted on whether to spare his life and how they carved the initials RUF into the bodies of abductees. He also described rapes of abducted women by rebels.
Child soldiers -- some of whom were so small they could not even lift their guns -- rounded on one boy and chopped off his hand, then his arm, then both his feet, before tossing him into a toilet pit, Tamba Teh said, speaking in an African Creole.
Showing the court his mouth, Tamba Teh explained how a rebel knocked out his teeth with a pistol. They also forced him to help unload ammunition from a Liberian helicopter.
TAYLOR DENIES GUILT
Prosecutors say Taylor sought to plunder Sierra Leone's diamond wealth and destabilize its government by supporting the Revolutionary United Front (RUF) rebels.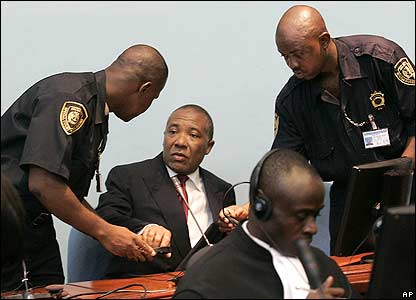 Charles Taylor, center, second row, in court in an undated photo. Also, More Images
Taylor, 59, the first former African head of state to face an international court, has pleaded not guilty to all charges. He appeared in court wearing a dark suit and a gold tie.
His defense lawyers do not contest that atrocities took place in Sierra Leone but dispute Taylor's involvement. They say bringing victims to the Hague is a tactic by prosecutors to boost emotional impact.
Earlier, the court heard from blood diamond expert Ian Smillie, who said the RUF used brutality to frighten people away from diamond fields that earned them up to $125 million a year.
Smillie met Taylor in 2000 while investigating diamond smuggling as part of a U.N. probe. He said diamonds were the primary source of RUF funding and most left through Liberia, possible only with the complicity of the Liberian government.
More than a quarter of a million people died in intertwined wars in Liberia and Sierra Leone. Prosecutors want the trial to end decades of impunity for ousted African strongmen, who have often fled overseas to live out their days unpunished.
Taylor found exile in Nigeria after he was overthrown in 2003 and was handed to the court after international pressure. His trial was moved to The Hague because of fears it could spur instability if held in Sierra Leone.
John Richardson, a former national security adviser to Taylor who runs a campaign group in support of him, said the court was not living up to a promise to enable Liberians back home to follow the proceedings on live television.
"The process needs to be witnessed by Liberians so that we know the level of transparency," he said. Prosecutors expect a judgment by the end of 2009, though an appeal would be likely to stretch the case into 2010.
(Additional reporting by Alphonso Toweh in Monrovia; Editing by Sami Aboudi)
Copyright 2008 Reuters Ltd.
Wehaitians.com, the scholarly journal of democracy and human rights