Correspond with us, including our executive editor, professor Yves A. Isidor, via electronic mail:
letters@wehaitians.com; by way of a telephone: 617-852-7672.
Want to send this page or a link to a friend? Click on mail at the top of this window.

Must learnedly read, too; in part, of intellectual rigor
Posted Sunday, October 28, 2007
Deported back to Haiti, woman pays a stranger to escape a nightmare
By DIANNA SMITH
Palm Beach Post Staff Writer
PORT-AU-PRINCE, Haiti — Marie Michou Daniel hid behind a rusty gate until her company arrived on a bustling street.
She hurried to greet them, then guided them through a dark alley that smelled of raw sewage and gasoline. They passed gaunt children playing with stray cats and mothers hanging wet clothes over concrete slabs.
Her company squeezed through a maze of ratty shacks where women cooked outside and men showered with buckets of water behind raised plastic sheets. They walked up wobbly stairs that led to an apartment no bigger than a one-car garage.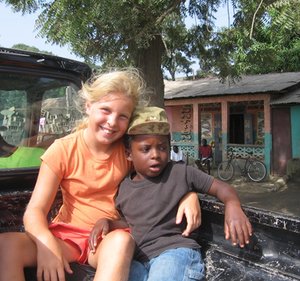 Amy Miller/The Philadephia Inquirer
Lane, 10, and Benjamin, 4 find adventure riding in the pack of a pickup truck in Haiti.
Once inside, Daniel shut the door, closed the curtains and apologized in whispers for the darkness and the heat. In Haiti, she did not want to be discovered.
In the span of one year, Daniel, 33, found herself on a nightmarish roller coaster ride that took the single mother of three from her West Palm Beach home to the Krome Detention Center in Miami to desolate, dangerous streets in Haiti and finally to Montreal, where she struggles to put her life back together.
"I want to say I'm sorry," Daniel begged through tears last November, thinking of her children. "I just want them to think about my situation ... them in my shoes. I was afraid for my life ... but I don't think they know that." Daniel carried her life in a folder. She emptied it frequently, sifting through it like sand, looking for the treasures hidden inside. She unfolded a drawing that her daughter had sent her and gazed at pictures of her twin boys in blue caps and gowns.
She missed their kindergarten graduation.
"All of the other moms were there," she whispered.
Daniel is one of 153,026 people that U.S. Immigration and Customs Enforcement officers deported from October 2005 to July 2006.
Many, like Daniel, were parents who left their children behind with friends or relatives because the youngsters were born on American soil, an automatic gift of citizenship.
Daniel came to the United States in 1997 with a photo-switch passport and was arrested at Miami International Airport. She was paroled after stating that she had fled Haiti because she feared for her life, having witnessed a slaying: A man held a gun to her neighbor's head and shot three times. Daniel began receiving death threats. So she fled. She filed paperwork for political asylum, obtained a work permit and started to work odd jobs in Palm Beach County.
She became a certified nursing assistant and eventually had her twins and then her daughter. She saved enough to buy a house - all the while not knowing how long she could stay.
When her political asylum was denied in 1999, she appealed. And when she learned the appeal, too, had been denied, she made a decision to remain in the United States anyway.
But on Jan. 30, 2006, Daniel was in a minor car wreck. The police officer noticed a lien on her driver license. She was taken to Krome and sent back to Haiti with $2.90 in her pocket and the clothes on her back. She spent her days in hiding, afraid that the people once after her would learn she had returned.
"It's really hard," Daniel said. "Even though I know my political asylum was turned down, I didn't think they would just deport me like that. I put it in my head if I have the kids, there's no way they will send me back."
But they did.
In Haiti, she carried disguises such as wigs, hats and sunglasses. They were stuffed in the bag with her folder, the one that carried memories of the children whom she longed to see.
"My kids, they're all I have," Daniel cried. "I want to know if they are OK, if they're hungry, if they're clean, what they're doing. I want to sing for them at night. I want to tell them I love them. I want to hug them, but I can't." Five months later, Daniel is in Canada.
She decided to pay a stranger to help her escape the nightmare she was living in Haiti. She gave a man $3,000 - money she got from her family in the United States.
"He did whatever he had to do. The next thing I know, I'm on a plane with him to Canada," she said. "The next day I went to immigration."
She said she was a refugee. She explained that she feared for her life, and Daniel was quickly accepted. The government gave her a place to sleep, food, clothes and a bus pass. And soon she was reunited with her children.
In Montreal, Daniel enrolled the boys in school. She put her daughter in day care so Daniel can work full-time and study to be a nurse. Now she is on her way to becoming a legal resident.
"I know God is going to make a way for me," she said. "I don't want to give up."
Copyright 2007 The Palm Beach Post. Reprinted from The Palm Beach Post of Sunday, October 28, 2007.
Wehaitians.com, the scholarly journal of democracy and human rights