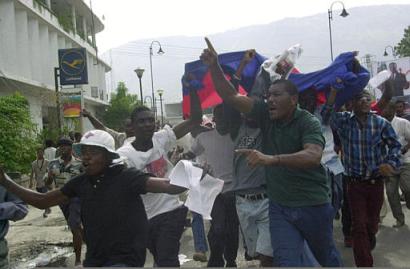 Supporters of President Jean-Bertrand Aristide chase people trying to participate in a march in an anti-Aristide march in Port-au-Prince, Haiti on Tuesday, Dec. 3, 2002. (AP Photo/ Daniel Morel)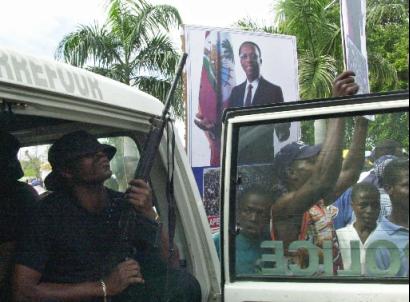 With a picture of President Jean-Bertrand Aristide seen in the background, riot police stand guard next to supporters of the president in front of Parliament in Port-au-Prince, Haiti on Tuesday, Dec. 3, 2002. Some 2,000 Aristide supporters broke up a planned anti-Aristide march before it could begin. Pressure has been mounting on Aristide's government, which has been stymied by a lack of international aid and investment and growing poverty in Haiti, the poorest country in the Western Hemisphere. Although parliamentary elections are planned for next year, presidential elections aren't planned until 2005. (AP Photo/Daniel Morel)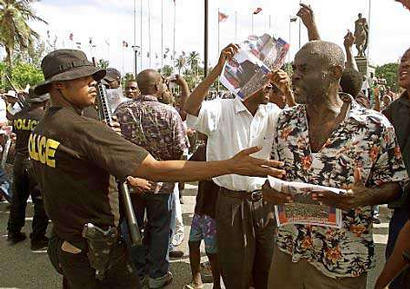 Supporters of Haitian President Jean-Bertrand Aristide protest next to riot police during a demonstration in front of the U.S. Embassy in Port Au Prince, Haiti, December 3, 2002. Tensions increased in the impoverished Caribbean nation as Aristide supporters violently broke-up anti-government protests and Aristide's political opposition called for a general strike on Dec. 4. Photo by Daniel Aguilar/Reuters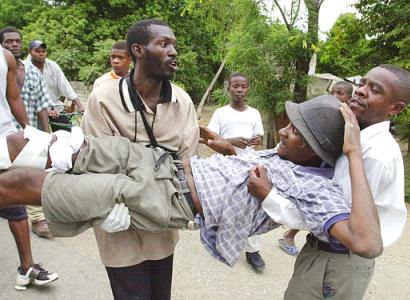 Crazy Mizidor, 36, is carried by other anti-Aristide protesters, after being shot in the leg during clashes between anti-government demonstrators and supporters of Aristide during a march in Petit Goave, Haiti Tuesday, Dec. 3, 2002. Demonstrators were protesting against President Jean-Bertrand Aristide, and demanding justice in the investigation of the death of a local journalist Brignol Lindor who was hacked to death one year ago. (AP Photo/Lynne Sladky)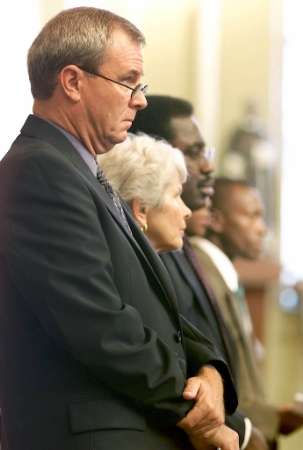 American ambassador Brian Dean Curran listens during a mass for murdered journalist Birgnol Lindor at the Eglise Saint Pierre de Petionville in Haiti's capital, Port-au-Prince on December 3, 2002. Lindor was hacked to death in the provincial city of Petit Goave one year ago. REUTERS/Daniel Aguilar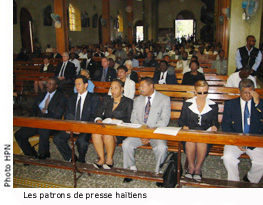 Haitians and foreigners at a mass for murdered radio journalist, Brignol Lindor at the Eglise Saint Pierre de Petionville, a suburb of Haiti's capital, Port-au-Prince, on Dec. 3, 2002. Lindor was hacked to death by tyrant Jean-Bertrand Aristide bandits in the provincial city of Petit-Goave on Dec. 3, 2001.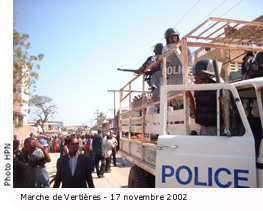 Chief bandit Jean-Bertrand Aristide's thugs ready to shoot participants at a pro-democracy protest in Cap-Haitien on Nov. 17, 2002.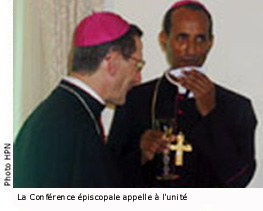 Haiti's Roman Catholic Church, which sent a letter this week to totalitarian dictator Jean-Bertrand Aristide, urges him to vacate the office of the presidency.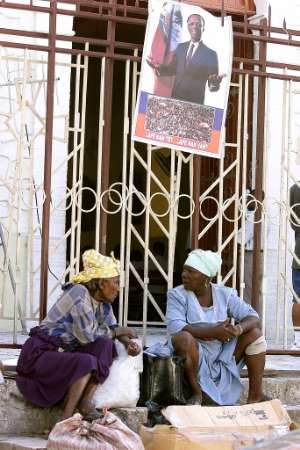 Two Haitian women sit beneath a poster of Haitian President Jean-Bertrand Aristide in Port Au Prince, Haiti, December 3, 2002. Tensions increased in the impoverished Caribbean nation on Tuesday as Aristide supporters violently broke-up anti-government protests and Aristide's political opposition called for a general strike on Wednesday. REUTERS/Daniel Aguilar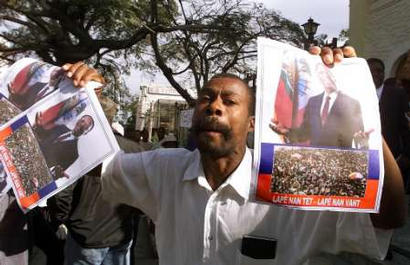 A supporter of Haitian President Jean-Bertrand Aristide shouts after a mass for murdered journalist Birgnol Lindor at the Eglise Saint Pierre de Petionville in Haiti's capital, Port-au-Prince on December 3, 2002. Lindor was hacked to death, allegedly by Aristide supporters, in the provincial city of Petit Goave one year ago. REUTERS/Daniel Aguilar