Want to send this page or a link to a friend? Click on mail at the top of this window.
Crime consumed a family, and an 8-year-old is lost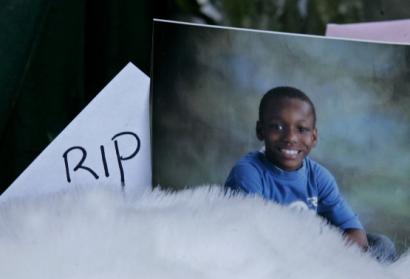 Liquarry Jefferson, 8, was accidentally shot to death June 24 by his 7-year-old cousin. The boy's family initially blamed armed intruders. (GEORGE RIZER/GLOBE STAFF)
By Scott Allen and
Maria Gramer, Globe Staff
Liquarry A. Jefferson probably didn't have a chance. His father was in prison the day the boy was born, emerging long enough from his manslaughter sentence to commit a string of armed robberies. His four half siblings were born of three different fathers, all gang members, and, currently, all inmates.
His mother had a criminal record. His oldest half brother was shot in the leg when he was 12 years old. Liquarry was a victim before he was even born; his father beat his mother with a barbell when the boy was still in her womb.
So by the time 8-year-old Liquarry was fatally shot in the gut by his 7-year-old cousin in Liquarry's apartment in the Grove Hall section of Dorchester, the boy had experienced a merry-go-round of caretakers, been subjected to a succession of criminal role models, and had seen more mayhem and misery in his short life than most people endure in a lifetime.
Liquarry's accidental death June 24 brought familiar calls for tougher gun controls. Mayor Thomas M. Menino suggested the National Rifle Association was partly to blame. The minister at the boy's funeral lectured the grieving congregation to teach children about the danger of guns. Mothers vowed to take back the streets of Grove Hall, at the center of several neighborhoods that together account for about 80 percent of the city's shootings.
But the killing laid bare a much deeper truth about urban violence: Crime in many neighborhoods runs in families, where elders bequeath gang membership, drug abuse, joblessness, and brutality to their offspring like a toxic inheritance. In Grove Hall, police have said that 2.4 percent of the area's 19,000 residents cause most of the serious crime. Many of those people, police say, are related.
A Globe examination of documents in dozens of court cases involving Liquarry's family and interviews with social workers and police reveals the complexity of his world, one in which crime dates back generations -- at least four in his household -- and in which taxpayers dedicate an extraordinary amount of public resources in an attempt to rescue children from chaos. Failure in these crime-prone families is rampant, often in the form of teen pregnancies, drug abuse, and violent deaths, fueling a widely held public belief that such families are too dysfunctional to save.
But to understand Liquarry's world, social workers say, is to recognize that success comes in small and ambiguous pieces -- a more attentive mother, an older brother who teaches a sibling to shoot baskets rather than bullets. For instance, although police suspect that the 9mm handgun that killed Liquarry belonged to his 15-year-old half brother Jayquan McConnico, social workers say that doesn't negate that he is a promising young man who graduated from middle school with honors.
In success and in failure, these crime-prone families are expensive.
A Globe analysis shows that in the final year of Liquarry's life, government agencies spent at least $314,000 on his family, about half for social services and government benefits, in an extraordinary effort to save the family, especially the children.
Besides the salaries for the battery of social workers who regularly called on the house, the public spending includes a subsidized housing allowance, food stamps, court-appointed public defenders, and the $56 paternity test that a judge ordered one of the fathers of Liquarry's mother's other children to undergo for an out-of-wedlock child with another woman.
The other half of the total went to the costs of prosecuting and imprisoning family members. Taxpayers spent an estimated $30,000 on a double-homicide trial for the father of two of Liquarry's half siblings in October -- he was acquitted -- as well as dozens, maybe hundreds of hours worth of police work on cases that involved family members. When the Boston Herald admonished the family last month for costing the public $10,000 in needless investigative work because Liquarry's mother, Lakeisha Gadson, falsely reported that her son had been shot by home invaders, police and social service officials knew the bigger story. The family had been tearing through $10,000 in public resources every couple of weeks for a long time.
What did the public get for all that money?
Despite Liquarry's death, caregivers involved with the family say they see something worth saving in Gadson and her children. As a result, prior to Liquarry's death, the state Department of Social Services didn't take the children into custody even when they witnessed or took part in violence. "Regardless of the struggles, mom was responsive," said Debra Socia, principal of the Pilot Middle School in Dorchester where Jayquan was a student until he was expelled in 2004. "She cares deeply for her kids and wants to be successful and wants her kids to be successful."
And caregivers said that Jayquan -- who has been associated with the MIC gang and who has an extensive juvenile rap sheet, according to police -- was turning himself around. His bright and outgoing manner made him a strong candidate to lead a gang, but he aspired to something no one in his household had: a paying job.
"He'd really like to graduate from high school. He'd really like to have a job. He'd really like to work for the mayor," said Carrie Clausen, a social worker who has met weekly with Jayquan for more than three years.
But Clausen and others acknowledge that these are modest gains against a dark backdrop in a neighborhood where boys often turn to gangs for protection and girls turn to gang member boyfriends for the same reason. Even when children in these families want to do the right thing, social workers say, trouble often finds them at an extremely young age.
"There's a code that people live by and it's tough," said Jeff Butts, director of the Youth Service Providers Network, a social service agency run by the Boys & Girls Clubs and Boston police. "You carry weapons because you're afraid something will happen to you. Unfortunately, when you have guns, you're more likely to use them."
Others are less sympathetic, pointing out that most children, even in tough neighborhoods, don't turn to crime.
"At some point we need parental responsibility," said Richard Ianella, the register of Suffolk Probate and Family Court, whose office has overseen numerous child custody support battles involving members of Liquarry's family. "At some point, the Department of Social Services can't be the 24-hour babysitter for everyone. We need a parental responsibility czar."
Police long ago identified Liquarry's household as one of the highest crime families in the neighborhood -- and they feared that, sooner or later, one of the children would get killed. The only thing they got wrong was the victim.
On a warm spring day in 2004, a drive-by shooter put a bullet through the right calf of Jayquan, Liquarry's half brother, as he stood with his aunt and his bicycle a few doors from his apartment building. Police believed the bullet was intended for his aunt, Antonia Gadson. But they also feared that Jayquan was about to be pulled into a familiar cycle of revenge -- either as victim or victimizer.
"If you don't intervene, he may not see 13," Police Superintendent Paul Joyce said one officer warned him.
Police already were on the lookout for troubled families in Grove Hall. Though the long orderly rows of apartment buildings don't appear menacing and the neighborhood borders bucolic Franklin Park, Grove Hall has been the scene of some of Boston's most notorious crimes in recent history, including the savage gang rape and killing of Kimberly Rae Harbour in 1990 and the gang-related slaying of 10-year-old Trina Persad in 2002 as she played in a park named for yet another child homicide victim.
Under an unusual initiative paid for by the Boston Foundation and launched in 2003, police had discovered that a handful of families, including Liquarry's, accounted for a wildly disproportionate share of crime. One clan of 36 related adults, dubbed "the Smiths" by police, had racked up 200 arraignments in their lives and founded one of the city's most violent gangs, MIC.
Most ominously, one of the "Smiths," 20-year-old Vandell Mason, had just fathered Gadson's fifth child in January 2004 and he was living in the apartment with Jayquan, Liquarry, and the other three children. Already, police believed, Mason had introduced Jayquan to MIC and social workers contended that he was trying to prevent them from talking to the children, police said.
"What became clear to me is that we were failing" to curb multigenerational crime with standard law enforcement, Joyce said in an interview. "You can't arrest yourself out of problems. These issues of crime are too big for the police alone."
Under the Grove Hall program, called the Comprehensive Community Safety Initiative, police could target high-crime families not just with patrol cars, but with social services that might help the next generation break with tradition.
Within days of Jayquan's April 2004 shooting, police called together an unprecedented collection of city and state social service agencies as well as Boston school officials to devise a rescue plan for Jayquan -- and, by extension, the teenager's half siblings and mother.
Meeting at the Pilot Middle School -- where Jayquan had recently been expelled and where his "stepfather" Mason had tried to bully the staff into letting him return -- the group quickly agreed on two things: First, Mason had to go. So police arrested him on outstanding drug warrants.
Second, Gadson, a high school dropout who rarely held a job, would need a lot of help to become a good parent. Only a month before Jayquan was shot, Gadson and her sister had come upon Jayquan and another boy beating a woman who had tried to defend her developmentally disabled son against their taunts. Instead of stopping the fight, the women joined in, according to police. The charges were later dropped when the victim refused to testify.
In the months that followed, social workers got Jayquan into a South Boston middle school where he could have a fresh start away from the gangs. They began funneling resources to the family such as summer camp for Liquarry and the other youngsters and a summer job working with computers for Jayquan.
After a while, the children began demanding more help.
"All of the kids wanted to be connected with resources like their older brother was," said Denise Kasrawi, assistant clinical director of the Youth Service Providers Network. Clausen, the social worker, "would come back and say his younger brother has asked for a therapist. We don't hear that," Kasrawi said.
The intervention wasn't cheap: The Youth Services Providers Network spent roughly $20,000 a year on staff to visit Jayquan and his family and to intervene in the family's crises. Other community services from psychological counseling to summer camps cost a similar amount, according to network officials.
But Joyce and other supporters of the initiative believed that $40,000 a year was a small price compared with letting Gadson's children continue on the path toward crime and punishment. The idea was "let's find a way to spend money so that family members don't all have to go to DYS and graduate into the adult system," said Claudia Dunne, clinical director of the network.
As a result, the Grove Hall initiative became a first-in-the-nation laboratory in how to stop a multigeneration crime wave, something few cities try, said Jack McDevitt, director of the Institute on Race and Justice at Northeastern University, who helped Boston police analyze family crime patterns in Grove Hall.
"When we do these programs, we tend to shy away from the worst of the worst for a couple of reasons: They don't want to play . . . and second, when you do get them involved, they are hard to work with. They have so many problems," he said. "We have to expect failure."
Neighborhood ghosts, ties
The makeshift shrine on the steps of Liquarry's former apartment building is only blocks from scenes of one tragedy after another involving his relatives. At 6 Castlegate Road, Liquarry's biological father and a friend broke into an apartment in 1997, then beat and stabbed the man inside to death. Just outside the window is the parking space where, eight years later, two men were gunned down as they sat in their minivan; one of Liquarry's stepfathers, Renardo C. Williams, was acquitted of the slayings last fall.
One mile to the south, on the corner of Talbot Avenue and Bernard Street, Jayquan's aunt, Larricia McConnico, was shot repeat edly in the head and shoulders in 1993, a slaying that has not been solved. Investigators "didn't really care," said Earnestine McConnico, Larricia's mother. "They figured she got killed on Talbot Avenue, she must be a working girl."
But McConnico suspected her daughter was killed in connection with a slaying she had witnessed.
Despite all the heartbreak, victims and victimizers alike tend to stay in Grove Hall, police say, and 70 percent of convicts return after they serve their time. Even Earnestine McConnico said she would not have left except to take care of her ailing mother in Alabama. Ten years later, she says she still misses the neighborhood.
"It may be a dangerous place, but it's the most comfortable place for them," said police Superintendent Joyce.
Liquarry hardly knew a safer world even existed.
His first exposure to violence came while he was still in his mother's womb when his father, an 18-year-old member of the Castlegate gang named Liquarry C. Jefferson, beat Gadson in the face with a barbell and a belt in August 1998 while she was two months pregnant. At the time, she was facing criminal charges from an argument earlier in the year in which she stabbed Liquarry's father in the abdomen in her kitchen, and a separate assault on Jefferson's former girlfriend as she emerged from his apartment.
After Liquarry's father went to prison for manslaughter in the Castlegate Road stabbing, Gadson lived with a female roommate, but that relationship, too, ended in violence.
On Oct. 27, 2001, the roommate -- furious that Gadson was evicting her after a disagreement -- kicked down the bathroom door where Gadson and Jayquan, then 9, had barricaded themselves. The roommate and another woman forced them both into the tub, according to court documents. The roommate repeatedly punched Gadson's face and banged her head against the tub, Gadson said, then punched Jayquan in the eye as she left.
By 2004, when police and social workers began focusing on the family, Gadson faced a string of assault charges accusing her of among other things, attacking employees of a Burger King who wanted her group to wait in line for a drive-through order, and kicking and slapping police officers who tried to break up a group in front of her apartment building. Along the way, custody of young Liquarry had been turned over temporarily to his grandmother, Donia Jefferson, only to come back to Gadson when her latest gang member boyfriend, Vandell Mason, moved in.
Gadson, now 32, and other immediate family members declined to be interviewed for this story, citing a judge's order that they not speak publicly about Liquarry's death. However, Earnestine McConnico, Jayquan's grandmother, said that media descriptions of Gadson's history of violence didn't match her memories of her son's "childhood sweetheart."
"Lakeisha was a quiet sweet girl," said McConnico, remembering the early 1990s when the 16-year-olds had Jayquan together. McConnico said she lost touch with Gadson years ago, but "from what I read in the paper, it's not the same person I knew."
However, once police got Mason out of the house and social workers began their weekly meetings with Gadson and Jayquan, they saw marked improvement.
Jayquan initially resisted the social workers, but soon, he freely talked about his progress, even helping them select the middle school in South Boston where he did not know anyone. The boy was clearly very bright, social workers concluded, and a natural leader.
"He would be the type of young person who would walk into this room, walk around, shake everyone's hands, remember your name . . . and then probably call you in a couple of weeks and say, 'Remember me?' " said Clausen.
He also was taking on adult responsibility at home, rounding up his mother's welfare checks to pay the bills. "He wants to be kind of the rock in the family," Clausen said.
Gadson, meanwhile, became more organized, working at a community health clinic to get credit for a high school diploma and taking a more active role in the children's education, social workers said. Just as important, she hasn't been accused of new criminal offenses since 2004 and no new gang member has replaced Mason in the home.
On June 13, Gadson sat at a table in the art room of the Eliot School, a community center in Jamaica Plain. Liquarry sat next to her, quietly drawing on scrap paper and munching pizza, as his mother glued together pieces of paper to create lanterns for the annual commemoration of the dead in Forest Hills Cemetery.
Gadson told the fellow volunteer sitting across from her that she went online every day to a website that lists agencies that needed volunteers. "Lakeisha told me she volunteers often around the city as a way to get out of the house and bring her kids to safe, structured environments," said the volunteer, Claire Weiss of Brookline.
They talked about Gadson's children, Gadson's interest in finding a job, and Weiss's company, Mourning Time, which helps people deal with the practical arrangements that follow the death of a loved one, such as planning the funeral reception.
"One of the first things she said was that her neighborhood could really use Morning Time because there was so much death there and how grateful she was that her family was OK," Weiss recalled.
Less than two weeks later, at about 11:30 p.m., Liquarry and his cousin were playing with a loaded gun in Jayquan's bedroom when the cousin accidentally shot Liquarry in the abdomen and ran screaming from the room, police said. Initially, the family lied to police about armed intruders barging into the apartment. The little boy died at the hospital, and the family later apologized for lying.
Now, Jayquan is in Department of Youth Services custody while police investigate his role, if any, in the shooting. Gadson's 11-year-old daughter is at the city's new Camp Harbor View summer camp on Long Island, while her 13-year-old son attends the Blue Hill Boys & Girls Club camp in Dorchester, and a 2-year-old daughter is in day care. But DSS is investigating whether Gadson is a suitable mother, and deciding whether the children should remain in her home.
Clausen, like others involved with the family, assert the tragedy does not undermine all the good they had already done, but say Liquarry's death has devastated them and tarnished their effort. Jayquan had to be temporarily released from state custody to attend his brother's funeral.
"It's awful what happened [to Liquarry]," she said, "and it is in succession to a whole lot of other awful things that happened to the family."
Scott Allen can be reached at allen@globe.com; Maria Cramer at mcramer@globe.com.
© Copyright 2007 Globe Newspaper Company. Reprinted from The Boston Globe of Sunday, August 5, 2007..
© 2007 The New York Times Company
Wehaitians.com, the scholarly journal of democracy and human rights