Want to send this page or a link to a friend? Click on mail at the top of this window.
Posted June 25, 2009
Updated September 30, 2009
Former Boston Haiti Consul-General, Current Senior 'Lavalas' Official Faces a Potential 25-Year Prison Sentence for Rape; Prominent Boston Radio Personality Languished in Jail for Nearly Two Weeks, After Arrest for Alleged Statutory Rape
CAMBRIDGE, MA, June 25 -The once superbly popular song, "Mete Suk Sou Bonbon'm" (literally, Making Love to Me), of Anna Pierre, a Florida's Haiti native nurse by training turned singer, was never written with the inclination to poison the minds and corrupt the morals of the men and women who wasted their time in the comfort of their beds immersed in dangerous sexual fantasy worlds.
Max Nicholas' Record of Criminal Case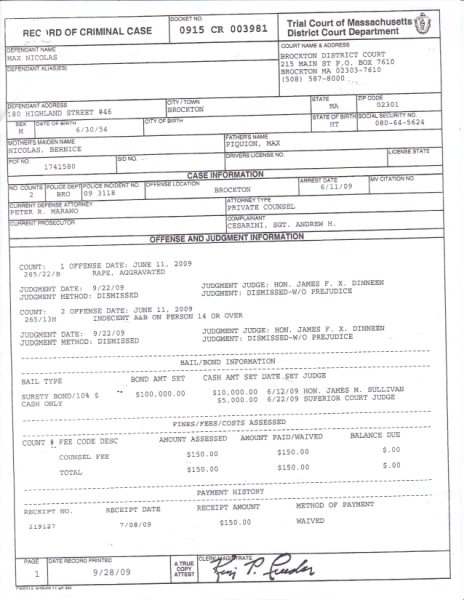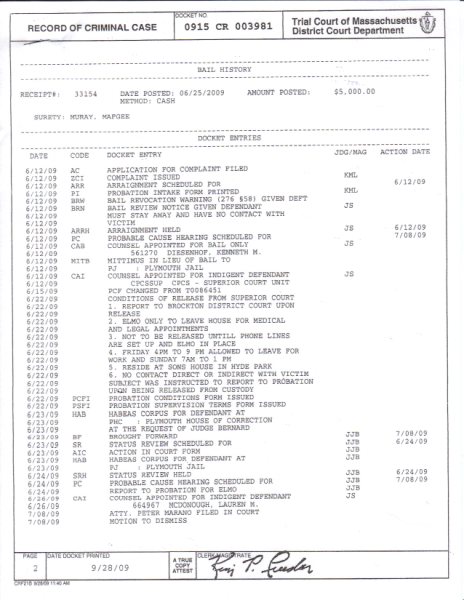 NOTE:

If you do not possess the legal background needed to comprehend some of the legal terms or entries, applicable only to United States law, forming the content of the above document please refer to: answers.com, a useful lexicon.
So too it (watch, listen to Mete Suk Sou Bonbon'm) never meant that both men and women were at liberty to commit sex crimes, such as raping other persons, including those who had yet attained the age of consent (statutory).
Unfortunately, for Mr. Jean Roland Elie, a former Haiti's deposed totalitarian dictator Jean-Bertrand Aristide (2001-2004) consul-general, in Boston, the words of caution of Ms. Pierre's song were not worth bearing in mind before making the stupid decision to, hopefully, spend minutes, if not hours, bedding a young woman against her wishes last year.
Immediately after the young woman, who is said to be now of the approximate age of 24, (by law wehaitians.com cannot identify rape victims) accused Mr. Elie, a senior member of Aristide's political party, Lavalas (literally, Flood) in Boston, of committing a serious offense, "He attempted to rape me," but not after he fled, leaving behind his suit jacket and tie (he later affirmed so during an unsolicitated live interview with the superbly popular daily Haitian radio magazine program, Vwa Lakay, or Homeland Voice), the police issued a warrant for his arrest. The fact he did not have a known address, he was later placed in tight handcuffs when he went to a Massachusetts Registry of Motor Vehicle Office, in the City of Boston, to renew his driver's license.
In criminal court, the standard of proof (beyond a reasonable doubt) is higher than in civil court (a preponderance of the evidence). After a venomous trial, a sordid trial, which lasted nearly a week, in Suffolk County Court (Downtown Boston), a jury, composed of 12 men and women, after long hours of deliberations. became convinced that Mr. Elie's alleged action, violated existing criminal statutes.
On June 8, a verdict of culpability was returned against him. Immediately thereafter, he was placed in tight handcuffs and secured chain by court guards, most of them corpulent, and taking to a nearby holding jail. Hours later, he regained his liberty, but conditional, after posting a $100,000-bond, $10,000 surety.
Mr. Elie repeatedly said on his long defunct weekly half an hour radio magazine program that he earned a baccalaureate degree in economics at the former Patrice Lumumba University, in Moscow. Still, many always thought that he was intellectually deficient, ill-prepared for the post of consul-general and largely naive. He is to be sentenced on June 30.
Like many before and after him, whose offense (felony) generally involves serious moral culpability, he will most likely be confined to a state penitentiary for a substantial period of time – hopefully, not the 25 years the prosecutor, or, the agent of the state, has asked the court for.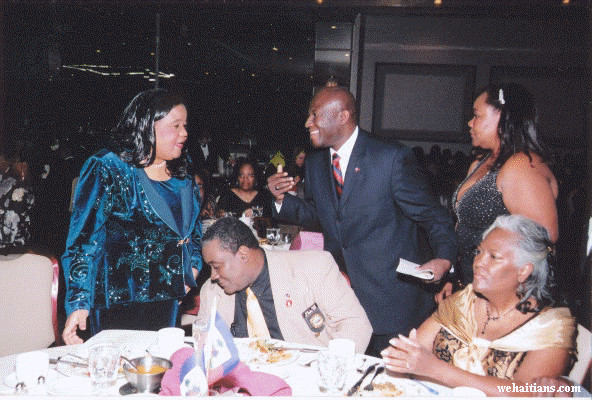 Former Boston's Haitian vice-council, Alex Pierre, in blue suit, fled the FBI, after a life of egregious crimes. (wehaitians photo/file More: Related text and more images.

A prominent radio personality in tight handcuffs for statutory rape

If you think the conviction of Mr. Elie has brought closure, at least, to accusations of rape in the Boston area estimated 80,000 Haitian community, Haitian-American community, think again. Max Nicholas, 54, a prominent Boston radio personality, for more than two decades, too, apparently did not know that "Laws were expressions of the corporate morality of the community." Those who violate them, after they are convicted of having violating society's most important rules

, are exposed to the uniquely coercive force of criminal sanctions. The punishment may take the form of a fine, imprisonment, or, in extreme cases, execution.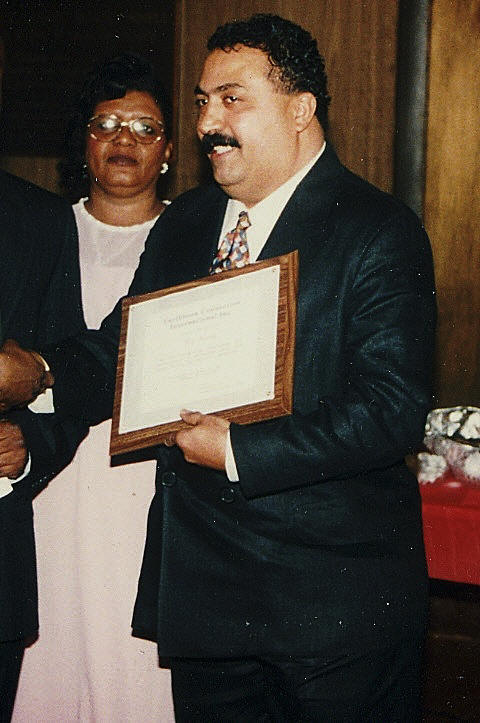 Max Nicholas, in suit, at an award ceremony, in an undated photo. (wehaitians.com/file)

Yet, in a civil case (the burden of proof is lower than in a criminal one), which often is filled by the plaintiff, immediately after a criminal conviction, a court of law may award punitive damages for the express purpose of punishing the wrongdoer.

What about after the criminal offender, referred to as sex offender (Mass. Sex Offender Registry), completes his or her sentence? The already ill-repute person suffers other serious consequences, such as being barred for the rest of his or her life from residing in close proximity to an elementary school, high school.

More, after establishing new residence, failure to register with the local police, who by the letter of the law must afterward publicize the sexual predator's photographs, constitutes a violation of the terms and conditions of his or her regained liberty. The punishment may take the form of further incarceration in a state house of correction.

To further comprehend the existential threat faced the registered sex offender (In the U.S., approximately 670,000 people are now on registries of sex offender; the number is increasing, and fast) is to refer to the refusal of employers to contract his or her services and the latter two be subsequently compensated for their hard labor hours, no matter how reduced their earnings may be. Given the barriers associated with re-entering the labor force, the criminal offender is rather forced to endure a life of poverty, which can be viewed as absolute - the minimum levels of income required to sustain life: for example, estimating dietary needs and how these can be most cheaply met. Overall, a death-defying journey.

In a complaint that reads like a novel, Mr. Nicholas, who always proudly advertised "Gayak," a sort of Haitian sexual stimulant, on his long radio magazine program, though no clinical trials were ever performed and ultimately approved by a Federal Drug Administration, commonly known as FDA, like agency in Haiti or elsewhere, is alleged to be at the highest quintile of the Kingdom of God – that is, he has also for many years bedded the underaged daughter of a girlfriend he cohabitates with. Perhaps, the young daughter's turn, during the day, while her mother is at work; the girlfriend's turn, in the wee hours of the night.

And assumingly, after consuming some rich foods and copious alcohol once available only to aristocrats. These types of food, as well as intoxicant liquid, are particularly rich in purines and can raise the risk of gout - an extremely painful arthritis of the big toe and other joints often called the disease of kings, including King Henry VII, because of its association with the rich nourishments, wrote The New York Times.

There have been many attempts by the young daughter, as she remains in the malevolent clutches of the alleged abusive Mr. Nicholas, to communicate his misbehaving to her mother, who before moving to the gritty city of Brockton, approximately 20 miles south of Boston, resided in the sunshine state of Florida

.

Like her mother, who is said on many occasions was subjected to painful beatings by Mr. Nicholas (for a longtime, before moving to Boston, he worked for Radio Nationale or Haiti National Radio; also, Television Nationale or National Television, both in Haiti, in the capacity of a technician), it is said that she was extremely afraid of him because he claimed to practize witcraft; he pretended to be a "hougan," or

, "Grand Voodoo Priest." With the help of the unparalleled supernatural powers he possessed, he could, with ease, transform himself into a pig, for example, and eat them like a goat.

More, he could transform himself into a black bird (in Haiti, a bird of the color black is associated with witcraft, especially on Fridays) and fly, even faster and at a higher altitude than the former French-British Concorde planes.

Not long ago, immediately after the young daughter, who is said to be now of the approximate age of 21, shared the long held secret with her new boyfriend, he urged her to urgently do the same with her mother, who subsequently contacted police

.

Judging the mother by her action, you will not be wrong to suggest that she rightly becomes an integrant member, a respectable member of the Broadway theater production, "Extremeties," in the role of a rape victim who seeks revenge on her attacker.

On June 12, hours after Mr. Nicholas was observed on films, those that were retrieved from a camera secretly placed somewhere in the same single family house (it is located at 44 Torrey Street, Brockton, MA) his adult girlfriend gave him the voluntarily or required downpayment sum of $19,000 to help purchase for $183,000, in the early 2000s, according to Plymouth County Registry of Deeds, on the condition that her name also appeared on the deed, giving her a sense that she, too, would be on the path to prosperity (only Mr. Nicholas' name figures on this important real property document), he was taken out of the circulation by Brockton Police.

Unable to regain his liberty, though conditional, on bond ($100,000, but $10,000 surety), because he did not possess the economic means sufficient to permit him to do so, or, a Good Samaritan had come to his aid, Mr. Nicholas, who last year was operated on, after a series of unknown medical conditions, and as a result many were until not long ago convinced would never again fully recover his health, for the rest of his life he will be in a near-vegetable state, remained at the Plymouth County Correctional Facility, where he reportedly suffered a second stroke Saturday, for nearly two weeks (he departed jail today). A hearing before a court of law is scheduled for July 8, unless otherwise.

What does it profit a man to dig his own grave?

By way of conclusion, there is a man in the New Testament who says, "What does it profit a man if he gains the whole world and loseth his soul?"

To paraphrase him, what does it also profit Jean Lamartine, 34, of the working class city of Medford, north of Boston, to be convicted of raping a 14-year-old girl, on August 6, 2006, in the city of the same name, by a Middlesex County Court jury, in Woburn, a northern Boston's suburb, on August 18, and ultimately his liberty becomes a thing of the past, for a longtime so?

"A person who sets out on a path of revenge," said Confucius, "should first dig two graves."

To paraphrase the great Chinese philosopher, an innumerable number of people, the vast majority of them of Haitian descent, in the Boston area, are under the impression that Lesly Cheremond, 51, did, in fact, dig his own grave by brutally terminating the life of his former sweetie, or, "son amoureuse, sa fille de joie," Norma Dorce Gilles, 37, last year (February 13, 2008), after the working class city of Everett, near Medford, beautician repeatedly rebuked his sexual advances.
| | | |
| --- | --- | --- |
| | Lesly Cheremond facing the bar of justice before he was convicted of brutally murdering Norma Dorce Gilles, right. (Photo/boston.com - file/wehaitians.com) Also, more images | Photo/wehaitians.com/file |
| | | |
Mr. Cheremond was on trial, in Woburn. for the murder of Ms. Gilles, whose decomposed body was found days later in black plastic bags placed in the trunk of an automobile, a few miles from the crime scene. In fact, her shop. On June 22, the verdict that determined his fate was culpable. He was subsequently sentenced to life in prison as punishment for his odious crime, which Voltaire describes as a "tableau." In real terms, he is going to serve the remainder of his life in prison.
Yves A. Isidor, who teaches economics at the University of Massachusetts-Dartmouth, is executive editor of wehaitians.com.
RELATED TEXTS: Accused rapist, Max Nicholas, tells court "I'm not guilty" / Former Boston Haiti consul-general, Elie, sentenced to five years in prison, three years of supervised probation for rape / Sex Laws: Unjust and ineffective
Wehaitians.com, the scholarly journal of democracy and human rights