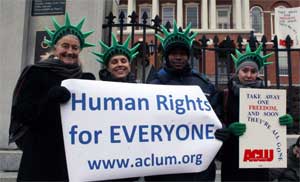 Opponents of a new immigration enforcement measure, seen here protesting at the State House last month, were disappointed this week when Gov. Deval Patrick signed onto the strategy - Photo by Andrew Firestone
By Andrew Firestone
Governor Deval Patrick has signed onto a controversial measure to fingerprint and report suspected illegal immigrants to federal authorities. Immigration advocates such as Somerville-based Centro Presente have protested the move, saying it will criminalize undocumented immigrants.
The move marks a clear departure from Patrick's stance four years ago, when he revoked a similar law enforcement tactic he inherited from Mitt Romney.
Immigrant advocates said that Patrick signed the agreement on faulty legal advice. However, the measure was inevitable according to Press Secretary Terrel Harris of the office of Public Safety
"[The Department of Homeland Security] is implementing Secure Communities with or without the commonwealth," said Harris. "So we elected to sign the memorandum of agreement with Immigration and Customs Enforcement so we can participate in how when and where it's rolled out in the commonwealth."
The Secure Communities program, created by the Federal Department of Homeland Security, would use biometric data taken from fingerprints of those arrested and cross-reference them with Immigrant and Customs Enforcement databases in an effort to identify and deport illegal immigrants.
Harris said while all felony biometric data will be sent to ICE, discretion will be allowed on fingerprinting misdemeanor offenders. "The alternative is to have it forced upon us without any input," he said.
This small loophole allows Mayor Joe Curtatone's proclamation that he would not be cooperating fully with the program to stand.
Governor Patrick's move saddened many, including State Rep. Denise Provost (D-Somerville) who saw the program as potentially destructive to the large illegal immigrant populations in the greater Boston area. "Everyone wants to see dangerous criminals off the streets," she said. "The question is what should be the price to innocent people who are swept up in the process."
According to the American Civil Liberties Union, hundreds of non-felony immigrants have already been deported by Boston police cooperating with ICE officials.
Secure Communities sends biometric data to a federal database, and matches it against all available fingerprints, allowing immediate identification of illegal immigrants.