Correspond with us, including our executive editor, professor Yves A. Isidor, via electronic mail:
letters@wehaitians.com; by way of a telephone: 617-852-7672.
Want to send this page or a link to a friend? Click on mail at the top of this window.

Must learnedly read, too; in part, of intellectual rigor
Posted Monday, April 14, 2008
Conditions even worse for Haiti's hungry
By Jonathan M. Katz, Associated Press Writer
PORT-AU-PRINCE, Haiti - Joseph Francois has a cupboard filled with dishes but rarely takes them out, even at the best of times.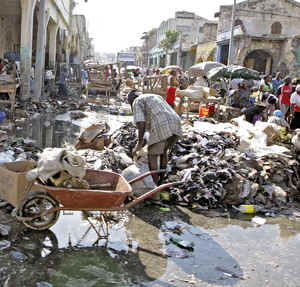 JOHN VANBEEK/Miami Herald - A man searches through garbage as street activity resumes after rioting in Port-au-Prince, Haiti. The poverty-stricken nation imports most of its food.
The food riots that gripped Haiti last week made scrounging something to eat even harder. A frenzy of violence and gunfire kept the unemployed father of two from venturing out to beg for three days.
By Thursday afternoon, after the bandits and looters retreated, Francois was able to spend 67 cents on a small bowl of rice to be shared by his two young children. There was nothing left for himself or his girlfriend.
"Most of the time we get up and have nothing to eat. We just pray for the sun to go down so we can go to sleep," said Francois, frayed jeans hanging loosely on his scrawny frame beneath a Jimi Hendrix T-shirt.
Hunger has long been a fact of life in the overcrowded slums that ring the Haitian capital, but soaring food prices have made the struggles of Haiti's poor unbearable. Francois buys rice from a woman whose prices have more than doubled over the last six months, from 27 cents to 67 cents for a small bowl. Other staples, such as spaghetti, have doubled as well. The violence has only made things worse.
"The country was upside down. I couldn't go out, so the kids had no food," said Francois, who lives with 3-year-old Bechina, 4-year-old Charlie, and his girlfriend, Betty Joseph, in an abandoned one-room schoolhouse in a slum called Ideal City.
The dark concrete-block structure has been home since their own house burned down in December. The only light comes from a fluorescent bulb rigged to an electrical wire outside; a television set plays dubbed American movies. No food could be seen, and the metal pot used for cooking on a charcoal burner in the alley outside was empty.
Globally, food prices have risen 40 percent since mid-2007. Haiti, where most people live on less than $2 a day, is particularly affected because it imports nearly all of its food, including more than 80 percent of its rice.
Much of Haiti's once-productive farmland has been abandoned as farmers struggle to grow crops in soil ruined by erosion, deforestation, flooding and tropical storms. To make a profit, the farms that remain often price their crops sharply higher than imported American products, which benefit from generous U.S. government subsidies.
Hoping to defuse Haitians' anger, lawmakers on Saturday dismissed Prime Minister Jacques Edouard Alexis. An opposition lawmaker said he failed to boost food production and refused to set a timetable for the departure of U.N. peacekeepers, who had violently clashed with the rioters.
A U.N. police officer bringing food to his unit was pulled from a car Saturday and killed execution-style in Port-au-Prince, U.N. sources said.
Some residents felt their plight would not improve regardless of the dismissal of the prime minister. "Alexis left? What's the difference?" asked Jackson Aubri, 28, a chicken vendor.
Emmanuel Joseph, a 26-year-old from the seaside slum of Cite Soleil, said residents there are still planning to protest today because they are hungry.
On Saturday, President Rene Preval announced a cut of more than 15 percent in the price of rice. He said international aid money would subsidize the effort and that the private sector had agreed to chip in.
Additionally, some aid was on its way Friday. Brazil, which has about 1,200 peacekeepers serving in Haiti, sent an air force plane with 14 tons of food, including beans, sugar and cooking oil. France pledged food and other aid worth $1.6 million. The U.N. World Food Program, which had collected only 15 percent of its Haiti budget before the riots, appealed for donations to meet its $96 million goal.
But the U.N. Food and Agriculture Organization said Friday that high food prices in the developing world were unlikely to subside anytime soon as price speculation and market failures counteract increases in food production. This spells disaster in a nation where the World Bank says per capita income is just $480 a year.
Francois, gaunt and balding at 32, doesn't have even that much. Hired as a "transportation inspector" last year by the mayor of the nearby Cite Soleil slum, he has no salary - just an identification card that can be used in the slums to exact bribes or collect fees. His 25-year-old girlfriend also does not work. With no education or skills, their job prospects aren't good in a place where most eligible adults are unemployed.
Mostly, Francois depends on handouts from neighbors and friends. He begs in the street. If all else fails, he hunts for scraps in the garbage piles at the nearby La Saline market, in view of towering stacks of U.S.-produced rice he cannot afford.
In Haitian slang, Francois and Joseph describe their hunger pangs as "eating Clorox" because of the burning sensation in their guts. Flashing a sheepish smile, Joseph said they sometimes resort to a traditional hunger palliative - cookies made of dirt, salt and butter.
Wehaitians.com, the scholarly journal of democracy and human rights