A 20-year-old man has been charged with murder in the stabbing death of a New York City bus driver, the police said on Tuesday.

The man, Horace D. Moore, of 1327 Park Place in Crown Heights, Brooklyn, told the police that he stabbed the driver, Edwin Thomas, 46, on Monday after an argument on the bus, said the chief police spokesman, Paul J. Browne.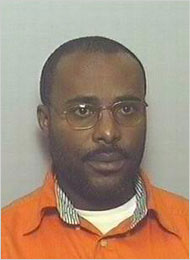 NYC TRANSIT
Edwin Thomas, 46, was killed.


"He made statements putting himself at the scene on the bus and using a knife as a weapon to kill the driver," Mr. Browne said.

Mr. Moore refused to answer reporters' questions as he was led out of the 81st Precinct station house in Brooklyn, flanked by detectives, shortly before 8:30 p.m. Tuesday.

He was taken into custody at 11:30 p.m. on Monday at the home of his companion in Brownsville, the police said.

He was taken to the 81st Precinct station house for questioning, and witnesses picked him out in a lineup. Mr. Browne said Mr. Moore had been arrested previously on weapons possession and assault charges.

On Tuesday, the police said that Mr. Thomas had been driving the B46 route, which snakes through East Flatbush, Crown Heights, Bedford-Stuyvesant and Williamsburg, when the suspect sneaked onto the bus through a rear door about 12:30 p.m. and sat down without paying.

When the suspect asked Mr. Thomas for a transfer on Malcolm X Boulevard at Gates Avenue in Bedford-Stuyvesant, Mr. Thomas gave it to him, but the two men argued, the police said.

On Monday, the police offered a different version of events, saying the suspect had boarded at the front of the bus, swiped an invalid MetroCard but remained aboard. Then, they said, the man asked for a transfer, and an argument ensued after the driver refused to give the man one because he had not paid the fare.

Witnesses have said that the attacker punched Mr. Thomas twice on the head, and then stepped off the bus. The police said on Tuesday that the driver followed his attacker outside, where the confrontation continued, but then returned to his bus. The attacker pushed his way back through the doors and stabbed the driver inside the bus, the police said.

He leapt off the bus on Gates Avenue, pursued by a passenger, but got away, the police said.

Mr. Thomas was taken to Woodhull Medical and Mental Health Center in cardiac arrest and was later pronounced dead.

Mr. Moore was arrested in July for possessing a knife with a blade of four or more inches, according to a criminal complaint. On Sept. 15, he was given a six-month adjournment in contemplation of dismissal, a law enforcement official said.

Mick Meenan contributed reporting.

Copyright 2008 The New York Times Company. Reprinted from The New York Times, New York Region, of December 3, 2008.