Correspond with us, including our executive editor, professor Yves A. Isidor, via electronic mail:
letters@wehaitians.com; by way of a telephone: 617-852-7672.
Want to send this page or a link to a friend? Click on mail at the top of this window.

Must learnedly read, too; in part, of intellectual rigor

Posted Wednesday, July 8, 2009

Clinton discourages 'death trap' construction building in Haiti

By Agence France-Presse

GONAIVES, Haiti (AFP) - Former US president Bill Clinton called for better building construction on a visit to the Haitian city that was almost destroyed by hurricanes and tropical storms a year ago.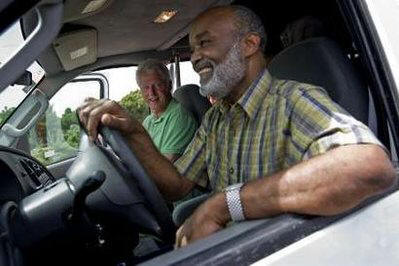 Haiti's President Rene Preval (R) drives former U.S. President and new special envoy to Haiti Bill Clinton during their visit to an emergency hospital in Gonaives July 7, 2009. Helped by 9,000 U.N. peacekeepers, Haiti appears to be on a slow recovery from its troubled past of dictatorship and political violence. Clinton, who has been appointed special U.N. envoy to the country, has declared this is Haiti's turning point. REUTERS/Marco Dormino/Minustah/Handout

"The tragedy of what happened here last year is that 80 percent of the damage was done by the water and only 20 percent by the wind," Clinton said, accompanied by Haitian President Rene Preval.

"We should safely rebuild in a way that not only creates a lot of jobs but also maintains other damage done by the wind in future storms. We will do that with better construction... to minimize the damage."

Around 5,000 jobs have been created in Gonaives, located 150 kilometers (90 miles) north of Port-au-Prince, according to the United Nations Development Program.

Clinton, the new UN special envoy to Haiti, visited building sites aimed at building dikes and walls to prevent mudslides and flooding such as those that occurred when four major storms pounded Haiti in August and September 2008, killing nearly 800 people and inflicting major damage.

He also spoke with flood victims, worried about the 2009 hurricane season that officially began late last month.

The trip was Clinton's first to Haiti as UN envoy but his second this year, after touring Haiti with UN chief Ban Ki-moon in March.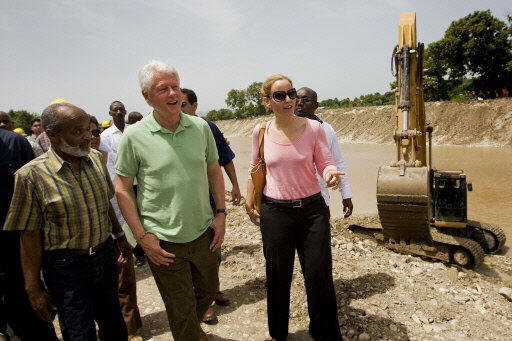 AFP: Clinton urges better building in Haiti Former US president and new special envoy to Haiti Bill Clinton (2nd-L) and Haitian President Rene Preval (L)

Clinton, who began his three-day visit to the impoverished Caribbean nation on Monday, also visited a project to refurbish La Quinte River, which flooded the city last summer, and an emergency hospital that has served as a temporary replacement to one that was destroyed by the storms.

Ban and Clinton had urged the international community to continue to aid the impoverished Caribbean country, the poorest nation in the Western hemisphere.

Participants at a Washington international donors conference in April agreed to donate 324 million dollars to help Haiti rebuild.

Some 80 percent of the Haitian population of nine million lives on less than two dollars a day, while the country has a 60 percent infant mortality rate and 70 percent unemployment, according to US and UN figures. Most Haitians live off informal trade.

Copyright © 2009 AFF
Wehaitians.com, the scholarly journal of democracy and human rights