Correspond with us, including our executive editor, professor Yves A. Isidor, via electronic mail:
letters@wehaitians.com; by way of a telephone: 617-852-7672.
Want to send this page or a link to a friend? Click on mail at the top of this window.

Must learnedly read, too; in part, of intellectual rigor
Posted Tuesday, April 1, 2008
Clerk injured after Haitian lawmaker allegedly fired his gun at colleague during a heated debate in Haiti parliament
PORT-AU-PRINCE, Haiti: A Haitian lawmaker's handgun went off during a heated debate in parliament Tuesday, injuring a legislative clerk.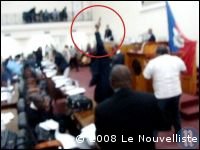 Above, Lawmaker Isidore Mercier firing his gun.
Isidor Mercier insisted the gun fired by accident after he bent down to pick up the fallen firearm. The bullet hit the clerk in his right shoulder.
But reporters who witnessed the scene said they saw Mercier brandish the gun after another lawmaker accused him of profiting from a scheme that involved the repeated replacement of tires on a legislative car.
The firearm seemed to discharge when Mercier was jostled from behind during the tense debate, according to reporters who watched images of the shooting captured by a cell phone camera.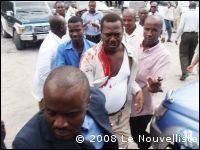 The clerk, whose bullets were pumped into his body.
But several people who were in the building alleged Mercier intended to fire the revolver and called for his arrest.
Mercier is an opposition legislator from the southern peninsula town of Jeremie.
Haitian legislators are increasingly entering Parliament armed for their own security, according to lawmaker Eliphete Noel.
Wehaitians.com, the scholarly journal of democracy and human rights