Correspond with us, including our executive editor, professor Yves A. Isidor, via electronic mail:
letters@wehaitians.com; by way of a telephone: 617-852-7672.
Want to send this page or a link to a friend? Click on mail at the top of this window.

Must learndly read, too; in part, of intellectual rigor
Posted Posted Tuesday, May 8, 2007
Bush chides Haiti's president over Chavez ties
By Pablo Bachelet McClatchy
WASHINGTON - President Bush gently rebuked Haitian President Rene Preval on Tuesday for his growing friendship with Venezuelan President Hugo Chavez, noting that unlike Caracas, Washington delivers on the aid it promises, U.S. officials said.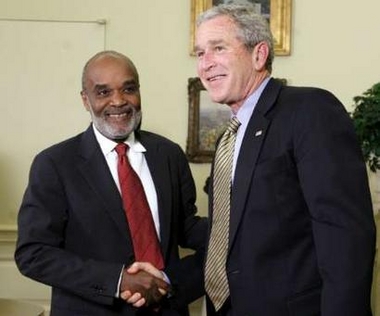 U.S. President George W. Bush (R) meets President of Haiti Rene Preval in the Oval Office at the White House in Washington, May 8, 2007. Reuters/Jim Young (UNITED STATES)
Preval was on his first official visit to the United States since taking power one year ago, carrying a long shopping list that included better protection for undocumented Haitian migrants and more U.S. investments in his impoverished country.
Preval has brought a measure of stability to a nation with a long history of political convulsions and, at least in public, Bush was all praise for Preval.
``I thank you for having one of the toughest jobs in the world,'' Bush said after their White House meeting, ``and that is to bring prosperity and security to your country.''
The two also discussed the Haitian economy, security and drug trafficking, according to Bush. The host did not mention Venezuela, but one White House official said Chavez came up.
``They discussed Venezuela, and the discussion in part was a reminder that the United States actually delivers on its commitments,'' said the official, who spoke on condition of anonymity to comment more freely on the meeting.
Washington is Haiti's top foreign aid donor, providing about $200 million a year. But the independent-minded Preval was in Caracas last month attending a summit of leftist leaders hosted by Chavez. In a March visit to Haiti, Chavez called the United States ``the cruelest, most terrible, most cynical, most murderous empire that has existed.''
Chavez has promised vast amounts of aid to Haiti, including $57 million to rebuild airports, a cheap oil deal that could save the country up to $150 million and a new oil refinery.
Observers say that Preval is acting more out of self-interest than any anti-U.S. motivations, since Haiti needs all the help it can get.
``Preval is trying to find the sweet spot between Venezuela and the United States,'' said Daniel Erikson, a Haiti specialist at the Inter-American Dialogue think tank in Washington.
But U.S. officials note that much of Venezuela's promised aid has yet to arrive, and they contrast this with the $700 million that Washington has provided Haiti since 2004.
Overall, the administration credits Preval with building a broad domestic coalition to heal the country's fractious politics. His delegation included the presidents of both Haitian chambers of Congress, as well as business and union leaders.
``He's cast a wide net,'' said Janet Sanderson, the U.S. ambassador to Haiti. ``He deserves high marks for that.''
Preval also met with members of the Congressional black caucus, his staunchest champions in Congress.
Reps. Charles Rangel, the New York Democrat who heads the powerful Ways and Means Committee, and Kendrick Meek, the Florida Democrat also on the panel, are pushing for an expansion of special trade preferences for Haiti's textile sector. Meek also wants the administration to stop sending back undocumented migrants.
Raymond Joseph, Haiti's ambassador in Washington, says Haiti wants to extend the textile pact beyond the current three years and expand to include industries like auto parts and electronics.
There's talk of folding several Haiti migration initiatives into a broader immigration reform proposal, and Bush said he would take Haiti's special concerns into consideration.
``I assured him that I am working hard to get a comprehensive immigration bill passed out of the Congress this year,'' Bush said, ``And I think, Mr. President, with hard work and goodwill, we can get a bill that will satisfy your concerns.''
Published by Foert Wayne News Sentinel, IN, Tueasday, May 8, 2007.
Wehaitians.com, the scholarly journal of democracy and human rights