Want to send this page or a link to a friend? Click on mail at the top of this window.
Broker's Clients Describe a Web of Dashed Dreams
By KIMBERLY BLANTON
GLOBE STAFF
When Marcia Neilson couldn't qualify for a home loan in early 2006 because of poor credit, her mortgage broker, Nicole Lyder, had an unusual solution: Add Neilson's daughter to the loan application.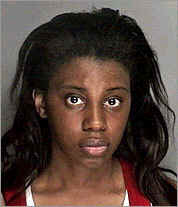 Nicole Lyder denied any knowledge of fake documents.
Neilson's 21-year-old daughter had just lost her job, but Lyder remained undeterred. "That wasn't a problem," Neilson recalled her broker saying.
Neilson's real estate agent said Lyder enlisted him to drive Neilson and her daughter to Brockton City Hall. The pair filled out a business certificate that claimed they owned a hair salon in Brockton.
The Neilsons qualified for a mortgage and bought a Dorchester house in June 2006 for $565,000. Last fall, Marcia Neilson learned from state investigators looking into Lyder's business practices that her loan application was padded in other ways: a statement for a $25,000 bank account in Neilson's name that she had no knowledge of.
Fake documents, a phantom borrower, and other irregularities were common features of five subprime mortgages brokered by Lyder between November 2005 and June 2006 that were examined by the Boston Globe. Lyder's clients ranged from the barely employed to struggling working-class couples; one had just left a homeless shelter and two others gave up government-subsidized housing to buy homes. They said Lyder arranged loans that they later re alized had monthly payments that far exceeded their means. All five loans are now in foreclosure.
As delinquent mortgages drive the nation's foreclosure rates to record levels, regulators are increasingly focused on the broker's role in fueling the subprime mortgage industry's meteoric rise and sudden collapse.
Subprime brokers "were doing the dirty work, but they were being funded by very established and very large lenders," said Boston activist Bruce Marks, head of Neighborhood Assistance Corp. of America, a Boston housing organization. "They were putting people into homes that were unaffordable, making significant money." All five of the loans the Globe examined were funded by Fremont Investment & Loan, which Attorney General Martha Coakley sued in October, alleging predatory lending practices. In court last week, the state charged that Fremont failed to properly monitor brokers, such as Lyder, who generated its mortgage business.
Fremont, of Santa Monica, Calif., was once among the nation's largest subprime lenders, but is restructuring and no longer selling mortgages; the company declined to comment for this article.
Lyder is under investigation by Coakley's office, according to several former customers who said they were interviewed by state investigators last fall. A lawyer for a former employer of Lyder, Lehi Mortgage Services Inc. in Quincy, also said he brought customers' complaints about her to the attorney general's office, which then referred the matter to a grand jury, according to a November 2006 letter the lawyer wrote to Fremont about the investigation. Coakley's office declined to comment.
Over the course of several interviews, Lyder denied any knowledge of fake documents. She offered differing explanations of the circumstances surrounding the five mortgages, and in each case said that if there were any problems, they were the fault of others.
At times, she portrayed herself merely as a clerk who accepted documents from clients and processed papers or acted on the direction of other mortgage professionals. Given that role, she said she could not have known whether a loan was questionable: "Why are you asking me questions that have nothing to do with me?"
At other times, Lyder described her clients as eager to buy and insisted they could afford homes that cost $300,000 to $500,000.
Looking back on the trail of loss among these borrowers, Lyder was unsympathetic. "These people came begging, greedy for a house, badgering me, harassing me a hundred times a day," she said. "Everybody wants a house, but after they get it they can't afford it, and they want to blame somebody."
Subprime mortgages exploded in popularity during the housing boom, when low interest rates prompted lenders to aggressively compete for borrowers. These loans featured easy qualifying terms and quick approvals. Brokers typically received larger fees if they sold higher-rate loans.
Lyder's customers' subprime loans carried interest rates of around 10 percent to 12 percent - double that for traditional mortgages. Her broker fees ranged from $4,000 to $12,000 - much higher than on conventional loans.
As middlemen between borrowers and lenders, brokers vet the finances of prospective buyers and tell them how much house they can afford. They also offer a one-stop opportunity to shop among numerous lenders for the best loan terms. Lyder, who is 33, worked as a loan originator for two Boston-area brokerage firms. She often found business through referrals from family or friends. Borrowers said Lyder made them comfortable about mortgage complexities.
Lyder's clients, naive about the math and mechanics of mortgages, said they trusted her assurances the loans would be affordable and were thrilled she could help them buy a house.
"She makes you think you're going to win the lottery," said Keisha Fleurival, a mother of four who lived in public housing in Taunton until Lyder arranged two loans from Fremont totaling $260,000 so she could buy a house in May 2006. "She lied to me," she said.
A graduate of one Boston's competitive exam schools, the John D. Bryant School of Mathematics & Science in Roxbury, Lyder identifies her occupation as "CEO of Everything" on her MySpace page. Her confidence, like the red BMW she drove, enhanced her credibility with clients.
"I'm thinking, 'I'm black, she's black, and she's doing it.' It was a blessing to see she was making it," said Fleurival. Fleurival met Lyder in the summer of 2005 through her cousin, who had purchased a house with Lyder's help. Fleurival thought she couldn't afford a home on her small income as a house cleaner. But Fleurival said that Lyder promised to refer friends to her for cleaning jobs and told her she would get $15,000 cash back at the closing to pay bills.
Fleurival's public housing rent was $50 to $250 a month, depending on how much she worked. After buying a Taunton house in May 2006, her monthly mortgage payments were $2,265.
Fleurival said she didn't realize how large her payments were until she got her first mortgage bill. She only got one additional job, cleaning Lyder's house, and did not get any cash back at closing. Lyder said she did not make any cash-back promise to Fleurival.
Fleurival said she has not made a single payment on her primary mortgage, though she paid the second, smaller mortgage a few times.
On her loan documents, Fleurival said the broker had suggested adding her husband as a co-borrower, to help her qualify for the loan. The application, signed by Lyder, lists each co-borrower's monthly income at $3,333. Fleurival and her husband each said they do not make anywhere near that amount.
Lyder said Fleurival was responsible for the income stated on her application. "You need to ask Keisha," the broker said. Fleurival said she did not fill out an application.
More striking, her husband, Delyx Fleurival, did not know his name was on the 2006 loan until his wife informed him last November - the couple separated in April 2003 and rarely speak. "I'm shocked," Delyx Fleurival said in an interview, viewing the documents for the first time when a Globe reporter brought them to his Brockton apartment.
How he became a co-borrower is unclear. Keisha Fleurival recently obtained additional documents related to her mortgages that includes a Massachusetts state identification card for Delyx Fleurival. The picture on the card, however, is not of Delyx Fleurival, and the signature is different than the one he uses on his Massachusetts driver's license.
The ID is fake, said Ann Dufresne, spokeswoman for the Massachusetts Registry of Motor Vehicles. Keisha Fleurival said she obtained a copy of the ID only after the loan closing and does not recognize the man in the photograph.
Lyder denied she knew about the fake ID and said she believed Delyx Fleurival signed the mortgage. She referred questions to Dax Grantham, a Boston attorney who handled many of Lyder's mortgage closings. Grantham replied, "Someone came to my office and presented that ID and said that he was Delyx Fleurival."
Fleurival's house is in foreclosure now, and she is reconciled to moving her children again.
Marcia Neilson also learned after the fact of suspicious documents related to her 2006 mortgage application. Last fall she said state investigators showed her a bank statement indicating she had an account at Brookline Bank with $25,000.
Neilson said she does not bank there; Brookline Bank declined to comment. Neilson said investigators also showed her a second business certificate for a hair salon that was included in her application. But she said she had no knowledge of the second certificate, from the city of Boston. The Globe could not find a certificate in her name on file in Boston City Hall, where small business owners register their operations.
For the Brockton salon certificate, Neilson's real estate agent, Patrick Dorcena, drove her and her daughter to Brockton City Hall to fill out forms indicating they owned a salon. Neilson recalled that one of Lyder's colleagues suggested her daughter could get a job as a hair stylist in Brockton but needed to get the certificate.
Dorcena said Lyder told him to take them there but said he did not know what the document was for. "Nicole said, 'You have to pick them up to drive them to City Hall,' " Dorcena recalled in an interview. "I said, 'All right, whatever it takes to get it done.' "
Lyder said she did not know the specifics of the Neilsons' mortgage because it was handled by Ronel Jean Louis, a former Lehi broker who trained under her.
Louis pointed the finger back at Lyder. Louis said he helped out initially but did not follow through or handle the mortgage. "She did the loan," he said.
However, the address for the salon on the Brockton certificate is that of a Brockton home once owned by Louis.
Neilson's house is in foreclosure, and she expects to lose it. Two of Neilson's family members also purchased houses with Lyder's help. Neilson's sister, Anne Marie Wynter, purchased an investment property that is now in foreclosure. Wynter's daughter, Patricia Sujballi and her husband have already lost their home in foreclosure.
Before becoming a broker, Lyder held various jobs, including one as an administrative assistant at Harvard Medical School, where she worked under the name Nicole Franck. During her six-month employment, starting in October 1997, she was accused of using the school's purchasing account to buy $291.25 of Heineken, Jack Daniels, and other alcohol at a Boston liquor store. A judge in Massachusetts District Court found her guilty of larceny in 2004, according to court documents.
That same year Lyder entered the mortgage business and was employed briefly by at least two firms in the Boston area. Both companies allege Lyder processed mortgages under their corporate names, without their knowledge or permission, after she had left them.
In 2006, a judge found Lyder guilty of identity fraud for representing herself as a loan originator for EZ Mortgage in Boston. EZ's owner, Yvonne Spencer, said she hired Lyder in January 2005, because she offered "a pipeline" of customers. Lyder processed mortgages for two or three months, splitting the proceeds with Spencer. But after severing ties, Lyder continued to process loans using EZ Mortgage's name, according to Spencer's complaint filed in Boston Municipal Court.
A judge sentenced her to probation and ordered her to reimburse Spencer $3,190 for costs incurred from her lending activities. In November, the court issued an arrest warrant for Lyder for violating her one-year probation.
"She smooth-talked me, and she gained my trust," said Spencer. She estimated Lyder earned $100,000 in loan fees while acting as an EZ broker - "more money than I did."
Another former employer, Lehi Mortgage, said that after Lyder left the firm in August 2006, she "utilized Lehi letterhead, and she used, we believe, websites and would use access numbers" to Fremont's website to arrange mortgages, said Jon Freidmann, Lehi's attorney. Lehi did not receive fees for loans Lyder originated under Lehi's name, because, "She would go to the closings, pick up the Lehi checks, and deposit them into her account," he said.
Lyder declined to discuss her employment history as a broker. "Every time I closed a loan, it was under a company," she said.
In the summer of 2005, Cynthia Davis received a letter from Lyder congratulating her on being approved for a $400,000 mortgage. A distant relative of Lyder's, Davis recalled thinking, "OK, she must know something I don't."
Davis was in fact hoping to buy a home one day. Lyder was facing foreclosure on her own house in Randolph. So she sold it to Davis in November 2005 for $430,000 - 10 percent more than what Lyder paid for it seven months earlier.
Within a year Davis herself couldn't keep up, and she too lost the Randolph home to foreclosure.
Lyder, she said, is "really a good talker and a trickster."
Describing the transaction as a "complicated situation," Lyder insisted she always tried to help all her clients. "I am the kind of broker who helps people so they aren't in foreclosure."
Kimberly Blanton can be reached at blanton@globe.com.
© Copyright 2008 Globe Newspaper Company © 2008 NY Times Co. Reprinted from The Boston Globe of Sunday, January 20, 2008.
Wehaitians.com, the scholarly journal of democracy and human rights