Correspond with us, including our executive editor, professor Yves A. Isidor, via electronic mail:
letters@wehaitians.com; by way of a telephone: 617-852-7672.
Want to send this page or a link to a friend? Click on mail at the top of this window.

Must learnedly read, too; in part, of intellectual rigor

Posted Thursday, October 7, 2010

Haiti extreme violence-issued President Preval allegedly plans to murder thousands of Haitians
By Yves A. Isidor,
Wehaitians.com executive editor

CAMBRIDGE, MA, Oct. 7 - Talk about a Haiti's extreme violence-issued President Rene Preval's alleged plan for the next two months or so is one he recently personally designed to murder thousands of Haitians who are opposed to him becoming the tropical nation's next prime minister, but not before he installed a puppet head of state, one he can fully control, even long after his largely ineffective constitutional mandated term ends in February, by way of a fraudulent election scheduled for November 28.

Mr. Preval, a man many of his fellow compatriots continue to say, with certitude, was the person, the Osama bin Laden who in December 1990 planted and adroitly detonated a bomb that severely wounded, killed an exorbitant number of people in the quasi-wealthy city of Petionville's public Park Boyer, west of Port-au-Prince, during a then presidential candidate Jean-Bertrand Aristide's rally and immediately thereafter appeared on the radio and television to distribute blame for the terrorist act to political opponents, recently distributed thousands of high caliber guns to career criminals (all members of his newest political party, Unit

é

or Unity), publicly said this week his former twice-prime minister, Jacques Edouard Alexis, who is one of the 19 approved presidential contenders.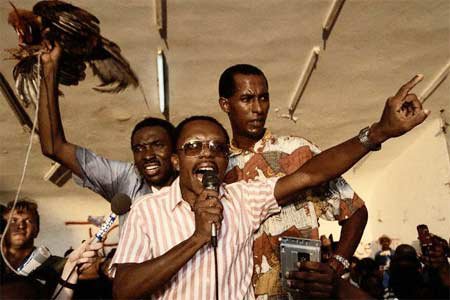 Deposed Haiti bloodthirsty dictator, Jean-Bertrand Aristide, addressing crowds at Petionville's public Park Boyer during a presidential campaign rally. Minutes later, the current Haiti president, who would later become his prime minister, is convincingly said was the BOMBER, a reference to the person who planted a bomb and immediately thereafter detonated it, wounding and killing many. (wehaitians.com/file)



The must-killed guns are alleged to have been purchased, in part, with drug monies, after several long crooked Haitian businessmen who helped finance the 2006 presidential campaign of the man, Mr. Preval, who is reputed for drinking alcoholic beverages distilled at a high proof for breakfast, failed to sufficiently raised the capital needed in a timely fashion.

Even in broad daylight, those lethal terrorists, who indisputably are primarily responsible for the wave of kidnappings for ransom that has caused Haiti to also continue to experience a brain drain, honest Haitians have repeatedly said, have never hesitated to brutally terminate the lives of even presumed political opponents - including babies they certainly are not inclined to see one day, after they become adults, rightly avenging the brutal death of their parents.

Wehaitians.com, the scholarly journal of democracy and human rights