Correspond with us, including our executive editor, professor Yves A. Isidor, via electronic mail:
letters@wehaitians.com; by way of a telephone: 617-852-7672.
Want to send this page or a link to a friend? Click on mail at the top of this window.

Must learnedly read, too; in part, of intellectual rigor

Posted Friday, January 21, 2011

Baby Doc had a few words for fellow Haitians, others; since Thursday resides in a rented guest house
By The Associated Press

PORT-AU-PRINCE, Haiti -- Former Haitian dictator Jean-Claude Duvalier says it was the devastating earthquake that brought him back to Haiti.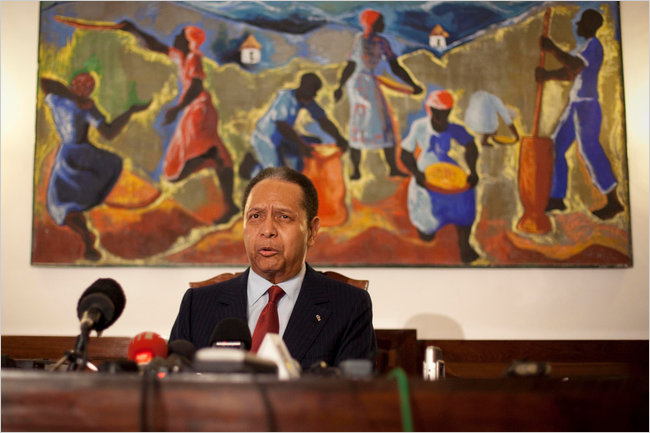 Jean-Claude "Baby Doc" Duvalier read a prepared a statement Friday during a press conference, his first since the former deposed tyrant returned to Haiti after nearly 24 years in forced exile in France. (Photo/Ramon Espinoza/Associated Press)

Duvalier says he wants to help with the reconstruction from a quake that destroyed much of the capital. He made a brief speech Friday at a rented guest house. It was his most extensive public statement since his surprise return to the country where he faces a potential trial for corruption and human rights violations.

Duvalier said he feels "profound sadness" for anyone who believes they were harmed by his regime.

He did not say how long he intends to stay in Haiti.

The former dictator known as "Baby Doc" was deposed nearly 25 years ago in a popular uprising.
Wehaitians.com, the scholarly journal of democracy and human rights